Ana Carolina Vieira improved her F2W record to 3-0 in her latest appearance against Luiza Monteiro in a 10-minute, submission-only match in Massachusetts.
The term "superfight" is thrown out so often these days that the phrase is losing its weight. Superfights are more than just a standalone match in a night, so Fight 2 Win has been on a mission to bring high caliber superfights to the stage, making match ups that are truly "super". Case in point: Ana Carolina Vieira vs Luiza Monteiro.
Two of the most active competitors of this generation, they are both multiple-time IBJJF World Champions with inventories of other titles to their names. It's not uncommon for Luiza Monteiro to explore different weight classes, but she is most often found in the lightweight division, while Ana Carolina Vieira competes at middleweight with few exceptions. They both consistently test themselves in the absolute division, but the pair had only met twice in their careers prior to their match up on the F2W 107 card, making their 145lb "match in the middle" a gem that fans will want to see.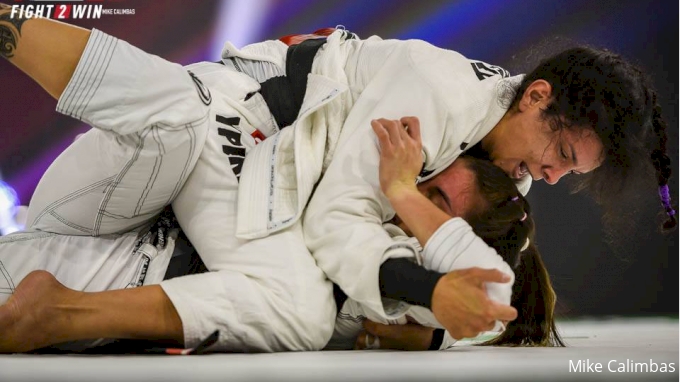 Vieira on top
It was not only an excellent match of merit, but also of styles. Luiza Monteiro has one of the most threatening guards, while Ana Carolina Vieira is praised and respected for her dominance on top. The match began with Monteiro pulling guard and actively working to sweep or create an opening to the back, but Vieira's base was unshakeable.
Monteiro is known for creating opportunities from anywhere and finding submissions in the least likely places but after a hard-fought pass Vieira applied relentless pressure, stifling Monteiro's efforts. Vieira was patient in her pursuit, respecting Monteiro's attempts to recover, and only began flirting with submission attacks in the last minute. The match ended with a unanimous decision in Vieira's favor.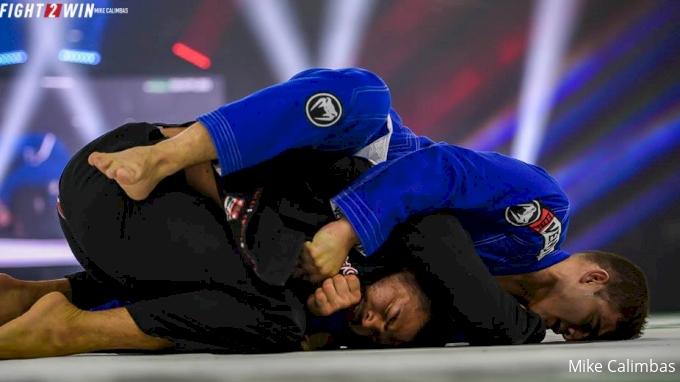 Batista on Monteiro's back
Gustavo Batista met Horlando Monteiro in a 200lb gi match that started off with a bang! Literally. Monteiro landed a massive slam immediately off of Batista's guard pull. It did not appear to rattle the Atos bulldog, as he quickly swept and took the top position, where he is famed for his heavy-pressure and passing.
This time, though, he landed in Monteiro's omoplata – the first submission attempt of the match. Batista escaped and proceeded to threaten the back of Monteiro twice throughout the match, before searching for a toe-hold attempt to even the score. Although Batista maintained positional dominance for the majority of the match, the Fight 2 Win rules specify that submission attempts are weighted more heavily than positional dominance.
It wasn't until the last minute of the match that Batista landed a second submission attempt, attacking the ankle, forcing Monteiro to retaliate with a belly-down ankle lock attempt of his own. The match ended with each competitor having two submission attempts, and Batista earning the nod from two of the three referees to lock in a split decision victory in his F2W debut. Which submission attempts do you think had the most bite? Check out the replay on FloGrappling.
This isn't the last you will see of the Atos power couple Luiza Monteiro and Gustavo Batista as they have confirmed their return to the stage for F2W 111 in Chicago on May 4th.
Other notable matches include:
Nick Rodriguez is back and won by unanimous decision against Tyler King.
A 145 lbs black belt no-gi game of inches between Ryan Clay (New England United) and Paul Gorman (The Academy). The match ultimately ended via toe hold as Ryan Clay ended Gorman's undefeated F2W record and took submission of the night.
Fight of the Night went to a judo match between Serik Elyorki and Serge Bouyssou. By the end of the battle Elyorki was victorious.