After Third Coast Grappling's impressive debut at the beginning of this year, the jiu-jitsu community awaits the next large card coming on June 21.
One would imagine that a main event featuring Keenan Cornelius and Tex Johnson would be hard to surpass. However, the Third Coast Grappling team continues to display their ability to find high-level competitors for the next event.
With names such as Craig Jones, Josh Hinger, Romulo Barral, Gabriel Arges and many more, one can expect this competition to be one of the highlights of the summer. See below for the full card.
Recently added to the card is Lucas Valente, a young rising black belt versus Marcio Andre, a legend in the sport. And all that is with the main event yet to be announced!
And all that is with the main event yet to be announced!
Also, the main card will feature winners from the qualifier event such as blue belt Douglas Hernandez and purple belt William Tackett, not to mention a brown belt match up between Roberto Jimenez and Pedro Marinho. The evening can pretty much be guaranteed with excitement.
But wait… let's talk a little bit more about the rules. 3CG declares the match over when one person reaches 11 points, kind of like a tech fall. This encourages competitors to try to stack up points as well as attempting the submission and illuminates who is truly the better competitor because– let's face it– if somebody wins 11-0 then they are clearly the best man that night. But could you imagine a match that is 9-9 with a minute left in regulation? That's a lot of pressure for both competitors to score and take home the money.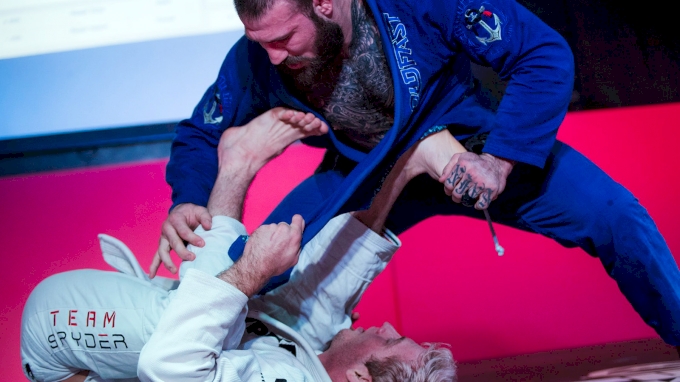 When Keenan Cornelius and Tex Johnson faced off at Third Coast Grappling in January
And speaking of money, added submission bonus for the competitors who finish their matches in regulation has to be a good form of encouragement as well. What if nobody gets a submission or 11 points? Well in that case they go into overtime. It starts with a coin flip. The winner of the coin flip gets to pick the starting position. They can choose either mount, back, side control, closed guard, half guard, or open guard (no grips for either person). The person who lost the coin toss then gets to pick top or bottom. Let's practice:
*I win the coin toss*
Me to the official: I choose mount position.
My opponent: I choose top position.
Me to me: Well damn that sucks.
Or does it really? One would imagine that bottom mount is not a position you would want to be in during a submission only match, but during overtime another way to win is by scoring the first point. So perhaps the mock situation would benefit somebody who is good at recovering the guard from mount and sweeping immediately.
For others this is probably just a horrible position to start in. Either way, this changes the entire dynamic of the match and gives added value to the position that is chosen ultimately giving each competitor multiple ways to finish.
Confirmed Superfights:
Craig Jones vs Josh Hinger (no-gi)
Romulo Barral vs Gilbert Burns (no-gi)
Danny Gutierrez vs William Tackett (no-gi)
Gabriel Arges vs Kit Dale (no-gi)
Mike Perez vs Jackson Sousa (no-gi)
Inacio Neto vs Tex Johnson (gi)
Pedro Marinho vs Roberto Jimenez (no-gi)
Viktor Doria vs Raul Jimenez (gi)
Marvin Castelle vs Jordan Holy (no-gi)
Manuel Ribamar vs Hunter Newton (gi)
Watch Third Coast Grappling LIVE or On Demand on FloGrappling on June 21.