After a year-long hiatus from the competitive scene, a team change, and injury recuperation "The Wolverine", Eddie Cummings, was unleashed on the Fight 2 Win stage last weekend.
Cummings did not waste any time getting busy, and likely had the most submission attempts of the night in the 10-minute main event.
Though he is known for his heel hooks, Cummings was attacking anything he could get his hands on (or his legs wrapped around). Immediately upon Wolk engaging Cummings was already working for a straight arm lock from his butterfly guard. Cummings swept off the failed submission, and Wolk was able to set up a modified estima, his most threatening submission attempt of the night.
The Wolverine used it as a set up to reach saddle position and attack an inside heel hook, a position even the best want to avoid toying with against Cummings. And that was just the first couple minutes of the match!
The pace stayed high as hometown favorite and MMA athlete, William Wolk, came eager to rough-house and play a very physical game, clapping his hands in his opponent's face and circling around the mat, a strategy which may have intimidated a less calloused competitor, but Cummings remained composed and in control for the entirety of the match.
Despite this, Wolk was unafraid to swim into deep waters, where most elite grapplers would have drowned, and he managed to escape every time: a true Houdini. The match ended with Cummings locking in another arm-lock.
With an excellent display of submission hunting, Eddie Cummings won via unanimous decision to retain his No-Gi Featherweight title. Watch the replay here, but proceed with caution: these heel hooks go deep!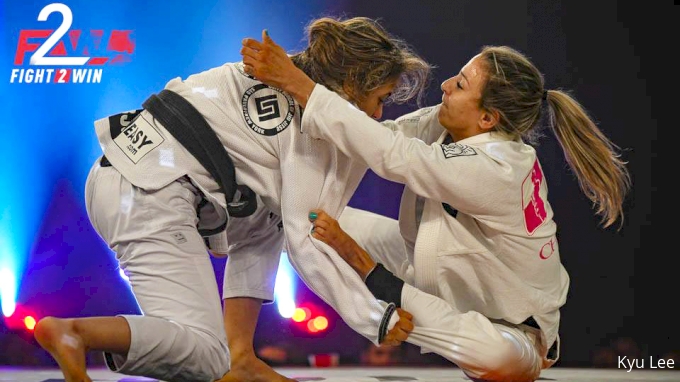 Mayssa Bastos vs Pati Fontes
In the co-main Eddie Cumming's teammate Mayssa Bastos, was also on the prowl. Though Mayssa Bastos and Pati Fontes frequent the IBJJF tournament scene it was evident both athletes embraced the sub-only format, exchanging positions seamlessly.
Fontes dove for a kneebar, but Bastos was unfazed by the first submission attempt of the night. After a back take attempt, Bastos imposed her top game and savage shoulder pressure, passing the guard of Fontes and achieving mount three times throughout the match.
Submission attempts of choice were armbars and cross chokes from mount for the dynamite strawweight. The match ended with the three referees unanimously giving Bastos the win and the F2W straw weight title. Watch the full match here.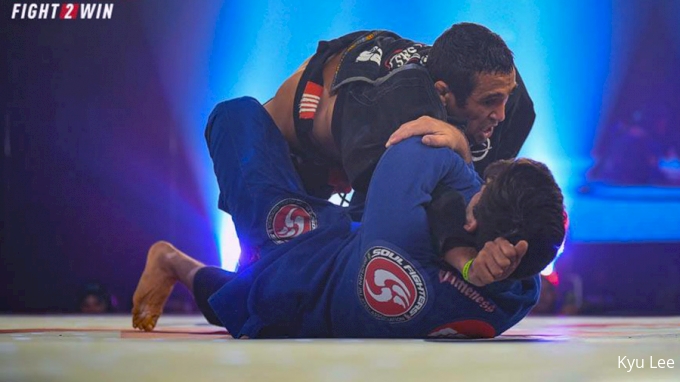 Formiga goes after the armlock
In another high energy match Rafael Formiga Barbosa defended his title for the third time in just over a month against Daniel Tavares.
Both men were hungry for the submission and Tavares played a heavy top game, relentless smashing into Formiga's guard. With about two minutes left in the match Formiga pulled a killer butterfly sweep out of the bag, a technique he had been working toward for the entirety of the match, and landed directly in mount where he sunk in a clean ezekiel choke for the win. Rafael Formiga Barbosa retains his Masters Gi Welterweight title with a submission victory. Watch the match here.
After a string of submission attempts from his guard, Murilo Santana won via unanimous decision over DJ Jackson, bringing Unity Jiu-Jitsu to a 3-0 record for their F2W 108 campaign. Check out their match here.
Other notable matches:
6x F2W veteran Pete Shoemaker earns Black Belt SOTN for a one-handed toe hold against Mike Sanchez
Black belt FOTN went to Nick Calvenese and Tim Williams, a match that went to split decision in Calvenese's favor.
Brown belt FOTN was a title bout between where Daniel Maira became the No-Gi lightweight champion over John Battle.
ADCC West Coast Trials champ, Amanda Leve is back with a split decision victory over Joy Pendell.
Click for full results and match videos