2019 Abu Dhabi World Professional Jiu-Jitsu Championship
Abu Dhabi World Pro Finals Are Set: Langaker, Miyaos, Amjahid, More
Abu Dhabi World Pro Finals Are Set: Langaker, Miyaos, Amjahid, More
The finals are all set: here are the gold medal matches for 2019 Abu Dhabi World Pro black belt, which will take place on April 26.
Apr 25, 2019
by Hywel Teague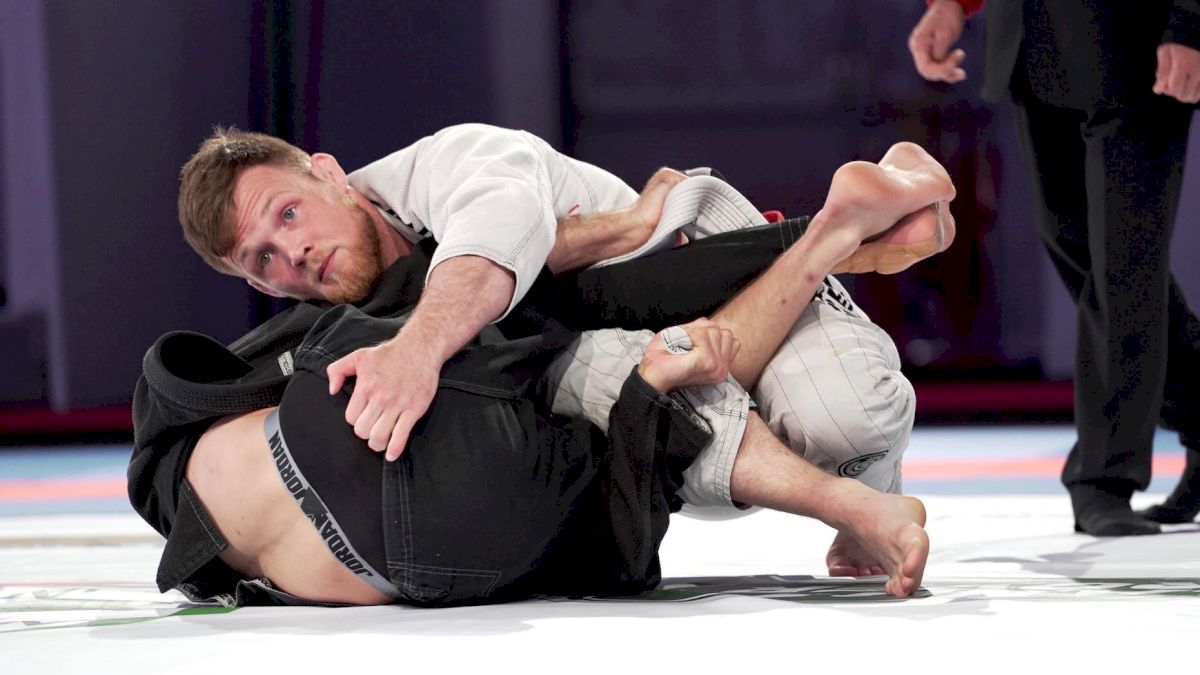 The finals are all set: here are the gold medal matches for 2019 Abu Dhabi World Pro black belt, which will take place on April 26.
April 26 | 3pm local
49kg: Mayssa Bastos (BRA) vs Thamires Aquino (BRA)
Bastos and Aquino met earlier today in their round-robin group. With a division of six, they were separated into two groups of three. Bastos won that match with a choke from the back. Bastos submitted Serena Gabrielli (ITA) in the semifinal, while Aquino beat Magarita Ochoa (PHI) via submission on the other side of the bracket.
WATCH: Mayssa Bastos vs Thamires Aquino (round robin)
56kg: Hiago George (BRA) vs Carlos Alberto Silva (BRA)
This will be the final match of a five-man round robin group. Both George and Silva are undefeated in the group having each won three matches. This final match will decide the overall winner. They each defeated Masaki Todokoro (JPN), Andrea Verdemare (ITA) and Nobuhiro Sawada (JPN).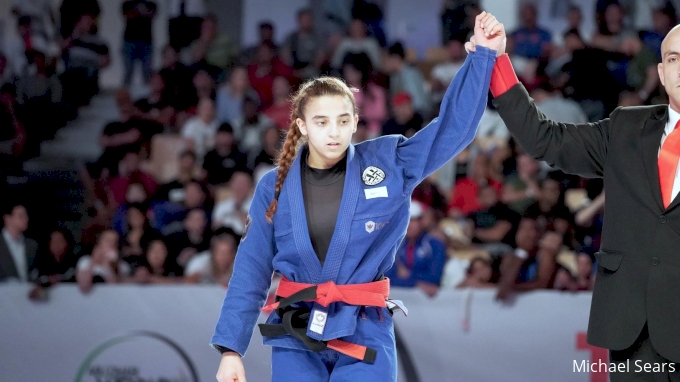 Amal Amjahid
55kg: Amal Amjahid (BEL) vs Bianca Basilio (BRA)
This round-robin group of five will see Amal Amjahid and Bianca Basilio square off. Both were gold medalists here last year although Basilio is dropping to 55kg for the first time and they've never faced off. Both Basilio and Amjahid submitted Rose El Sharouni (NED) and Katjusa Harman (FIN). Basilio beat Ana Rodrigues by points 2-0, while Amjahid won by advantages.
WATCH:
62kg: Joao Gabriel Sousa (BRA) vs Joao Miyao (BRA)
The second all-Brazil final in the men's divisions, much like the 56kg division this is also the final match of a five-man round robin. Both Sousa and Miyao are undefeated after three matches against Alexis Alduncin (MEX), Virgilio Carvalho (ANG) and Mood Ali Hayat (FRA).
WATCH:
62kg: Beatriz Mesquita (BRA) vs Ffion Davies (GBR)
Stunning performances from both Mesquita and Davies, who both submitted two opponents to enter the final. Mesquita tapped Julia Maele (NOR) via armbar and Larissa Paes (BRA) via choke while Davies took out Nicole Sullivan (USA) via armbar and Kira Sung (KOR) via choke.
WATCH: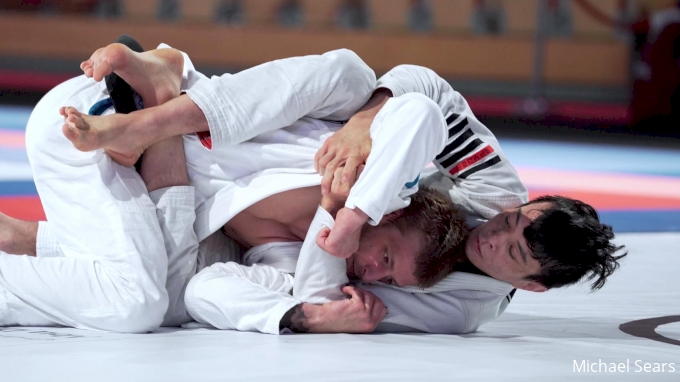 Paulo Miyao
69kg: Isaac Doederlein (USA) vs Paulo Miyao (BRA)
A decision in his opening match versus Lucas Galbusera (ARG) served as a nice warm-up for Doederlein as he went on to submit both Aleksander Jablonski (POL) and Yijad Moussa (COL). Miyao also had three matches, scoring a total of 20 points in matches versus Mehdi Allaoui (FRA) and Jan Basso (GER) and a submission of Jorge Nakamura (BRA) in the semifinal. This is the fifth time they will meet this year and Doederlein said he has been closely studying Miyao's game and is promising a different result this time around.
WATCH:
70kg: Thamara Silva (BRA) vs Alessandra Moss (AUS)
Silva and Moss both emerged top of their respective round-robin groups. Moss lost in the group stage to Silva but advanced by winning the semifinal against Vedha Toscano (USA)on advantages. Silva also had a close match against Samantha Cook (GBR) winning 4-2.
WATCH:
77kg: Tommy Langaker (NOR) vs Oliver Lovell (GBR)
An unexpected upset submission win over Levi Jones-Leary (AUS) in the earlier rounds marked out Lovell as a contender and he followed it up with wins over Darragh O Connail (IRE) and Bradley Hill (GBR) to make it into the final vs Langaker. The Norwegian had three matches winning all of them via points, beating Christian Dellevag (SWE) and Brazilians Diego Ramalho and Gulherme Rocha.
WATCH: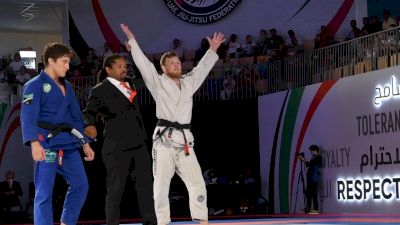 Unlock this video, live events, and more with a subscription!
Get Started
Already a subscriber? Log In
---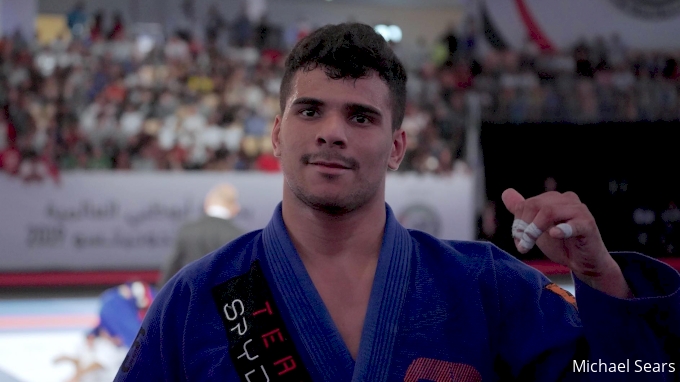 Rudson Mateus
85kg: Rudson Mateus (BRA) vs Faisal Al Ketbi (UAE)
With a submission over David Willis (AUS) and a decision win versus William Dias (AUS) Rudson Mateus books his ticket to the final where he will go up against local hero Faisal Al Ketbi, who beat Americans Devhonte Johnson and DJ Jackson, both via advantages.
WATCH: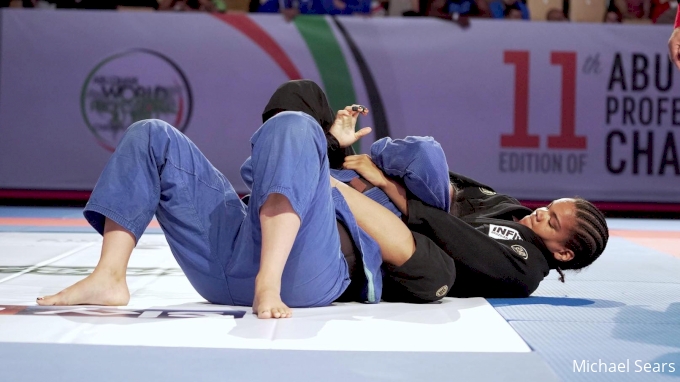 Gabi Pessanha
90kg: Gabrieli Pessanha (BRA) vs Claire-France Thevenon (FRA)
The unstoppable Gobi Pessanha has not lost in the UAE circuit since getting her brown belt last year, and she holds three wins over Nathiely de Jesus in that period, most recently here in the semifinal. Thevenon defeated Marta Szarecka (POL) to book her place in the final.
WATCH: Gabi Pessanha vs Nathiely de Jesus
94kg: Kaynan Duarte (BRA) vs Adam Wardzinski (POL)
One of the most action-packed divisions of the day set up a showdown between Duarte and Wardzsinki. The Brazilian had three matches, beating Anton Minenko (AUS) by points, Nicholas Penzer (GER) by submission and countryman Erberth Santos 2-0 in the semifinal. Wardzinski had his own challenges, having to take on Rida Haisam (GHA) and Basel Fanous (JOR) to get into the final.
WATCH:
110kg: Joao Gabriel Rocha (BRA) vs Yahia Al Hammadi (UAE)
Rocha earned victories over Kunwoo Kim (KOR), Khasan Varando (RUS) and Ricardo Evangelista (BRA) to earn passage into the 110kg final. Al Hammadi showed a strong stand-up game to edge wins against Walter dos Santos (ANG) and Paulo Brasil da Silva (BEL).
WATCH: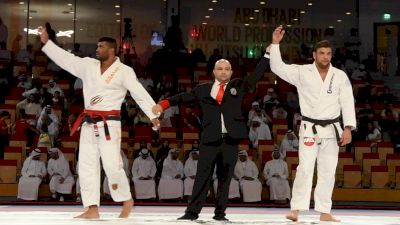 Unlock this video, live events, and more with a subscription!
Get Started
Already a subscriber? Log In
Watch the 2019 Abu Dhabi World Pro finals from 3pm local time LIVE or On Demand on FloGrappling