The most prestigious jiu-jitsu tournament on the planet is the World Championships. If you want the biggest prize money, then head to Abu Dhabi. But the toughest competition in the World has to be Brazilian Nationals, aka Brasileiros.
With black belt divisions that often swell to over 50 people– even rooster and ultra-heavy had over 20 guys registered in each– the Brazilian Nationals is regarded as an IBJJF 'major' along with the Europeans, Pans and Worlds. And for the first time in IBJJF history, cash prizes were on offer for the winners of the black belt divisions based on a sliding scale of how many people signed up in the category.
We were closely watching Brasileiros for a number of reasons– Kaynan Duarte, Ffion Davies, Fellipe Andrew, Mayssa Bastos and Hiago George were all looking for gold so they could complete the Grand Slam (gold in all four majors). As we'd find out, only two would make it through the weekend with their hopes intact.
Probably the most eagerly anticipated moment of Brasileiros was Nicholas Meregali's return to the mat, his second outing of the year. Read on for a rundown of the best action from this event.
The Return of Meregali: Submits Kaynan and Fellipe Andrew
Meregali came back to action and stunned the world by submitting both Kaynan Duarte and Fellipe Andrew, thus ending the IBJJF Grand Slam hopes (gold in every major event) of both men. Meregali has competed only once this year, a super fight against Leandro Lo that saw him win in decisive fashion. He was seen outside the arena before it had even opened on Saturday morning drilling leg drags on the sidewalk!
Meregali submitted everybody in the absolute division and two out of three matches in the super-heavyweight category, making it a total of 6 out of 8 matches ending by submission.
Nicholas Meregali vs Fellipe Andrew 2019 IBJJF Brasieliros highlight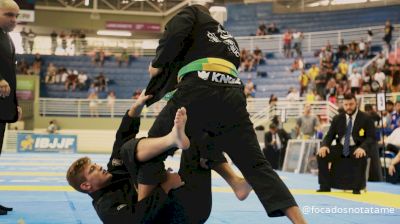 Unlock this video, live events, and more with a subscription!
Get Started
Already a subscriber? Log In
---
Doederlein Finally Does It
Isaac Doederlein finally managed to get that win over Paulo Miyao, beating him in the semifinal and later going on to win the featherweight gold. This makes him only the second American to have won black belt gold at the Brasileiros.
Isaac submitted Joao Paulo Neto in the final with a choke from the back. He credits his ongoing rivalry with Miyao for making him continually improve, and confirms he'll be competing as a featherweight at Worlds.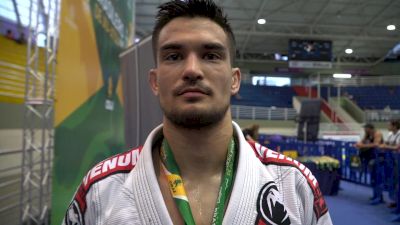 Unlock this video, live events, and more with a subscription!
Get Started
Already a subscriber? Log In
---
Queen Beatriz
Beatriz Mesquita wrecked shop by winning double gold – this is her first major IBJJF event of the year as she skipped both Europeans and Pans. Mesquita picked up gold just one week after her record-setting performance in Abu Dhabi, where she claimed gold there too.
Beatriz Mesquita 2019 IBJJF Brasieliros Absolute Final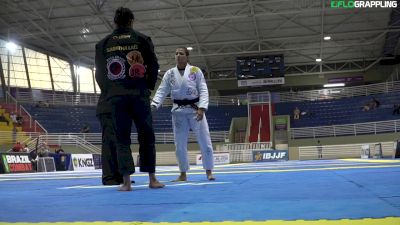 Unlock this video, live events, and more with a subscription!
Get Started
Already a subscriber? Log In
---
Grand Slam A Real Possibility For Ffion
Ffion Davies becomes the first British black belt to win gold at Brasileiros, marking it her third major IBJJF gold medal this year with wins at Euros, Pans and now in Brazil. The submission over Ana Carolina Schmitt in the final puts her one step closer to doing the IBJJF Grand Slam, and all in her first year as a black belt. Impressive stuff.
---
Other notable news and results
Rudson Mateus was DQ'd against Nicholas Meregali in the absolute final for accumulated penalties – an anticlimactic end to the event. Mateus did win gold in the medium-heavyweight division for the second year running, beating José Henrique Cardoso in the final by armbar.
Alexssandro Sodre passed Joao Miyao's guard in the light-featheweight semifinal, something we see about as often as a solar eclipse. Miyao's teammate Hiago George had to avenge him in the final, winning with an advantage in the dying seconds of the match.
Otavio Sousa finally conquered one of the few big titles that had eluded him until now, and became middleweight champion by fighting through a gigantic division that required him to have five matches. The final was maybe not quite the big win he was hoping for– opponent Claudio Calasans was DQd for repeated stalling calls.
Kaynan Duarte had a rough weekend. After losing to Meregali via submission in the absolute division, he went out via ref decision to Vinicius "Trator" Ferreira in the quarterfinals of the heavyweight division, a rare occasion where Duarte did not make it to the podium. He did take bronze in the absolute, but the depleting effects of traveling and competing so frequently could finally be catching up with him.
Alliance took the team trophy with a HUGE 174 points, more than the next five teams' points combined. Fabio Gurgel heads up the Alliance gym in Sao Paulo and spoke about how this is a precursor for what he sees as a rally for Alliance at Worlds as they aim to reclaim the team trophy from Atos.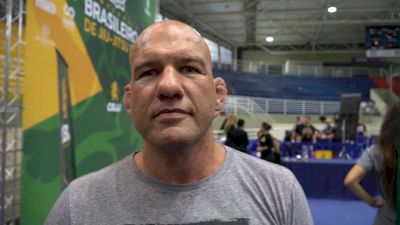 Unlock this video, live events, and more with a subscription!
Get Started
Already a subscriber? Log In
Click here for male black belt results