If you want to take a workshop on controlling a fight just watch the main event of Fight 2 Win 113 in Reno.
Kaynan Duarte (Atos) said his only expectation for the match against Tanner Rice was to win, and he did it in classic Kaynan style: total composure, and complete control.
You have probably heard it said before "the best submission is the one that works in the moment". Duarte exhibited that mentality in the main event, attacking any submission that fit the opportunity: cross choke, ezekiel, flying armbar, and more! Though Rice successfully defended every attack, Duarte's experience and mat IQ was evident as he remained focused on his mission to find the finish.
Over a grueling 10-minutes Duarte won via unanimous decision victory. Duarte says this win was the last confidence boost he needed going into Worlds, and looks forward to returning to the F2W stage. He's hoping for a title shot which could potentially pit him against current heavyweight champion Erberth Santos.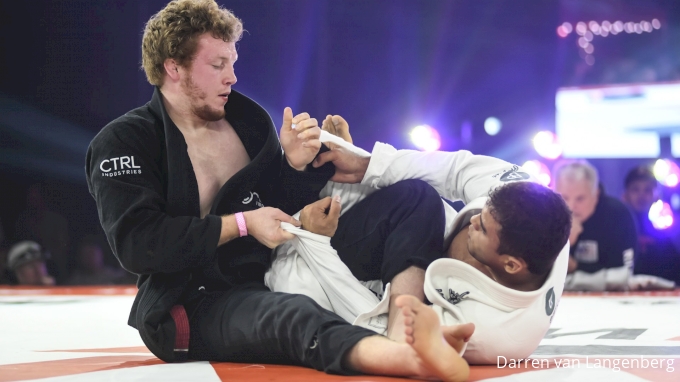 Unlock this video, live events, and more with a subscription!
Get Started
Already a subscriber? Log In
---
Antunes-Monteiro Go Down To The Wire
In the sub-only format a few things can happen. What everyone wants to see is an outstanding submission. Athletes are able to open up their game, maybe accept positions that they would not typically accept in the pursuit of a tap.
What sometimes happens, like with any ruleset, athletes fight not to lose instead for the submission, resulting in what would be considered a draw by any rule set. But, sometimes the best result is when athletes are matched so well that even when the match goes the distance, it was a constant battle, back and forth, leaving the audience, well, torn.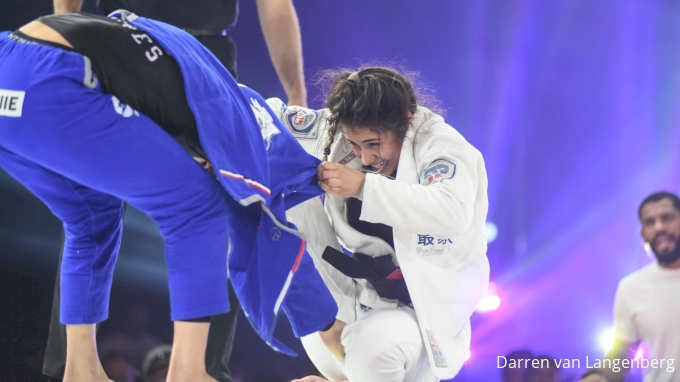 Monteiro on the attack. Photo: Darren van Langenberg
That's what we got in the title fight between Karen Antunes (Checkmat) and Amanda Monteiro (GF Team), a match up described as "world class" by someone who would know: the World Champ herself, Karen Antunes. There was never a dull moment in the 10-minute co-main event.
The 10-minute bout could not have been a closer contest! Though Antunes was relentlessly searching for submission opportunities, Amanda Monteiro was equally persistent in her eagerness to progress the match and her skill at evading any potential threat. At the end of the 10-minutes Amanda Monteiro won via split-decision to become the new F2W Flyweight champion in her F2W debut!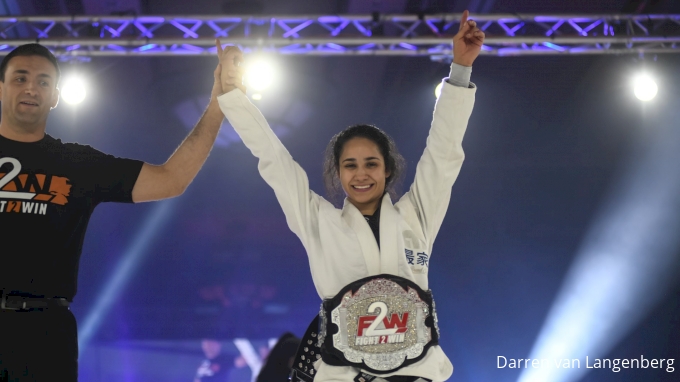 Photo: Darren van Langenberg
Antunes, the former champ, is confused over the decision saying: "The rule is clear. Submissions attempts will win if no one can finish. I was the only one attacking."
Adamant in her performance and grateful for the opportunity to appear on the stage against such a tough competitor and fellow world champion in Monteiro, Karen Antunes says she is ready for a rematch for the belt sooner rather than later.
In the meantime, you can catch both competitors back at it in less than two weeks at the 2019 IBJJF World Championships. Monteiro showing up to the biggest tournament of the year, fired up with a new title, and Antunes ready for redemption.

Unlock this video, live events, and more with a subscription!
Get Started
Already a subscriber? Log In
---
Coming up next
Seth Daniels, founder of Fight 2 Win, has been pulling out all the stops in his recent events and is just leveling up with each card he brings to the stage.
Taking a brief hiatus as Worlds approaches, Fight 2 Win will be returning the week after Worlds with a mega-card featuring some of the best of every generation: the legend Baret Yoshida, break-out star Ffion Davies, female top ranked Claudia Do Val, and who doesn't want to see Gabi Garcia making her F2W debut?