It's been a tough couple of years for Leandro Lo, one of the greatest jiu-jitsu competitors of recent times.
He's a six-time World champion in three different weight classes– technically four, if you include the absolute gold medal gifted to him by Buchecha in 2018. And let's not forget the eight Pan Championship gold medals, with two of those in the absolute.
Leandro is a legend, no doubt. But as somebody said to me, you need to watch out when people stop calling you a "monster" and start calling you a "legend". It usually comes when fortunes change, and that is definitely the case for Leandro.
Lo hasn't won a gold medal at Worlds since 2016 when he was crowned medium-heavyweight champion. He was defeated in the heavyweight final in 2017 by Meregali, and lost to Mahamed Aly in the super-heavyweight final in 2018 when he suffered a dislocated shoulder during the match.
The defeats at Worlds aside, things weren't all bad for Leandro during this time– he still won double gold at Pans both years, beating the likes of Joao Gabriel Rocha and Gutemberg Pereira in the process.
But 2019 has not been a good year for Leandro Lo.
Tough Times
His first match back since he injured his shoulder in June of 2018 was a superfight with Nicholas Meregali, a match Leandro lost 4-0. It was supposed to be Leandro's chance at revenge, but it ended up with him losing in front of his hometown crowd in Sao Paulo, which surely must have stung.
The best way to wash the bad taste of defeat out of your mouth is to come back ASAP and win, so Leandro returned to an event where he had enjoyed almost nothing but success for seven years: Pans.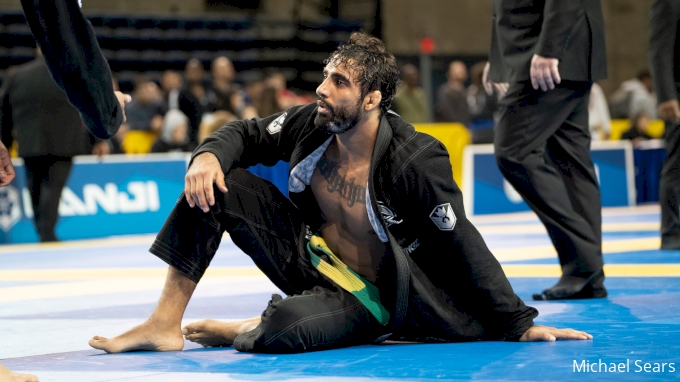 For a man who has taken gold at every Pans since 2014, the result could not have been more disappointing. Lo took bronze in his weight class after being submitted by Adam Wardzinski in the semifinal, and silver in the absolute division after a flat performance versus Lucas "Hulk" Barbosa.
The color of the medals that Leandro took home were far from what we would expect– it's a shock to see him with anything less than gold. No doubt he was far from satisfied with the results, but it's not all bad. Let's take a look at who he beat this year.
At Pans Lo took wins over three top black belts: he beat 2019 heavyweight Brazilian National champ Vinicius "Trator" Ferreira of Alliance, 2019 medium-heavyweight European and Brazilian National champion Rudson Mateus, and his former student Gustavo Batista, the 2019 European absolute champion who closed out 2018 Worlds with Lucas Barbosa. Yet the wins against Trator and Rudson were via decision, and he edged out Batista 2-0– far from dominant.
The Challenges Ahead
Registered for both the heavyweight and absolute divisions, Leandro will have to fight his way through a loaded bracket of– let's be honest– killers. The heavyweight division alone contains 2019 Pan champ Kaynan Duarte, 2018 World silver medalist Patrick Gaudio, Keenan Cornelius, Jackson Sousa, Adam Wardzinski, Tim Spriggs and others.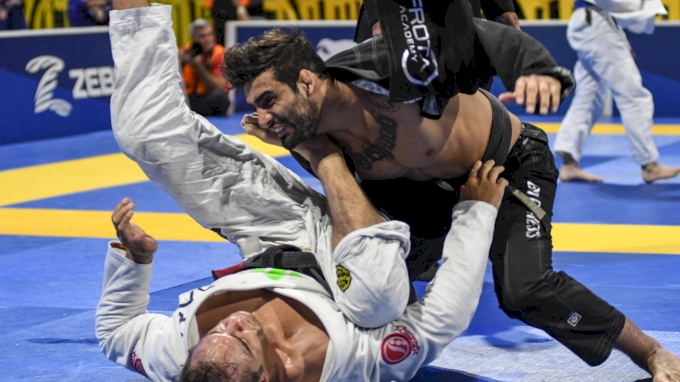 Lo vs Panza in 2018
His path to the final will probably be Dominique Bell of Atos followed by Jackson Sousa and Patrick Gaudio– the smart money is on either Kaynan or Keenan emerging from the other side of the bracket.
We preview what he can expect in the absolute division here. And as you'd expect, it's no easier than what he will face in his weight division.
Which Leandro will show up?
The word is that Leandro is motivated to perform well, wants to win gold and return to his winning ways. No surprise, but we heard the same thing before Pans and we all saw what happened there.
We've heard from sources close to Leandro that he has really been training hard, and that this time he's serious. No partying, no goofing off– just hard training and true focus.
When he arrived in the arena on Friday to sign up for the absolute Leandro looked in good shape, and relaxed but with a certain intensity about him.
Fans have hoped to see a return to form, and if what we've heard is true then we may see Leandro back on top of the podium– we'll find out for sure on Saturday, June 1.
Watch Leandro Lo in action
Adult / Male / BLACK / Open Class
Sat 06/01 at 11:36 AM - Mat 11: Fight 14 - Qualifiers
Adult / Male / BLACK / Heavy
Sat 06/01 at 07:22 PM - Mat 4: Fight 56 - Qualifiers