Fight 2 Win 115
Sub-Only Rules Prove Anything Can Happen: Will We See An Upset At F2W 115?
Sub-Only Rules Prove Anything Can Happen: Will We See An Upset At F2W 115?
Nathiely will defend her middleweight title vs Jessica Flowers at F2W 115, plus Liera Jr. faces Hugo Marques and Ribamar takes on Gabriel Almeida.
Jun 13, 2019
by Rose Miller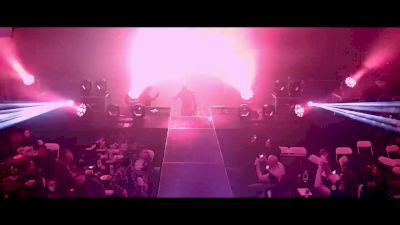 Nathiely De Jesus (Rodrigo Pinheiro BJJ) will defend her Fight 2 Win middleweight title versus Jessica Flowers (Gracie Barra) this Saturday June 15 at F2W 115 in Seattle.
Nathiely is the current champ-champ! Winning double gold at the most recent IBJJF World Championships, and with a victory over Beatriz Mesquita in the process of claiming the coveted absolute gold medal. With multiple wins over Jessica Flowers in the past it's easy to look at her as the favorite, but even the champ herself says anything is possible when she and Flowers clash on stage.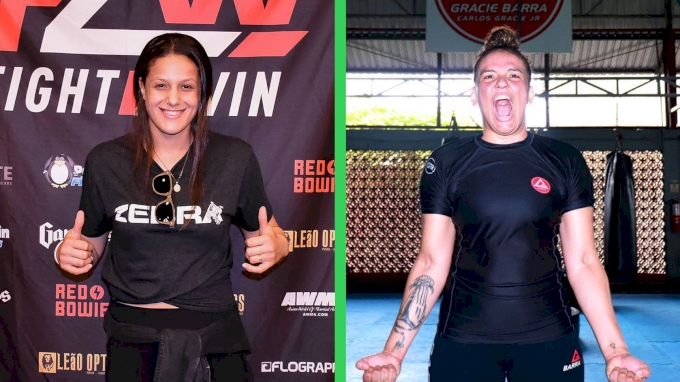 Nathiely (left) and Jessica Flowers (right)
Additionally, Fight 2 Win's sub-only format leaves space for a possible upset. Last weekend we saw the favorite Ffion Davies lose in dramatic fashion to Catherine Perret by submission, and a few weeks ago Gustavo Batista lost a decision to under-dog Matheus Diniz.
This will be a battle of two of the most effective guards in the game. Nathiely's length equips her with a lethal open guard and sinister leg locks to match. Equally tall, Jessica Flowers is known for her strong closed guard. With the ability to disregard points and with submissions at the forefront, we could see these women battling to attack from the bottom.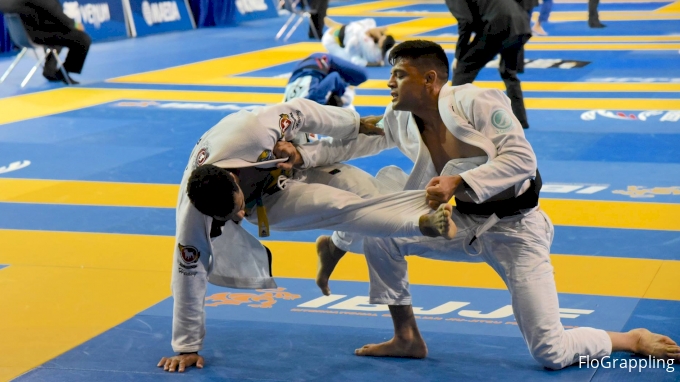 Liera Jr. on the attack
Michael Liera Jr (Atos) is back on the stage for a 175lb gi match against Hugo Marques (Soul Fighters). Liera Jr. is coming off some major wins– at F2W 110 he defeated Jaime Canuto is a game of inches, and showed equal fortitude against Tommy Langaker who he defeated in the qualifying rounds at Worlds.
Liera Jr.is constantly evolving and building momentum and will face the explosive and strategic Hugo Marques, who makes his F2W debut. A fantastic match-up of styles, Liera Jr. known for his brilliant and well-rounded guard work, while Marques is dominant on top– it'll make for a challenging match for both competitors.
Manuel Ribamar
Manuel Ribamar (Rodrigo Pinheiro BJJ) joins his wife Nathiely on the card for a 190lb gi match against Gabriel Almeida (Checkmat). This will be a match between two rising talents– once an underdog, Ribamar quickly proved himself a force to be reckoned with when he bested front runner Gabriel Arges on his way to gold at the World Series of Grappling late last year. Since then he has stayed active competing, and recently submitted former world champ Claudio Calasans at Pans.
Gabriel Almeida was scheduled to appear on F2W earlier this year but had to pull out due to illness. A silver medalist at the European Championships, Almeida qualified for ADCC by winning the trials in Sao Paulo and will return to the gi for this superfight in Seattle.
Fight 2 Win is keeping the level high in Seattle. Fights start at 5pm on Saturday June 15 LIVE on FloGrappling– don't miss the biggest party in grappling!