Fight 2 Win 115
Nathiely's Kneebar Solidifies Her Dominance At Fight 2 Win 115
Nathiely's Kneebar Solidifies Her Dominance At Fight 2 Win 115
Nathiely De Jesus has claimed both the middleweight and welterweight F2W belts, and looks nearly unstoppable right now.
Jun 18, 2019
by Rose Miller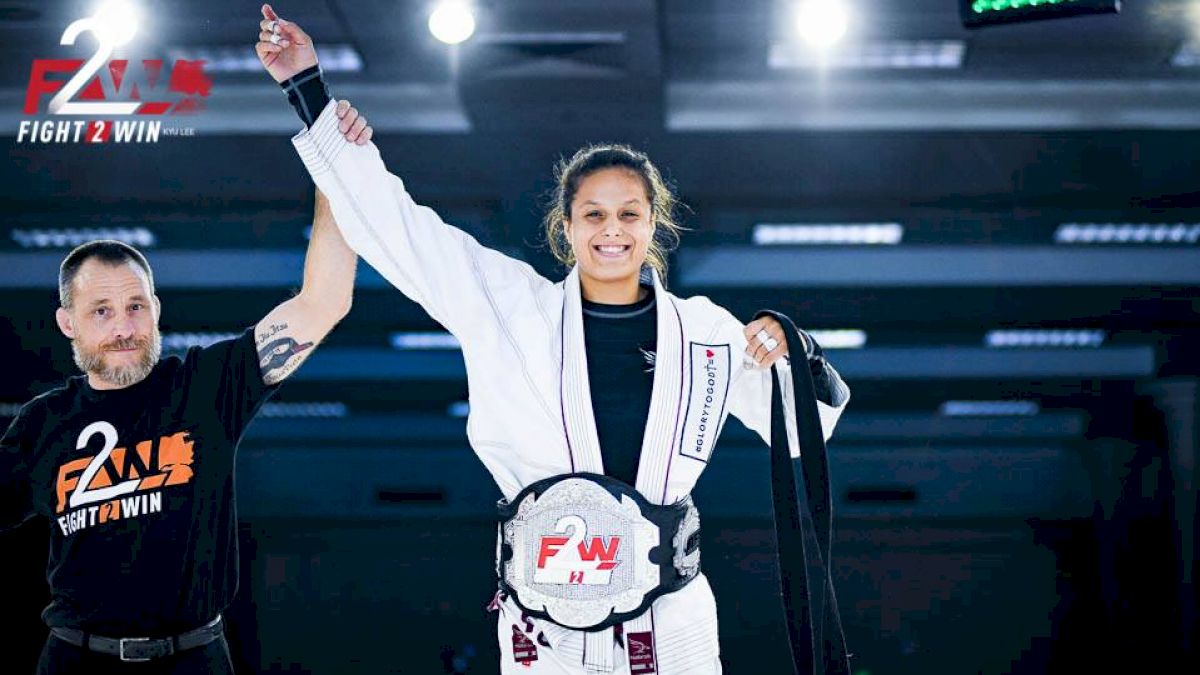 Nathiely De Jesus retained her F2W welterweight title against Jessica Flowers at F2W 115 in Seattle, on Saturday June 15.
In her first three years at black belt Nathiely De Jesus (Rodrigo Pinheiro BJJ) has become known as one of the most consistent women in jiu-jitsu and she proved it again on the Fight 2 Win stage.
In less than three minutes Nathiely was able to score a clean kneebar on Jessica Flowers (Gracie Barra) to retain her Welterweight title. In recent meetings, Nathiely has had the upper hand against Jessica, but it is always a formidable match as the Gracie Barra black belt has also secured her spot as a top contender in the division. A kneebar victory over Jessica Flowers only solidifies Nathiely's consistency and dominance in the sport.
Nathiely is a two-time double gold World Champion, her first double gold being awarded by technicality after Tayane Porfirio was stripped of her absolute title for doping violations in 2018. Nathiely's most recent double gold victory last month. In addition to being the current Pan, European, and No-Gi World champion, she has claimed both the middleweight and welterweight F2W belts, and has generally looked unstoppable.
What's next for the champ champ? In the immediate future she is planning to hit American Nationals in Vegas at the end of the month. In the broader scope, she is well on her way to cementing herself as one of the pound-for-pound greatest competitors of all time. But that's not what is most important to Nathiely. She says above titles and medals she aims to use jiu-jitsu to show others people believe in and accomplish their dreams.
Watch Nathiely Jesus vs Jessica Flowers
Liera Jr edges out Marques in slow battle
Just a few weeks ago Michael Liera Jr. (Atos) made his Fight 2 Win debut against Jaime Canuto, and Saturday night he improved his Fight 2 Win record to 2-0 with a victory over Hugo Marques (Soul Fighters).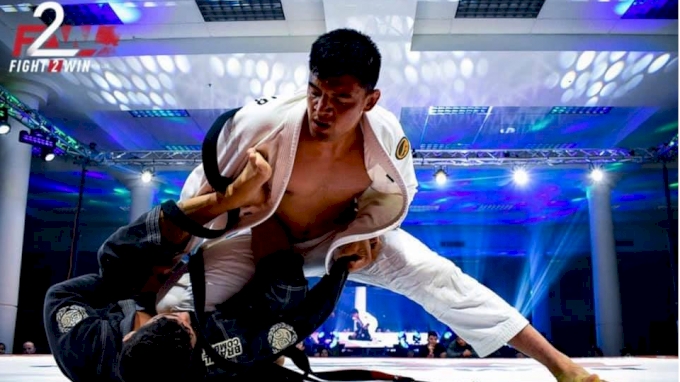 As expected, Liera Jr. pulled guard immediately. After attempting to establish collar sleeve guard, flirting with some armlock and omoplata attacks, Liera Jr. forced 50-50 with an immediate sweep attempt, but Marques was able to diffuse the attack. Unexpectedly, the match became a 50-50 battle with the athletes exchanging foot attacks. By the end of the co-main event Liera Jr. was awarded the unanimous decision victory.
Watch Michael Liera Jr. vs Hugo Marques
Other notable matches:
• Prior to winning the main event, Nathiely De Jesus was seen coaching her husband, Manuel Ribamar to a decision victory over Gabriel Almeida. This was a big win for the currently-unranked Ribamar against the medium-heavyweight no.8-ranked Almeida – watch the match here.
• Nathan Orchard scored a kneebar win over Dustin Akbari which earned them fight of the night – watch match.
• The women made a statement at brown belt with female match ups taking both Submission Of The Night and Fight Of The Night. Check out the matches between Becca Phaesant-Reis and Carley Rangel to see a nasty calf crusher, and Christy Gerwen vs Lauren Johnson for brown belt match that earned FOTN.
Watch the full event replay here – click here for every match from the event