Unlock this article, live events, and more with a subscription!
Get Started
Already a subscriber? Log In
If you haven't heard of Atos black belt Kaynan Duarte yet, you've been living under a rock. At only 21 years old, the young Brazilian just had one of the hottest rookie years in BJJ history, recently capped off by his first black belt world championship title, merely a year after being promoted on the podium following a double-gold win at brown belt.
Without skipping a beat, Duarte is now set to face off against GF Team's Gutemberg Pereira in this coming weekend's Fight 2 Win 117 in San Diego, California.
While Duarte has largely made a name for himself in the points-based tournaments, with wins at major IBJJF and UAEJJF events and KASAI Pro 5, he's not exactly a stranger to the submission-only ruleset.
Under the hybrid submission-and-points ruleset of ADCC, he stunned the jiu jitsu world at the 2017 ADCC Brazilian Trials, where he won the -88kg division as a purple belt, with four out of five wins by submission. However, he has relatively limited experience in a true submission-only ruleset.
Kaynan in control at Fight 2 Win 113
Duarte made his debut Fight 2 Win appearance in May his year, with a judge's decision over Tanner Rice. It was a grueling 10-minute match that showcased Duarte's crushing top game.
Regardless, Duarte says he likes to compete under a fresh ruleset and appreciates that Fight 2 Win pushes competitors to actively look for submissions, which can often be few and far between in a points-based ruleset. He does note the lack of points can make it hard to determine the real winner in a close match; however, Duarte isn't looking to make it a close match.
Interestingly, this will be the Duarte's first time facing Pereira. While you might be surprised that the two haven't fought before, they are usually in two different weight classes – with Duarte a Heavyweight and Pereira in the Super Heavyweight division. The older Pereira has also been a belt level ahead of Duarte… until last year.
This match will certainly be a spicy one. Both fighters are well-rounded, with exceptional passing games and equally strong guards. Both move remarkably well for being larger athletes, and have consistently delivered exciting matches.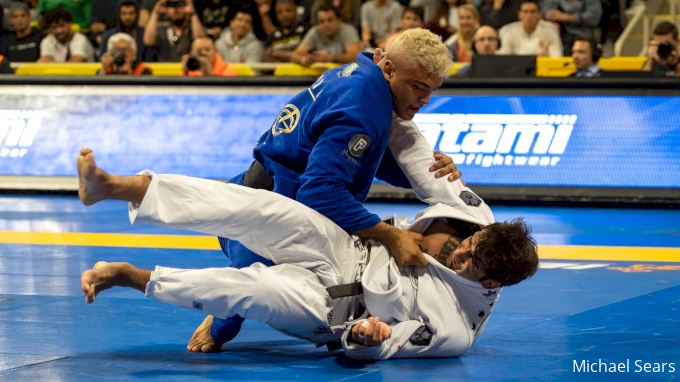 Kaynan on the attack vs Leandro Lo in the 2019 World Championship heavyweight final
While Pereira has a higher rate of wins by submission – 54% versus Duarte's 33% – Duarte has over triple the number of wins in the last two years, and a wider repertoire of submissions.
Duarte also has an added advantage of riding the wave of confidence that comes from a number of recent – and very notable – victories, many of them against some of the biggest-name black belts in the world, such as Leandro Lo and Jackson Souza.
When asked about his strategy for this match, Duarte said he was going to "play the same game" as always. Considering his tremendous success of late, why would he change a thing? Notably, Duarte also doesn't like to study his opponents, and says he always goes into a match with the intention of imposing his own game on his opponents:
"I focus more on applying my techniques offensively, rather than reacting to their game defensively."
His performance since leveling up to black belt has been nothing short of phenomenal. Just last January, FloGrappling named him the 2018 Breakthrough Grappler of the year, a distinction that few – if any – could argue with. His 2019 year is looking to be even more incredible, and another F2W title would be another solid notch in his belt.
Watch Fight 2 Win 117 on June 29 LIVE or On Demand ONLY on FloGrappling
Start times:
San Diego: 5:00 pm
Houston: 7:00 pm
New York: 8:00 pm
Rio de Janeiro: 9:00 pm