Fight 2 Win 117
Kaynan Duarte Continues Win Streak With Narrow Win At Fight 2 Win 117
Kaynan Duarte Continues Win Streak With Narrow Win At Fight 2 Win 117
Saturday night Fight 2 Win pitted no.7-ranked super heavyweight Gutemberg Pereira against the breakout star that is no.1-ranked heavyweight Kaynan Duarte.
Jul 1, 2019
by Hywel Teague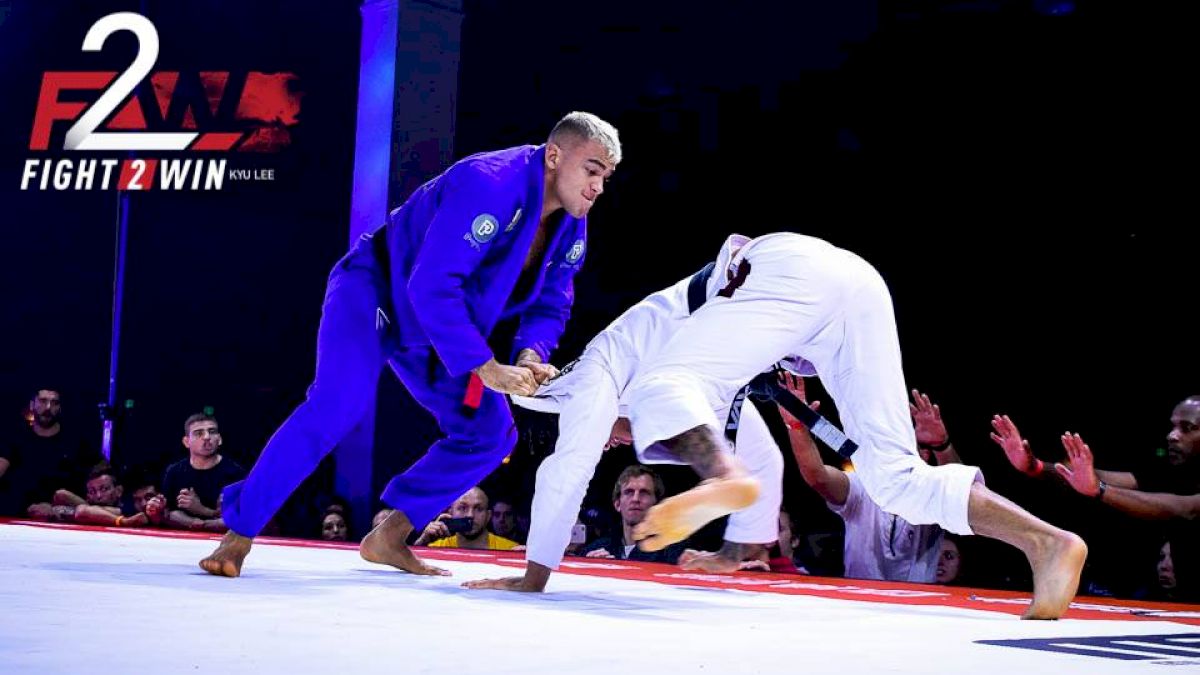 Kaynan Duarte (Atos) continues his streak against Gutemberg Pereira (GF Team), and Jena Bishop (Alliance) scores her biggest career win to date over Luiza Monteiro (Atos) at Fight 2 Win 117 in San Diego.
Saturday night Fight 2 Win pitted no.7-ranked super heavyweight Gutemberg Pereira against the breakout star that is no.1-ranked heavyweight Kaynan Duarte.
After exchanging foot sweep and takedown attempts that nearly took the athletes off the stage, Kaynan pulled guard. Points don't matter in sub-only, but position does. While some players will accept a sweep in attempt to set up a submission, Kaynan refused to concede anything that would be "points" in order to progress the match while controlling its trajectory, staying ahead in the judges' minds for both sub-attempts and positional dominance.
Pereira, no stranger to adversity, seemed frustrated with the web that Kaynan caught him in. With few submission attempts on the board, Kaynan exploded into a last minute blitz leading him to a final Estima lock attempt in the last 15 seconds. The ten minute battle ended with a split decision in Kaynan's favor.
With few exceptions, Kaynan has been tearing through the competition at every tournament or superfight he accepts. He is currently the heavyweight champion with good reason. The Atos Phenom has won nearly everything in his inaugural year at black belt. A short list of some of his accomplishments this year include gold medal runs at Pans, Worlds, Abu Dhabi World Pro, and KASAI. So how does he improve from here? He has yet to win ADCC, but is on track to face off with the world's best +99kg no-gi grapplers in just a few short months.
Bishop Breaks Through With Win Over Monteiro
Sometimes the statistics can tell the future, other times the under-dog tells the stats to suck it.
Luiza Monteiro is a two-time black belt world champion, equipped with strategic vision, a daunting guard, and unsuspecting submission attempts she is one of the highest caliber athletes in the current landscape of women's jiu-jitsu. Going into this superfight she was the strong favorite. However, Jena Bishop has been picking up momentum, recently qualifying for ADCC and feeling like she has come into her own as a competitor over the last year.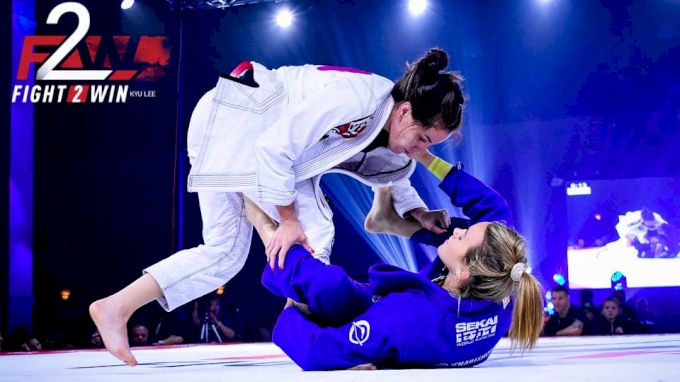 While Luiza's guard is not a place most athletes would want to find themselves, Jena looked composed and confident when the match began with an early guard pull by Luiza. The match progressed as a feisty, but technical battle as Jena solved each piece of Luiza's intricate guard.
Near the end of the match Jena was able to close her guard around Luiza and was relentless in her cross choke attacks to finish the match. The battle ended with a unanimous decision in Jena's favor, awarding her possibly her biggest career win to date. The pair had never fought before, but with Luiza's expertise Jena was prepared for the toughest kind of match, and went into it focused on fighting her best. Keep an eye out for Jena as she takes on ADCC in September.
San Diego always has stacked cards. Here are a few more matches you definitely don't want to miss.
In his black belt debut, Ronaldo Junior gets the split decision victory over Sergio Rios in an absolutely non-stop, explosive match. The most entertaining match of the evening? Without a doubt.
Rafael Dallinha earns Submission Of The Night with an armbar over Paulo Filho.
Pablo Mantovani scored a swift kneebar win over Andre Pontes.
Everyone like a controversy. Maybe one of the most controversial decisions of the night for the split decision victory for Kuhio Tabancura over Vinicius Lino. What do you think?
Keith Krikorian puts on another stand-out performance winning by RNC over Dan Dykeman in the brown belt Fight Of The Night.