Last Saturday Jitzking held their inaugural event in Ybor City, Florida where Checkmat's purple belt, break-out talent, William Tacket, was crowned the "Jitzking" after defying the odds and conquering the 16-man, purple to black belt, combined bracket.
Jitzking set out to challenge the pace of jiu-jitsu, and they did just that with their unique ruleset.
Watch all Matchs from Jitzking Here
A format that favors wrestling, and strictly penalizes stalling resulted in the dynamism and aggression that jiu-jitsu spectators hope to see. With slams legal, the event even resulted in a brutal, knock-out victory when Adam Habeil, a last-minute purple belt alternate, slammed his opponent in quarterfinals. That's just a taste of the intensity that this tournament held. With a 16-man bracket and seven high-level super fights the event was full of surprises.
Florida local, Mauricio Gomez (American Top Team), took down the first half of the division besting Jim Alers, Pablo Laveselli, and Adam Habeil on his way to the finals. He won two of his three matches leading up to finals by heel hook, with an entry he was constantly hunting in every match.
Is William Tackett the most diverse submission hunter coming up in the ranks today?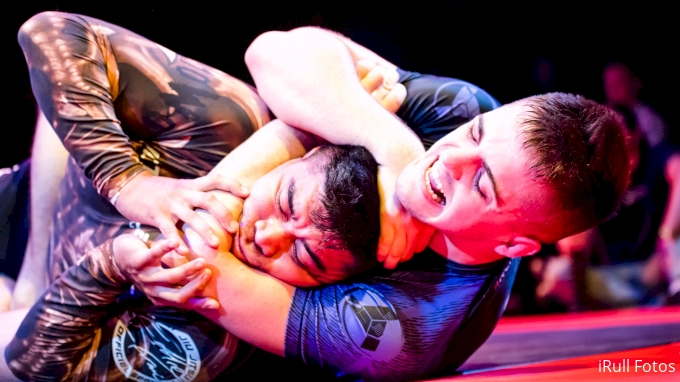 He worked his way to the finals with an array of submissions. His submissions don't discriminate: all limbs and angles were up for grabs… literally. In his qualifying match he took out hometown favorite, Werther Marciales with a slick RNC.
In quarters, he met Enrico Cocco, a pick to win the entire event, and submitted with a heel hook within the first three minutes of their match.
In semi-finals he took out Emilio Hernandez in a match that was an endless series of attacks that ended in a slick armbar, while in transitions from attacking the back.
In finals, he met Mauricio Gomez where he was just as relentless in his pursuit of the submission and won 12-0 for the Jitzking title. This is not Tackett's first time making waves against black belts. Tackett took silver at ADCC West Coast Trials. Keep your eyes on this kid. He is only gaining momentum.
Combs & Leve Ensured Super Fights Lived Up the Hype
Dannielle Kelly (Silver Fox BJJ) met Mariuxi Llaguno (ATT Weston) in a 115 lbs brown belt, no-gi super fight that went into overtime. These women put on a show with elite level wrestling and leg attacks. Be warned: there were some seriously deep heel hook attempts, escaped with sheer will and flexibility by both women. Dannielle came out the winner with a blast double in sudden death overtime.
In the co-main event we finally got a rematch of the ADCC west coast +60kg women's finals between Maggie Grindatti and Amanda Leve. This was one of the most competitive matches of the night. Both women were confident on their feet and on the prowl for a takedown. Maggie landed a beautiful Uchi Mata, in the first half of the match before points counted. Amanda was able to work her way back to her feet and take control, securing a body lock position and jumping to the back. So confident in her submissions, she bypassed opportunities to score points for the takedown and back take and went directly for the face crank, which eventually awarded her the submission victory, for the second time, over Maggie Grindatti.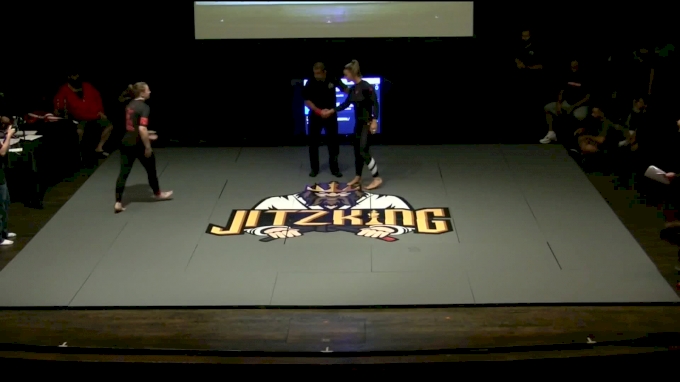 Unlock this video, live events, and more with a subscription!
Get Started
Already a subscriber? Log In
Nick Rodriguez bested Jason Reyes 15-0 with an expert display of wrestling.
The main event featured a super-fight between John Combs and Dan Martinez. The match was a constant battle, but Combs was able to smother the intricate guard of Martinez in a constant sequence of attacks and transitions eventually awarding him a 12-2 victory. Saturday night Jitzking held their inaugural event in Ybor City, Florida where Checkmat's purple belt, break-out talent, William Tacket, was crowned the "Jitzking" after defying the 16-man, 165 pound, purple to black belt, combined bracket.