Create a free account to unlock this article!
Get Started
Already a subscriber? Log In
Two teams will face off this Saturday, July 13 in Los Angeles, California when SUBVERSIV– a Fight 2 Win production– delivers their second card. The reigning SUBVERSIV Pro Team champs, 10th Planet, are bringing five of their top competitors to meet the Red Bowie team, a conglomerate of the company's five most successful, sponsored athletes.
SUBVERSIV is making jiu-jitsu a team sport pitting two teams of five against each other for 10 minute no-gi matches under the EBI rules, overtime rule included. To create the teams there are four men's matches across four weight classes (-145lbs, -165lbs, -185lbs, -205lbs), and one women's openweight match. The first team to win three matches goes home with $10,000. Should a team score three wins before all five matches have gone, the remaining matches will still compete for pride points.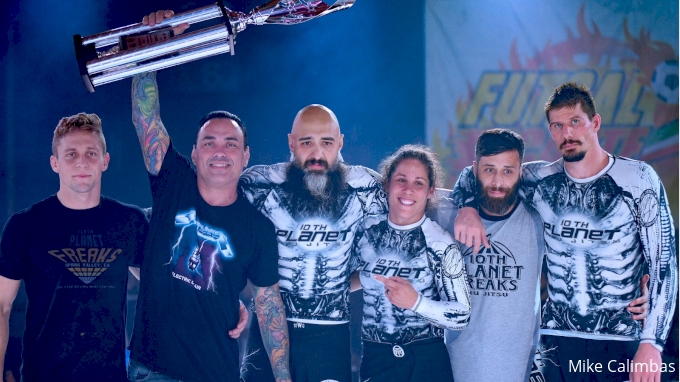 The inaugural SUBVERSIV event became a gauntlet between 10th Planet and Team Lloyd Irvin. Team Lloyd Irvin came out the gate strong with big wins from Tim Spriggs and DJ Jackson in the preliminary matches, but the momentum shifted as 10th Planet took home the final three matches, making them the best team in grappling, for now. They are back to defend their title this weekend.
SUBVERSIV 2 matches
145lbs: Joao Miyao (Red Bowie) vs Geo Martinez (10th Planet)
One of the most dominant IBJJF competitors meets one of the most dominant EBI competitors in this match up. As a three-time, no-gi World Champion and two-time no-gi Pan champion Joao Miyao is currently Flograppling's #7 ranked pound-for-pound and #4 ranked featherweight in no-gi. In addition to being hyper-successful under the IBJJF ruleset Miyao as tested himself in alternative rulesets, most recently in the Rise invitational where he scored an inside heel hook against Zach Manslay, proving he is well-rounded and prepared for whatever challenges the EBI ruleset present.
Geo Martinez is the #8 ranked no-gi featherweight, according to Flograppling. Of the athletes on the card, he is the most seasoned competitor under the EBI ruleset, claiming EBI titles under three different weight classes. Protect your legs around Geo. He is a submission aficionado with an incredible 77% submission rate, usually getting the tap from calf slicers and heel hooks. However, Miyao is notorious for his gumby, hard-to-submit joints. Even if Geo is able to set up his subs, getting Miyao to tap will be a battle in itself.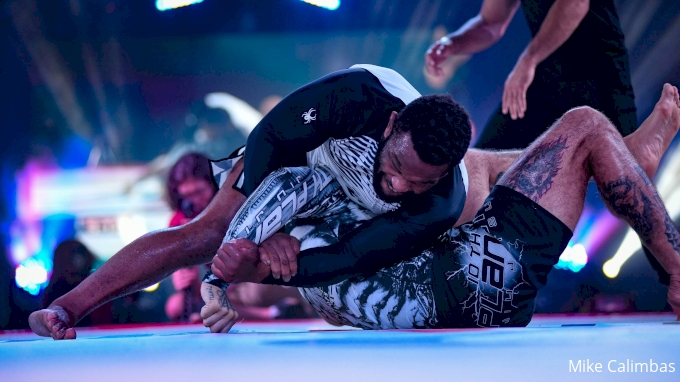 165lbs: DJ Jackson (Red Bowie) vs Ruben Rivera (10th Planet)
In this match DJ Jackson's vigorous wrestling will be challenged by the elusive strategy, supple guard, and sinister submission game of 10th Planet's Ruben Rivera. Jackson has distinguished himself in the jiu-jitsu world with this extremely effective wrestling and relentless pace. Let's just say, he's not the guy you want to end up underneath on the mat because there will be no mercy.
DJ Jackson was also on the last SUBVERSIV card. Although, 10th Planet won over all, Jackson helped Team Lloyd Irvin put up a stiff fight submitting Richie Martinez in the second match. While DJ Jackson is the better known competitor, don't count out Rivera's well rounded game. Rivera was recently seen at ADCC West Coast trials where he displayed highly developed skill in evading and countering aggressive opponents, as well as bold submission attacks from unexpected angles.
185lbs: Ronaldo Junior (Red Bowie) vs Kyle Chambers (10th Planet)
He has already made such a name for himself at the lower ranks, it feels wrong to call Ronaldo Junior a "rookie" black belt. Only about a month into his black belt career, Ronaldo Junior is the most promising new black belt on the scene, and one of the most riveting athletes to watch.
Last weekend he won is black belt debut on the Fight 2 Win stage in a spectacle that took Fight of the Night, and he looks to do it again against EBI veteran and Onnit Invitational Champion, Kyle Chambers. Chambers is known to be a foot lock specialist, and uncanny set ups.
205lbs: Gabriel Almeida (Red Bowie) vs Kyle Bohem (10th Planet)
Establishing himself primarily under the IBJJF circuit, Gabriel Almeida is also a threat without the gi, qualifying for ADCC by winning the Sao Paulo trials where he made his way to the finals by winning four matches via heel hook!
The EBI ruleset, and overtime format could be a wildcard factor for Almeida, but with most of his matches coming by way of submission, he is always on the hunt for the finish. The EBI and ADCC veteran, Kyle Boehm, is the dark horse of the tournament. In 2017 he unexpectedly upset Kaynan Duarte via decision at 5 Grappling, so anything is possible.
Women's Openweight: Pati Fontes (Red Bowie) vs Elvira Karppinen (10th Planet)
Both of these women are known for the menacing no-gi game, and competent in all rulesets of the game from IBJJF to ADCC and EBI. Pati Fontes is a three-time no-gi world champion, and was a finalist at EBI The Strawweights.
Elvira Karppinen is earned her merit by becoming "the girl who beat Mackenzie Dern" in the quarterfinals of ADCC in 2017. Since then she also became an IBJJF no-gi open weight champion. Transitioning to jiu-jitsu from a lifetime in dance she a unique bodily awareness, mobility, and creative interest beneficial in jiu-jitsu. In this match she will also have a size advantage over Pati Fontes who typically competes in the light-featherweight division.
PLUS
In addition to the 5 on 5 SUBVERSIV tournament Fight 2 Win will also host 35 gi, no-gi, and judo matches under the normal F2W ruleset. Notable matches include:
170lb Black Belt Gi: Victor Silverio (Gracie Barra) vs Thiago Lemos (Checkmat)
155lb Black Betl Gi: Peter Khan (Art of Jiu Jitsu) vs Cleber Luciano (Cleber Jiu Jitsu)
130lb Black Belt Gi: Nathalie Ribeiro (Checkmat) vs Liz Exell (Villanova BJJ)
120lb Purple/Brown Belt No-Gi: Jessa Khan (Art of Jiu Jitsu) vs Tabatha Ricci (Paragon Jiu Jitsu)
Watch SUBVERSIV 2 LIVE or On Demand ONLY on FloGrappling
July 13 | Los Angeles, CA | 7.30pm PST