Nathiely De Jesus (Rodrigo Pinheiro BJJ) defeated Gabi Garcia (Alliance) in a thrilling encounter to become the F2W Heavyweight champion at Fight 2 Win 121 in Austin, Texas.
Over the weekend Nathiely De Jesus inscribed her name on the very short list of women who have wins against the indomitable Gabi Garcia. After a tough and very close loss in the open class finals at Pans, Nathiely was able to make a valiant return to take the Fight 2 Win Heavyweight belt. Coming into this match with such recent exposure to Gabi's game seemed to benefit Nathiely. She came to the stage knowing exactly where her openings would likely be, and how she was going to redeem herself with the belt in hand.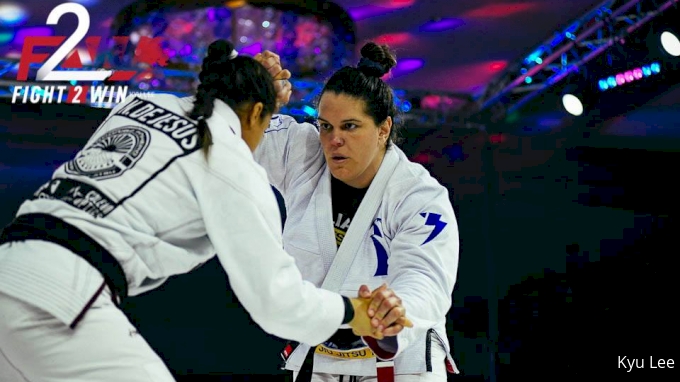 Unlock this video, live events, and more with a subscription!
Get Started
Already a subscriber? Log In
At Pans, Gabi's match-winning advantage was scored when she stacked Nathiely, threatened a pass, and forced turtle. Gabi attempted the same progression, but this time the challenger had answers. Off the stack Nathiely made armbar and triangle attacks.
She was able to utilize her length to both off balance Gabi, and control her in the closed guard. Though Gabi held top position for the duration of the match, it was Nathiely who was controlling the position and progressing the match with both her open and closed guard. The 10-minute main event ended with Nathiely attacking a Kimora. Her valiant performance earned a unanimous decision to become the Fight 2 Win Heavyweight Champion.
As one of the most accomplished women in jiu-jitsu Gabi Garcia won't be down for long. Both women are taking on the +60kg division at ADCC. Depending on how the brackets play out we could see their third rematch in just a few months, with a new format and no gi to slow it down.
The co-main event pitted up-and-coming Kody Steele (Brazilian Fight Factory), fresh off one of his biggest career wins against DJ Jackson and hungry to make a statement, against veteran and ADCC contender, Jonathan Satava (Marcelo Garcia) looking to make a comeback after time off. Since winning ADCC East Coast Trials in late 2018 he got married, opened a gym and had a baby!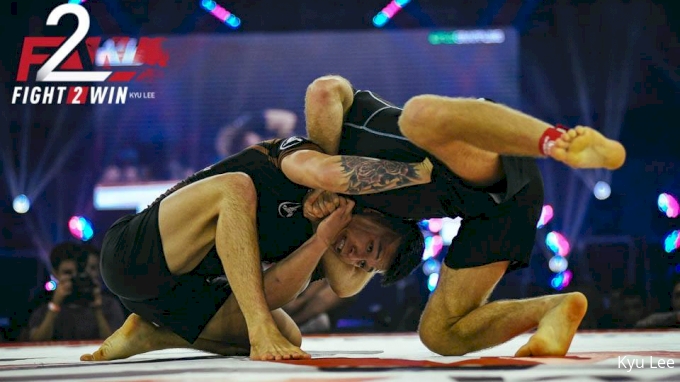 Satava was able to impose his butterfly guard to set up sweeps and of course, the signature Marcelo Garcia guillotine, like he never left. Although he was not able to get the tap, he controlled and attacked the entire match, and won by unanimous decision. Look out for Satava in the -77kg division at ADCC. Watch the match here.
Other notable matches:
Nisar Loynab defeats Yago De Souza via split decision
Manuel Ribamar defeats Ralphy Sebexen via decision
William Tackett defeats Carlos Espinosa via arm triangle
Cole Abate defeats Tyler Ard via triangle to become the F2W Teen NoGi Flyweight Champ
Catch up on the action– watch every match from Fight 2 Win 121 here!