KASAI Pro 6
KASAI Pro 6: Live Updates & Results
KASAI Pro 6: Live Updates & Results
Live results from Atlantic City from KASAI's inaugural 135lb Bantamweight Championship and Superfights.
Aug 17, 2019
by Chase Smith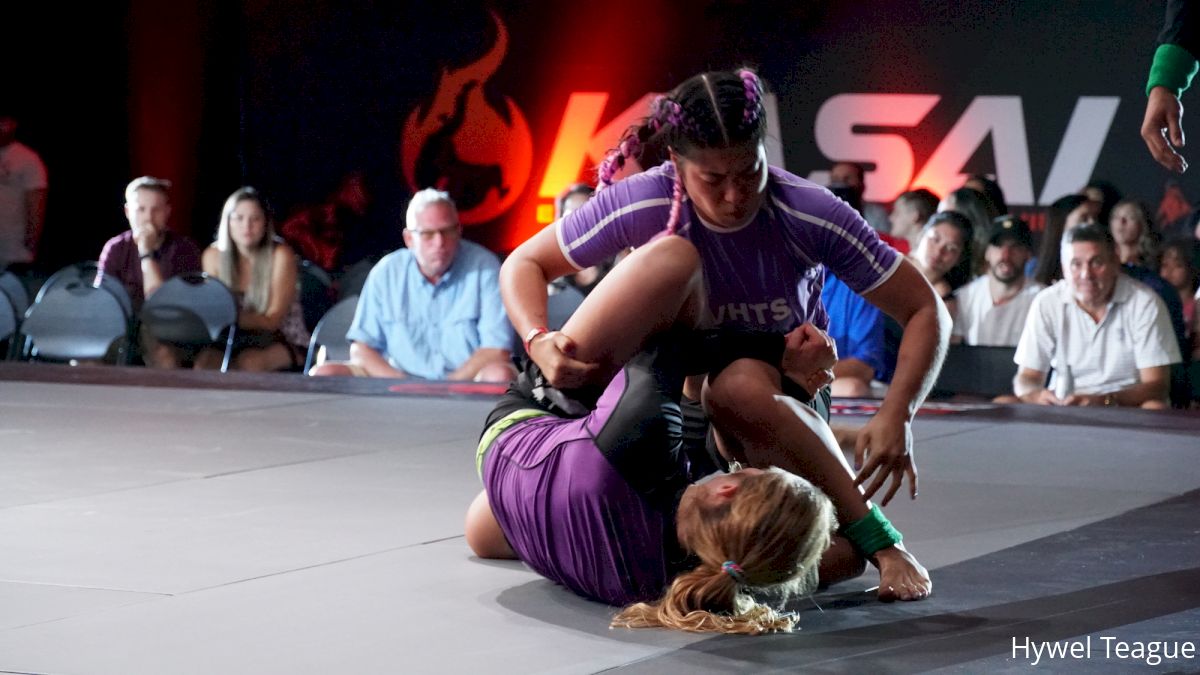 Unlock this article, live events, and more with a subscription!
Get Started
Already a subscriber? Log In
It's finally here!
KASAI Pro 6 is popping off now in Atlantic City. The event contains the stacked eight-man 135lb tournament, plus super fights Kaynan Duarte vs Patrick Gaudio, Josh Hinger vs Matheus Diniz, and a massive undercard.
Can't watch all the action live? You're in luck – we'll provide the cliff notes from every match here. Follow along in real-time as we make our way through KASAI Pro 6.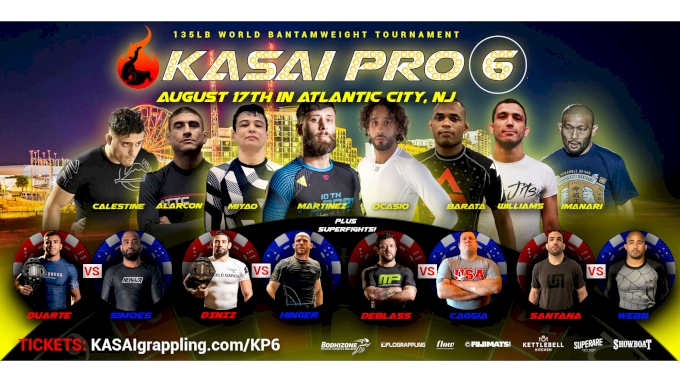 ---
LIVE Updates
8-Man Grand Prix Group A
Richard Alarcon vs Joao Miyao
Alarcon opens the match with a low single-leg takedown., gets one int after forcing Joao out of bounds during the attempt. He then counters Joao's guard pull for two points, giving putting him ahead 3-0 at the 5:00 mark. Joao inverts and threatens matrix back take and ends up getting the 2 points, Alarcon attacks off the seep with a kneebar, putting the score at 4-0.
Joao hits his patented body lock takedown for 3 points, and then takes the back, making the score 9-4 with three minutes left. Alarcon fights to get to the feet and Miyao finishes with a standing RNC.
Result: Joao Miyao via RNC - 3 points to group leaderboard (watch match)
Rafael 'Barata' Freitas vs Ashley Williams
Barata opens the match with a guard pull and Williams is immediately on the offensive. He kneecuts past Barta's guard and finalizes the position on Barata's back. Wasting no time, Williams finishes the RNC with 3:30 left in the match.
Result: Ashley Williams via RNC - 3 Points to Group Leaderboard (Watch Match)
Rafael 'Barata' Freitas vs Joao Miyao
Miyao sits to guard threatens various inverted attacks from DLR and RDLR before settling for 2 points for the sweep. Once on top, Miyao was working various leg drag passes before Barata forces the scramble and rests on the feet causing Joao To promptly pull guard.
Miyao again sweeps off an inversion attack to put the score to 5-0. Miayo utilizes a leg drag to set up the saddle position and finished the match with an inside heel hook. Barata appeared to have sustained an injury after trying to fight out of the heel hook for a considerable amount of time.
Result: Joao Miyao Via Heel Hook - 3 Points to Group Leader Board (Watch Match)
Richard Alarcon vs Ashley Williams
Alarcon's strong wrestling skills kicked off the match as he put one point on the board of a near takedown. After a few more scrambles, it was Williams who managed to get two points on the board from a slick arm-drag double leg takedown.
From there Williams aggressively hunted the kneecut pass and looked to take the back, but Alarcon reversed the position. Alarcon was in on what looked to be a deep anconda choke, but Wiliams survived and wrestled up from the bottom and tried to take the back before again getting shucked off by Alarcon.
Alarcon was awarded a single point for a near takedown attempt, putting the score at 3-2 for the one jiu-jitsu representative. Easily one of the most entertaining matches of the event.
Result: Richard Alarcon (3-2) - 2 points to Group Standings (Watch Match)
Richard Alarcon vs Rafael 'Barata' Freitas
Barata has withdrawn from competition due to injury, making Alarcon the winner.
Result: Alarcon Gets +2 points for Group Standings.
Joao Miyao vs Ashley Williams
Joao vs Ashley Williams set up an interesting interplay between William's kneecut passes and Joao Miyao's RDLR. There was plenty of submission attacks with both athletes, all centered around various leg lock entanglements. Williams was in on some solid heel hook entrys, but never seem to phase Miyao.
Result: 1-1 Draw. +1 each for group standings, Joao Advances to the final. (Watch Match)
Look a bit like
---
8-Man Grand Prix Group B
Geo Martinez vs Edwin 'Junny' Ocasio
Junny pulls guard and Geo looks to open with a strong passing sequence, but seemingly overcommits and is reversed for his efforts, awarding Junny two Points. The Match returns to a neutral standing position and again Geo looks to pass.
Lots of wild scrambles as Geo tries to find the answer to Judy's crafty guard, the match hit the one-minute mark with a 2-0 lead for Juny. Knowing he's down on points, Geo dives on a rolling kimura attack to try and get the win but again gives up two points.
Result: Junny Ocasio def. Martinez (4-0) - 2 Points to Group Leader Board (Watch Match)
Jon Calestine vs Masakazu Imanari
Jon pulls guard and Imanari immediately looks to sit for his own leglocks. The two battle in a loose 50/50 position and lots of leg pummeling was to be seen.
Keenly aware of points, Calestine wisely came up from various leg entanglements twice in order to go up 4-0 on the score, before sitting back down into the saddle and finishing the match with a heel hook.
Result: Jon Calestine Win Via Heel Hook - 3 Points to Group Leader Board (Watch Match)
Geo Martinez vs Masakazu Imanari
Geo opens the match with a guard pull; Imanari sits back for a leg lock and geo opts to come up for two points. Form there, the Eddie Bravo representative entered his famed truck positions and looks to finish a calf slicer (vaporizer for you 10th plant folks) but Imanari is unfazed.
Sensing he couldn't achieve the finish Martinez transfers from the ruck to the back, making the score 7-1 with 3 minutes left. Geo hunted for the RNC before switching back to the truck and calf slicer attacks, but Imanrai weathered all of the attacks.
Result: Geo Martinez Wins (7-1) - 2 Points to Group Leader Board (Watch Match)
Edwin 'Junny' Ocasio vs Jon Calestine
Double guard pull battles characterized thee opening minute of the round. In a surprising move, Celestine leps from seated guard on a guillotine that looks DEEP, but Juny survives and the potion rests, warding Calestine one point for his efforts Junny sits to guard and then manages to come up for the sweep while attacking a leglock, making the sore 3-2 with Juny in the lead.
Junny pulls guard and then comes up with a technical stand up from x-guard to get the sweep, extending his lead to 5-2.
Result: Junny Wins (5-2) - 2 Points to Group Leader Board (Watch Match)
Masakazu Imanari vs Edwin 'Junny' Ocasio
Imanari continues to flaunt all interest in points and accepts a sweep from Junny in order to set up a leg lock attack. He hits a nice toehold entry that sees him earn a point and enter a standing position, only to be promptly swept again by Junny, making the score 4-1.
This pattern continued throughout the match, with total score rending up at 8-1. Imanari did have some decent entries but Junny's defense was on point and he never seemed to be threatened by any footlocks.
Result: Juny Wins (8-1) +2 Points Group Standing (Watch Match)
Jon Calestine vs Geo Martinez
The hotly anticipated rematch between Jon Calestine and Geo Martinez didn't pan out quite the way fans would have hoped. We didn't see a ton of action in this match, and Geo's crafty guard kept Calestine's passing at bay. The final score was 1-1
1-1 Draw. +1 each for group standings, Junny Advances to the final. (Watch Match)
---
Jon Calestine vs Richard Alarcon - Third Place Match
Alarcon's strategy was exceptional in the KASAI 135lb third-place match – he was able to counter Calestine shots twice with quick double legs in order to put4-0's on the board and secure the bronze medal.
Results: Alarcon Wins (4-0) - Watch Match
Joao Miyao vs Junny Ocasio - FINAL
In an interesting twist, it was an all Unity final as Junny Ocasio met Joao Miyao. The pair appear to be really going at it. Miyao's influence on Ocasaio's game as been seen throughout the tournament, and they appeared to be mirror images of each other's in this match with plenty of inversions from the RDLr Guard.
Ocasio put one point on the board with an inside heel hook attempt from SLX, making the score 2-1 for Miyao.
Results: Joao Miyao Wins (2-1) Watch Match
---
Super Fights
Tom DeBlass vs Nick Caggia
The opening minute sees a bit of non-commital wrestling before DeBlass opts to pull seated guard, before finally settling into the knee shield position. DeBlass feints a deep half sweep and once Caggia was off base, DeBlass secures a tight kneebar to finish the match.
Result: DeBlass Wins Via Knee Bar (Watch Match)
Jonavin Webb vs Murilo Santana
The storied leader of Unity Jiu-Jitsu Murilo Santa opened the match playing a seated guard. Webb entered Satana's guard cautiously before attempting a diving kimura, a technique that placed him directly in Murilos closed guard.
At the 5:30 mark Murilo was able to lock is hands behind Webb's back while in steaded guard, placing n good position to sweep, Murilo instead elevates and goes belly down on a foot lock for one point before the match goes out of bunds.
At the one minute mark, Murilo utilized a rarely seen control in which he moved from closed guard to extend one let to Webb's far arm, hooking it to severely limit movement and posture. Webb stood up to try and counter the position, but Murilo was able to use that action to sweep directly into the mount.
Result: Murilo Wins 7-0 (Watch Match)
Matheus Diniz vs Josh Hinger
A forgettable initial five minutes led to an absolutely insane second half of this match. The action really began when Matheus stood up in Hinger's closed guard and forced a scramble. Hinger had to turtle to avoid being passed and Diniz was immediately attacking with a palm to palm darce variation, but Hinger was able to escape and ever reverse the position.
The match ended abrubtly when Josh launched himself into a flying armbar attack and landed on his own head, Diniz was able to capitalize on the momentarily stunned Hinger and take the back and finish with an RNC
Result: Diniz Wins Via RNC: (Watch Match)
Kaynan Duarte vs Patrick Gaudio
Though Guadio was a last-minute replacement for Yuri Simoes, he certainly put up a hell of a showing.
Kayan Opts to pull guard early. Quick Wrestle up a takedown for 2 points.
Gaudio continually attempted to wrestling up with a double leg from the seated guard, and nearly succeed at one point, but Kaynan jumped on his renowned guillotine attack to force a scramble. Both athletes earned a point for their efforts, making the score 3-1 for Kaynan.
Kaynan Dives on an inside heel hook that forces a scramble and awards Kaynan another point, making the score 4-1 with one minute left.
Gaudio's wrestling proved to be significant throughout, a last-minute single attempt turned in a reverse body lock, Gaudio jumped on Kayna's back but was unable to secure the position
Result: Kaynan Wins 4-1 (Watch Match)
---
UNDERCARD
Lydia Coleman vs Chloe McNally - 155lbs
The opening match begins with two purple belt prospects and a cross-town rivalry: Coleman represents Marcelo Garcia Academy and Chloe is from Unity Jiu-Jitsu.
Chloe opened the match by pulling guard and it was clear from the outset she was going to use the RDLR position extensively. McNally was relentless with her back attacks, eventually settling to sweep to top position for two points - the definite scoring technique of the match.
Result: McNally Wins 2-0. Watch Match
Steven Ramos vs Chris Marti
Ramos scores quick takedown for an early two points, finishing the sequence with a kneeslice pass and was up 3-0 in the first 20 seconds of the match. Ramos controlled top position in side control before setting up a beautiful Baratoplata finish.
Result: Ramos via Baratoplata - Watch Match
David Brennan vs Aaron Harris
This match was over before it even began - Aaron Harris finished te match via heelhook in the first 20 seconds.
Result: Aaron Harris Via Heel Hook Watch Match
Grace Gundrum vs Gabby Etzel
Grace Gundrum proves once again why she's one of the most exciting young fighters out of the 10th planet camp.
The match opened with Etzel pulling guard and the momentum was even for the early minutes. However once the match entered 50/50, the pacing shifted in favor of Gundrum as she set up wild submission attacks. Eventually, Gundrum was able to work her way past Etzel's guard into mount where she finished with a guillotine.
Result: Gundrum via Mounted Guillotine.
Lucas Protasio vs Jefferson Guaresi
Protasio scored an early two points via takedown. And the theatrics didn't stop there: Multiple cartwheel passing attempts, as relentless throw bye and leg drag attempts, both Protasio's passing and Guaresi's guard were on display.
Guaresi managed to slow down the passing briefly with two-on-one grips on Protasio and nearly secured a 'wrestle-up' style sweep which gave hi a single point.
Protasio shot a huge double leg at the 2-minute mark, but Guaresi countered with a triangle attack - the score working out to 3-2 for Protasio. Protasio scores another single point for another near takedown attempt, making the final score 4-2 for Protasio.
Result: Luca Protasio 4-2 Watch Match
Izaak Michell vs Italo Moura
Moura's excellent guard saw him score two points with a sweep off a breimbolo attack. From there Izaak was hunting for various leglock attacks but Moura managed to stay out of danger. A reset out of bounds saw Moura pull guard again and stave off any passing attempts from Izzak. Moura hunting for Matrix backtake again settles for two points, making the score 4-0 with 1 minute left yet.
Michell hit's a quick double-leg to make the score 4-2 with 45 left on the clock. Moura swept from 50/50 to make the final score 6-2.
Result: Italo Moura 6-2 Watch Match
Nakapan Phungephorn vs Daniel Tavares
Match opened cautiously with wrestling attacks from both men, Nakapan is awarded a near takedown point to take an early 1-0 lead. The bout stayed on the feet and Nakapan got into penalty problems, racking up three in short succession, propelling Tavares into the lead.
Tavares earned one more point off a near submission attack.
Result: Daniel Tavares 4-2 Watch Match
Marcelo Mattos vs Marcio Bittencourt
Mattos pulled closed guard early and seemed happen to attack from there - he held the position for 5:430 seconds. Known the score was 0-0, Mattos opened his guard to hunt for an attack, but it was Bittencourt who jumped on the opportunity – he sat back on a heel hook and rolled out of bounds with the attack, earning him two points. The reset on the feet and Bittencourt scored a quick takedown, sealing the win.
Result: Bittencourt 4-0 Watch Match
Athos Miranda vs Garret Lavaggi
Miranda pulls guard to start the match. Lavaggi trying to knee slide against Miranda's knee shield to no success. Miranda attempts an ankle pick from butterfly guard. Back to knee shield for Miranda, Lavaggi attempts a kimura from top and Miranda backrolls for the two points. Lavaggi now on bottom playing half guard. They disengage and Miranda is standing. Miranda gets an underhook and nearly passes, Miranda then turtles and Miranda takes the back with a body triangle. 6-0 Miranda after the backtake Tight body triangle and Miranda working for a rear naked choke but Lavaggi defending well. A point for the choke attempt to make it 7-0. Lavaggi defends until the buzzer and Athos Miranda is the winner, final score 7-0.
Result: Miranda 7-0 Watch Match
Fiona Watson vs Yaz Almonte
Fiona Watson starts the match pulling closed guard. After a couple minutes Watson eventually hits a hip bump sweep to mount- 6-0 Watson. Almonte traps Fiona's foot trying to recompose, easy pass and second mount for Fiona and it is 13-0. Fiona locks in a mounted triangle and rolls to her back. Almonte defends the triangle for over a minute, eventually Fiona transitions to an armlock and gets the submission belly down.
Result: Fiona Watson by Armbar Watch Match
Mike Wilcox vs Tim Williams
Mike WIlcox is a late replacement for his teammate Sean Brady. Wilcox snaps down to a front headlock and then hits an inside trip to score two. Williams turtles off a pass attempt and eventually recovers to deep half guard. Williams transitions to a knee shield half guard and then closed guard. Once the guard opens Wilcox quickly stands and forces Williams to turtle from another pass attempt. In the scramble Wilcox secures a guillotine, they roll out of bounds and Wilcox scores two points for the submission, 4-0 Wilcox. Williams now with a front headlock, spins to the back, Wilcox flees the mat and the ref penalizes him, 4-2 Wilcox. Back on the feet and Williams hits a beautiful lateral drop to tie the match 4-4. Williams drops back for a footlock from top to give Wilcox the winning score after he comes on top.
Result: Mike Wilcox 6-4 Watch Match
William Tacket vs Nick Ronin
Tacket scores early ankle pick. Ronin inverts for several leglock attempts but Tackett defends with relative ease.
After several minutes of working hard for the pass, Tackett scores the three at the one minute mark with a beautiful hip switch pass. Ronin attempts to turtle in an effort to make things happen, but Tackett jumps on the back, extending the lead to 9-0 with 20 seconds left. .
Result: William Tacket 9-0 Watch Match