The brown belt divisions were a non-stop flurry of action today at the 2019 IBJJF Pan No-Gi. Submissions were flying, especially in the absolute division. Let's break down one of the craziest sequence of matches...
Roberto Jimenez and Pedro Marinho have history– the last no-gi win went to Marinho via an OT submission. They met in the heavyweight final and Roberto took his back and subbed him with a rear naked choke, which evened the score and won him gold.
Fast-forward to the absolute division and Roberto is matched in the quarterfinal with ultra-heavyweight Roosevelt Sousa of Fight Sports, who submitted Roberto from the back at American Nationals in a gi match. After an explosive and fast-paced match that saw both men hit big throws and takedowns, Roberto got the back and sealed the victory with a rear naked choke.
The semifinal match didn't go so well for Jimenez. Andre Porfirio of Cicero Costha, the super-heavyweight gold medalist earlier that day, submitted him with an armlock in only 17 seconds after Jimenez tried and failed a spectator cartwheel guard pass. He fell right into the counter, and Porfirio moved into the final against... Pedro Marinho!
Another submission followed in the absolute final when Marinho slapped on a tight guillotine choke to tap Porfirio and win the gold. It was a fitting finish to an action-packed absolute division and shows the marginal differences that separate the best brown belts.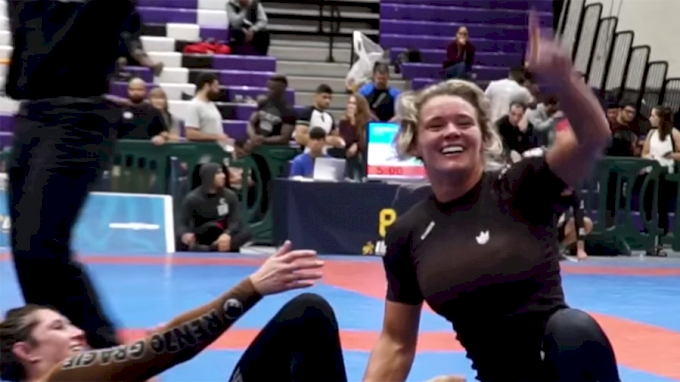 Maggie Grindatti showed determination and solid top pressure to cruise to double gold, beating Bridget Grace in both the medium-heavyweight and the absolute final. The Fight Sports rep has been right in the middle of the monster ADCC training camp and the results speak for themselves. Watch all of her matches here.