It was one the fastest submission finish ever seen in a Fight 2 Win main event when Rudson Mateus defeated Gutemberg Pereira in his F2W debut in San Jose, California, last weekend.
With Rudson Mateus headlining the main event and eight more of his San Jose-based teammates on the undercard, Caio Terra's Association proved that technique conquers all. They went 7-2 for their F2W campaign. More impressive is that they put the submission back in sub-only, earning five of their seven victories with taps. They also earned submission of the night in three divisions: blue belt (Santino Orozco), purple belt (Tyler Shew), and black belt (Rudson Mateus).
Rudson had been scheduled to appear for the promotion earlier this year. After his opponent pulled out at the last minute his highly anticipated debut was postponed. Perhaps it created the perfect storm. This time he was able to come to the stage backed by his "U.S. hometown," with a squad of CTA teammates competing by his side and fresh off a gold medal run at the Moscow Grand Slam.
The submission stylist made quick work of the main event; he stayed cool and composed in the face of Gutemberg's swift X-guard sweep into an ankle lock attack. Rudson methodically transitioned into 50-50 guard and snapped on his trademark armbar, getting the tap less than a minute into the match. Rudson earned the black belt Submission Of The Night in his F2W debut victory with the absolutely vicious armbar.
"I'm very happy with my win. It's given me the energy and confidence for my next challenges," he said.
Osvaldo "Queixinho" Moizinho improved his F2W record to 4-1 with a spectacular submission win over Richar Nogueira in the co-main event. He lived up to his reputation as an arm hunter, shutting down the pressure passing efforts of Nogueira with a match-ending omoplata. This was his second F2W victory in consecutive F2W appearances.
WATCH: Osvaldo Moizinho vs Richar Nogueira Fight 2 Win 125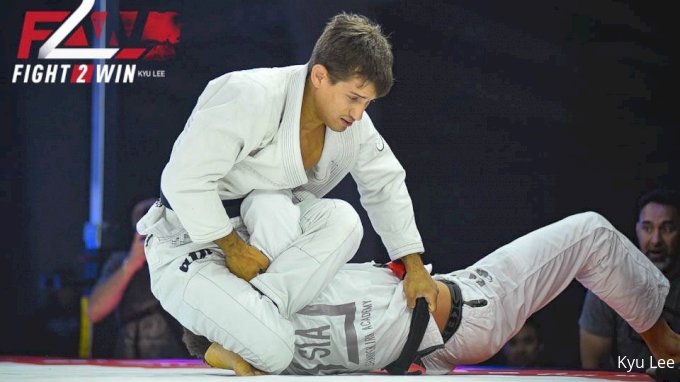 Unlock this video, live events, and more with a subscription!
Get Started
Already a subscriber? Log In
---
Other notable matches:
Black belt Fight of the Night was a no-gi match where Thiago Gaia took a unanimous decision win over Jeremiah Labiano.
Hometown favorite Alex Barcelona became the brown belt masters Flyweight champion in a match that fans held in contention for fight of the night. She won via split decision over friend, rival, and fellow San Jose local, Raquel Torres.
Brown belt submission of the night was awarded to David Mitchell's foot lock victory over Nate Moore.