Unlock this article, live events, and more with a subscription!
Get Started
Already a subscriber? Log In
Uh oh, it seems a nasty new condition has hit a number of elite grapplers ahead of ADCC, with Keenan getting hit pretty hard. Could it take him out of ADCC?
All this and more in this week's Grappling Bulletin.
Super Pink Eye Strikes the Grappling World
There's no escaping that jiu-jitsu and grappling is an up-close-and-personal endeavor. You've got to really get in there. Unfortunately, all that skin-on-skin rubbing can lead to bugs and such getting spread around the training room. Everything from ringworm and impetigo to staph and, in extreme cases, MRSA. All run-of-the-mill stuff for grapplers, but the latest disease sweeping the grappling community is a little more unnerving.
Keenan Cornelius posted a picture (since deleted) of himself sporting a rather snazzy eyepatch. I know what you're thinking, but no he wasn't cosplaying as a pirate. The renowned lapel-worrier picked up a particularly bad case of pink eye that had him booking an appointment at the ophthalmologist's office.
Psh, pink eye?! No big deal, right? Well, not so fast. This wasn't just standard-issue pink eye. This was a form of viral conjunctivitis called epidemic keratoconjunctivitis (EKC) he picked up training at Renzo's in NYC.
EKC is an inflammation of the cornea and conjunctiva (the clear, thin membrane that covers part of the front surface of the eye and the inner surface of the eyelids). It's highly contagious and can last as long as a month.
It's probable that someone passed it around the gym unwittingly, not knowing it's actually contagious as hell. And as it's not unusual for there to be in excess of 60 people on the mats for Danaher's classes — good luck tracking down patient zero. EKC is highly contagious and can be transferred via any sort of physical contact. From shaking hands to simply touching a door handle an infected person has used; if you rub your eye afterward, you're done for.
Worryingly, Keenan is not the first person to have caught this Ebola-strength version of pink eye. And Renzo's is not even the first gym to have suffered an outbreak either.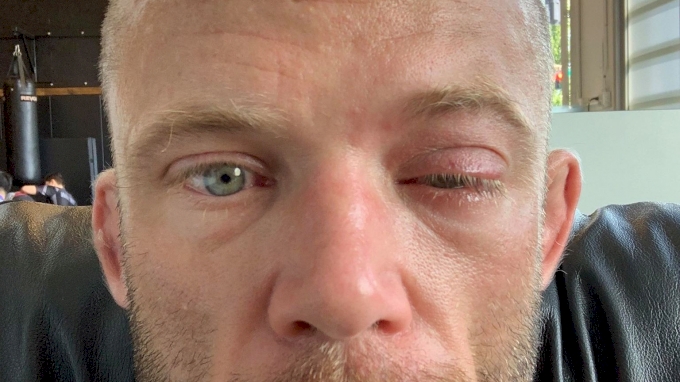 Hinger's infected eye
All the way across the country in San Diego, California, Atos had an EKC crisis of their own about a month ago. Josh Hinger, Gustavo Batista, Jonnatas Gracie, Rafael Vasconcelos, and the Ruotolo twins were all infected and it took weeks for the conditions to fully go away. Hinger described it as an "absolutely hellish experience," and it kept him off the mats for weeks.
There's a real concern that this could take Keenan out of ADCC. UFC fighter Andrew Sanchez had to pull out of a big fight just a few weeks ago with a similar condition, which just goes to show this is no joke.
Following FloGrappling for updates.
---
Results Recap
Fight 2 Win 126 in San Diego was one of their most loaded events in a long time, with over half of their 40 matches being between black belts.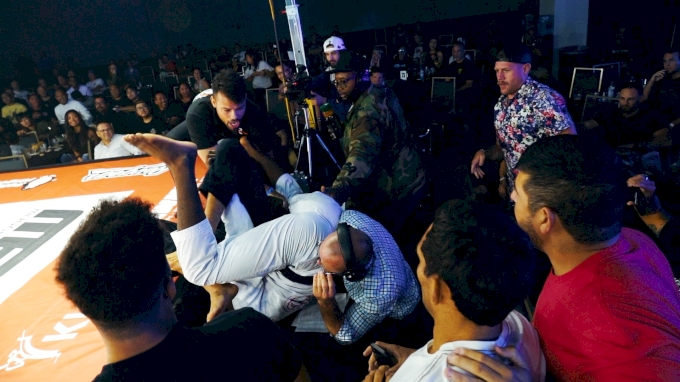 Josh Hinger called the action from the commentary booth and told us that the match between Ronaldo Junior and Matheus Luna was his favorite. That's him catching Ronaldo in the pic above — it was pretty bananas.
Just a week after winning KOM Gustavo Batista confirmed his position as one of the top black belts in the world by coming back out just a week later for a decision win over Felipe Bezerra of Checkmat.
Guthierry Barbosa may be a new black belt, but he was able to defeat veteran Marcio Andre, a two-time World silver medalist. Barbosa won via decision.
Baret Yoshida used his trademark crucifix to beat Antonio Lopez. We just discovered Baret's incredible collection of Andre the Giant T-shirts. Check out his IG for evidence.
Go here for full results, and here for replays.
---
Quote of the Day
"I don't want to ever beat a guy by two points, hold on for my life, and cheer. I'm not saying there's anything wrong with that, if that's the strategy you play, because it's within the rules and you've still won, according to the rules. But I want to be out there finishing everyone. Trying to finish everyone, and I guess that's the style these guys do the most, and I guess that's the reason why probably a lot of guys don't want to accept matches against these guys. It's one thing you want to accept a match against a guy that he might be on two points, that sucks, but you lost. It's another thing if a guy comes out, trying to kill you, submit you, dominate you."
Craig Jones outlines his philosophy.
---
In Case You Missed It
The Biggest Threats To Gordon at ADCC
From former champion Vinny Magalhaes to dark horse Patrick Gaudio, we analyze the toughest opponents looking take out No. 1 seed Gordon Ryan.
Felipe Pena: Journey to ADCC 2019 Superfight
Halfway around the world in Belo Horizonte, Brazil, Felipe Pena is quietly working hard to dethrone the reigning champion and start writing his own legacy.
Danaher Assesses Keenan's No-Gi Game
In trademark analytical fashion, John Danaher gives his assessment of Keenan's no-gi game and reveals if he'll coach him during ADCC.
Dillon Danis vs Paulo Miyao: The Interview
They come from different worlds and lead different lives, but jiu-jitsu has created a unique bond between Dillon Danis and Paulo Miyao.
The Two ADCC Rematches Garry Tonon Wants
We caught up with the three-time ADCC vet to get his thoughts on the 77kg division and to find out the two do-overs he would love to get.
---
Photo of the week
The Grappling World Championship went down in Kazakhstan over the weekend. Catch up on the action here.
---
Upcoming Live Events on FloGrappling
September 28-29, 2019