Unlock this article, live events, and more with a subscription!
Get Started
Already a subscriber? Log In
The anticipation is over, after weeks of speculation we finally know the brackets for the 2019 ADCC World Championships. There are some crazy first round matchups and from the first round on we are looking at fights that could go down as main events on most cards. The tournament starts at 10 am west coast time on Saturday and will run until the semifinals, with the semis and finals on Sunday.
Take a look at the full brackets here
As always, teammates can fight no later than the second round at ADCC and that influences greatly how the brackets will be played out. This prevents close outs in the finals and gives fans a chance to see matches that would not normally happen in other tournaments, as teammates who would normally closeout are forced to fight under ADCC rules.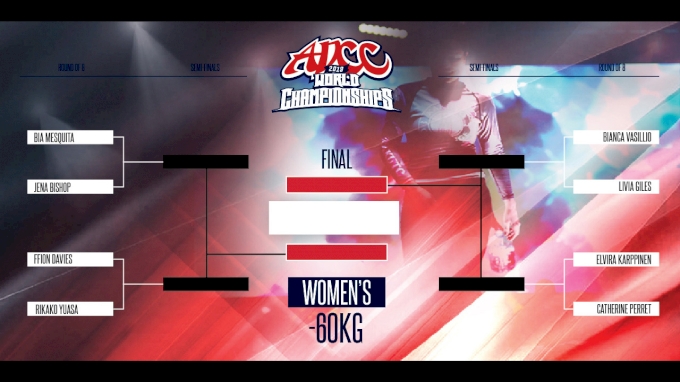 Women's Under 60KG
Bia Mesquita of course gets the one seed, she is matched up against 2017 No-Gi Worlds champ first round. The winner of that match gets the Ffion/Rikako winner, I'm thinking it will be a Bia vs Ffion rematch in the semis.
The other side has returning runner up Bianca Basilio vs Livia Giles up top. Basilio holds a significant size advantage but Giles has an advanced leglock game. Returning semifinalist Elvira does not have an easy match in late addition Perret. I think we get Basilio vs Perret in the semi's, that match will be a brawl if it happens. Giles and Elviras leglock games could cause problems here though.
---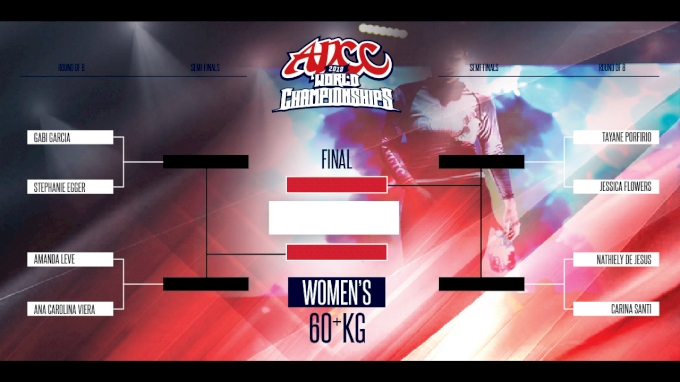 Women's Over 60KG
Gabi Garcia was an easy choice for the one seed, she should roll in the first round against Eggers. I think Baby Vieira should also be a heavy favorite against the trials winner Leve, Baby will be giving up a ton of size against Gabi that will be tough to overcome.
On the bottom half we have a crazy first round match, with Gracie Barra teammates Jessica Flowers and Tayane Porfirio fighting first round. Jessica has the edge in ADCC experience but Tayane is bigger and one of the best female fighters of all-time. Nathiely de Jesus vs Carina Santi is another tough one to call. I'm thinking we get Nathi vs Tayane in the semi, with a long awaited Gabi vs Tayane match in the final.
---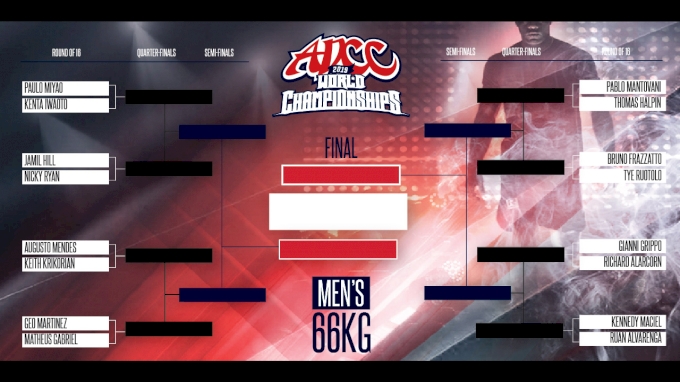 Men's 66KG
Crazy first round matchups here! Nicky vs Jamil is nuts, already talked about that one and Geo vs Matheus in the first round matches article. Kennedy vs Ruan is a matchup of two of Alliance's best young athletes that could go either way, with the winner getting Alliance teammate in the quarters.
Nicky/Jamil winner gets the prize of fighting Paulo Miyao in the quarters, what a route to the semis that is. I think we are looking at a Tanquinho vs Matheus Gabriel match in the bottom quarter on that side, an interesting matchup of a legend vs a young champ.
The Atos quarter is the easiest route in my opinion. Will most likely be Alliance vs Atos in that semi, I'm going with Gianni vs Pablo Mantovani with Gianni making the final vs his rival Paulo, but don't be surprised if Kennedy makes a run here.
---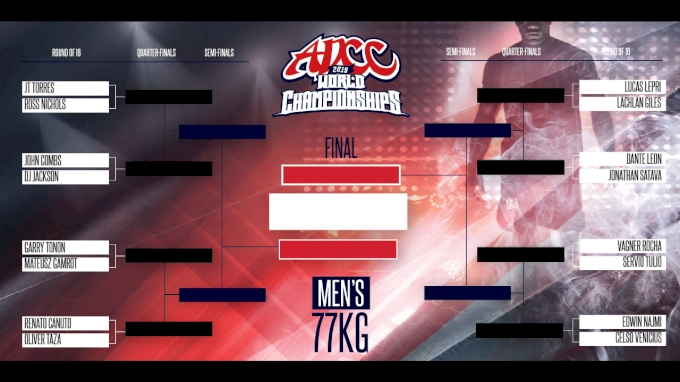 Men's 77KG
JT has the top seed as the returning champ, should get the winner of Combs/DJ in the quarter. I don't think Combs can beat DJ positionally but we know he can guillotine anybody. Tonon and Canuto look destined to meet in the quarters, that's gonna be fireworks as will a match between either of them in the semis with JT.
Lepri doesn't have an easy route on his side, Lachlan isn't an easy match for anyone and the Satava/Dante winner is tough as well. Satava vs Dante is a toss up in my opinion. They both have a great no-gi game on top and bottom and it should be a fun one.
Bottom quarter on that side you have Vagner as the top seed. Edwin and Celso is an interesting match. Vagner is the favorite here but I could see Edwin pulling it off and making the semis against Lepri.
---
Men's 88Kg
Craig Jones has the top seed and what looks like an easy route to the semis. On the bottom half I think Murilo matches up good with Rustam in the quarters, Xande showed the gameplan here when he attacked from the closed guard against Rustam, Murilo has a great closed guard so we'll see.
Atos and Checkmat share the top quarter on the other side. Hinger should win against Almeida, Wardzinski and Perez is a tougher one to call. This is Perez third time at ADCC but Wardzinski looked great at Euro trials.
Alliance and Gracie Barra make up the entire bottom quarter on that same side. Arges and Diniz should be favored to make the quarters against each other. This entire half of the bracket is vicious.
---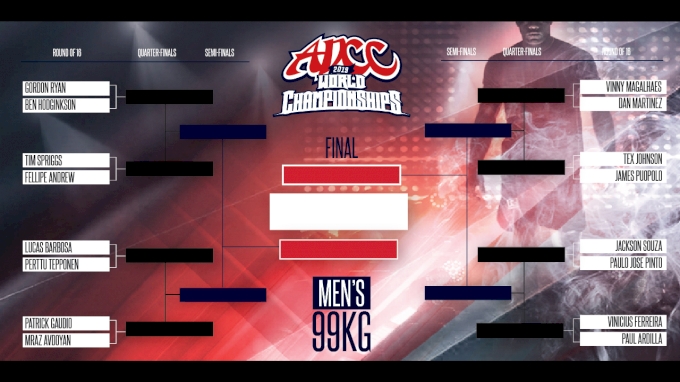 Men's 99KG
Gordon no-showed the bracket unveiling and obviously has the number one seed in this division. He should beat Hodgkinson easy, the Spriggs/Andrew winner second round will be a tougher matchup for him though, but Gordon rolls here.
Bottom half here we're looking at a Hulk vs Gaudio match in the quarters. These guys have an extensive history with each other and always throw down. Winner gets Gordon in the semis, they've both had close ones with him before.
Vinny gets the two seed on the other side, if he fights Tex in the quarters thats gonna be a leglock battle for sure. Jackson is in the bottom quarter there and is the returning bronze medalist in the weight, Vinicius "Trator" Ferreira just might have the style to beat him though.
---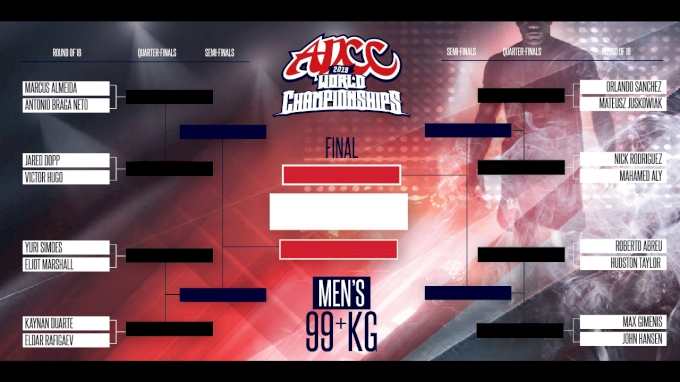 Men's 99+KG
I don't see Buchecha having much trouble on his way to the semis here. Yuri vs Kaynan in the quarters on the same side should be a good one, this was supposed to be a recent superfight before Yuri pulled out with an injury. Kaynan will have to beat back-to-back returning ADCC champs to even make the final.
Aly vs Nick is a crazy one that I discussed in the first round matches article, the winner gets the two seed Orlando in the next fight. Winning that war of a first round match will take a toll on the winner, then having to move the massive Orlando Sanchez around is a tough task.
Cyborg gets NCAA wrestler Hudson Taylor first round in the bottom half. I think Max beats Hansen to meet up with Cyborg in the quarter. This side tough, whoever makes the final will be fatigued and most likely facing Buchecha, not an easy task.
---
Watch The 2019 ADCC World Championships Live On Demand On FloGrappling