Unlock this article, live events, and more with a subscription!
Get Started
Already a subscriber? Log In
Anticipation has finally given way to exhilaration, and the first day of ADCC 2019 provided some of the very best grappling matches we've ever seen. There were upsets, outstanding performances, and incredible submissions firing across the three mats all day long.
Read on to see the comprehensive review of the first day of competition at ADCC.
---
-60KG: Queen Bia & Bianca Basilio Earn Quick Subs
Returning 2017 champion Beatriz Mesquita kicked off her 2019 campaign with a strong submission win over Jena Bishop– she needed less than two minutes to get the job done and will meet Ffion Daviesin the semi-final tomorrow.
Bianca Basilio earned another quick submission in the division; she also needed just 2:17 to get the job done. The category will feature two rematches from 2017 in the semi-finals, with Beatriz Mesquita facing Ffion Davies and Bianca Basilio taking on Elvira Karppinen.
---
66kg: Ruotolo & Miyao Steal The Show
Favorites Tanquinho and Paulo Miyao began the day with two dominant matches - Tanquinho submitted new-comer Keith Krikorian, and Miyao ran up the score 5-0 against Asian Trials winner Kenta Iwamoto.
Paulo is set to meet Tanquinho in the semifinal tomorrow. For his part, the veteran ended the hype around Matheus Gabriel and Keith Kriokrian to claim his place in the semis tomorrow.
Perhaps the biggest story of 66kg is that of young Tye Ruotolo, who at just 16 years of age won two matches to earn his spot in the semi-finals at ADCC– to our knowledge, the youngest grappler to get this far in an ADCC bracket. He beat ADCC vets Bruno Frazatto and Pablo Montavani on his way to the semifinals.
WATCH: Tye Ruotolo vs Bruno Frazatto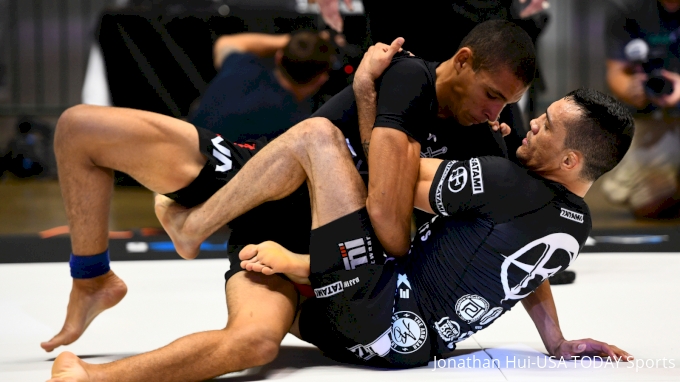 Unlock this video, live events, and more with a subscription!
Get Started
Already a subscriber? Log In
Nicky Sneaks Past Jamil, Falls To Paulo In The Quarter Final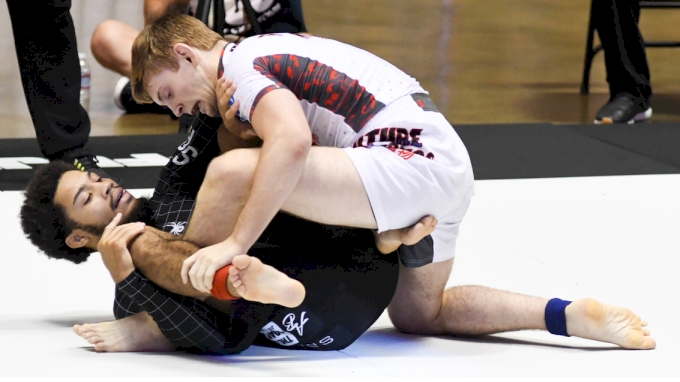 No-one generates as much buzz as the Ryan brothers, and all eyes were on the first round match between Nicky Ryan and IBJJF World champion Jamil-Hill Taylor. Undoubtedly a tactical bout, Nicky Ryan pulled ahead by two points by finishing a single leg takedown.
Ryan went on to face Paulo Miyao for the second time in his career but was unable to get points on the board, and Miyao took the win 2-0.
Kennedy Maciel fired up the crowd with his epic come-from-behind submission win over Ruan Alvarenga– he'll meet the spoiler Richard Alarcon who derailed Gianni Grippo's plans by winning that match 4-2 in overtime.
---
77KG: Dante Leon Takes Out Lepri; Torres Looks Untouchable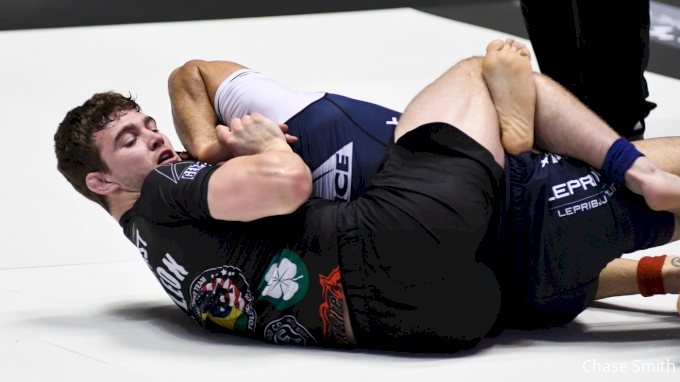 The biggest story at 77kg is undoubtedly Dante Leon taking out the no.2 seed Lucas Lepri in the semifinal.
Leon managed to capitalize on a wild wrestling scramble jump on Lepri's back with more than three minutes remaining.
Returning 77kg Champion JT Torres took the full 15 minutes to get the win over European Trials Winner Ross Nichols. The American looked composed and exceptionally deliberate with his game plan– sticking to his patented knee cut passing attacks and the strong top game. Torres stuck to his guns for his second match with DJ Jackson.
Garry Tonon & Renato Thrown Down In Match Of The Day
Sometimes you really just want both athletes to win. Garry Tonon and Renato Canuto had one of the most exciting matches in ADCC history.
Tonon's wrestling skills and Canuto's cat-like agility and countering abilities were both on full display, and the duo may have put on the most exciting 0-0 match ever. The quarterfinal match ended up going to OT where Garry won via a penalty point getting assigned to Canuto in the last minute of overtime.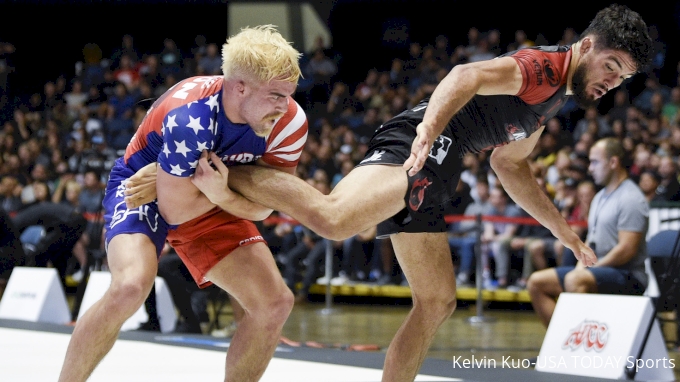 Unlock this video, live events, and more with a subscription!
Get Started
Already a subscriber? Log In
---
88KG: Hinger & Jones Sub Two For Two To Claim Spot in Semis
No.1 seed Craig Jones opened up with a fantastic submission win over Ben Dyson in his first match of the day. He was all over the lower limb submission attempts, cycling through various heel hook attacks and straight kneebars before finally getting the job done with a heel hook. He followed up with a guillotine against American Trials winner Mason Fowler.
Josh Hinger's long-awaited ADCC debut couldn't have gone better.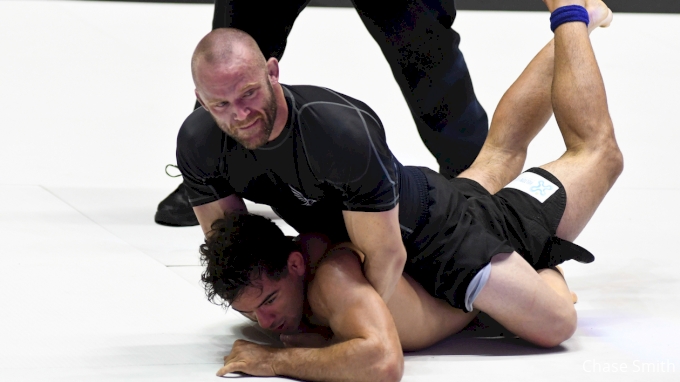 His patented "hingertine" system was on full display, but it was ultimately a back take and brutal RNC that got the job done vs Almeida. Hinger finished Polish black belt Adam Wardznski in the quarter-final with another guillotine choke.
---
-99KG: The Gordon Ryan Show In Full Effect
Gordan Ryan started the day with two quick submissions over Ben Hodgkinson and Tim Spriggs. For his part Tim Spriggs also hit a nasty guillotine vs Fellipe Andrew, setting up a spicy match with Ryan in the quarter-finals who had recently criticized Spriggs jiu-jitsu online. He choked Spriggs with a rear naked choke.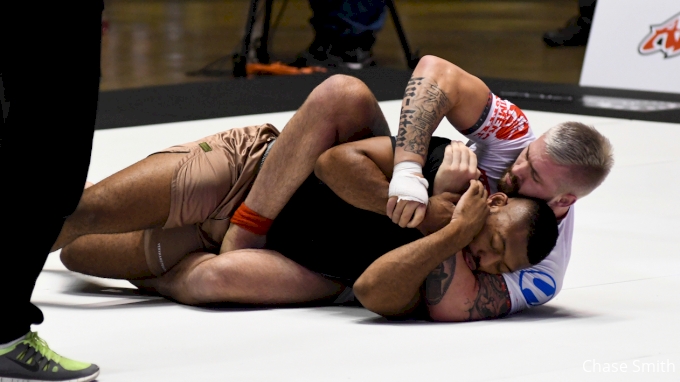 Ryan is scheduled to meet Lucas 'Hulk' Barbosa in the semi-final, also looked phenomenal in the opening rounds of ADCC; he won his opening round with a win 3-0, and then defeated GF Team stud Patrick Gaudio by decision.
The other half of the bracket features a semi-final between Vinny Magalhaes and Vinicius 'Trator' Ferreira. Magalhaes won versus Dan Martinez and James Puopolo by points within regulation, while Trator had to edge out two wins in overtime.
---
+99kg: Nick Rodriguez Puts Heavyweights On Notice; Buchecha Dominant as Ever
Nick Rodriguez burst onto the scene like a bat out of hell today, and the freakishly-athletic blue belt out of New Jersey took down two of favorites at +99kg: Mahamd Aly and 2017 Silver Medalist and 2015 Champion Orlando Sanchez.
Rodriguez embodies a 'bully' approach, and literally beat his opponents down through sheer physicality, out-hustling Mahamed Aly and 2015 ADCC champ Orlando Sanchez. He'll take on Cyborg in the semifinal tomorrow.
WATCH: Nick Rodriguez Interview Post Mahamed Aly Match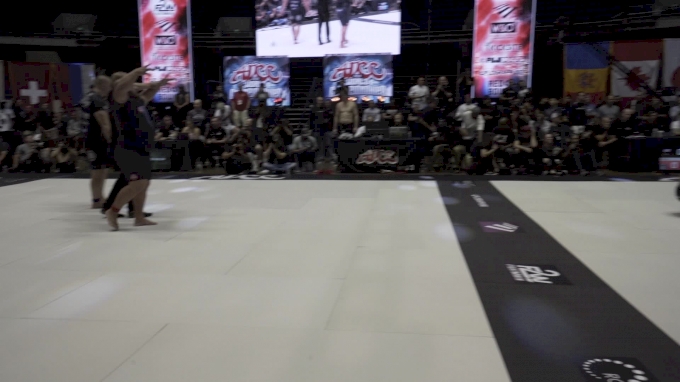 Unlock this video, live events, and more with a subscription!
Get Started
Already a subscriber? Log In
Meanwhile, Buchecha cruised through his first two matches with wins over veteran athlete Antonio Braga Neto and Victor Hugo. In classic Buchecha form, the Checkmat representative started his campaign with a slow pace, seemingly allowing himself to be taken down as he warmed up to competition speed. He eventually won 2-0, and came back to score 3-0 versus Victor Hugo.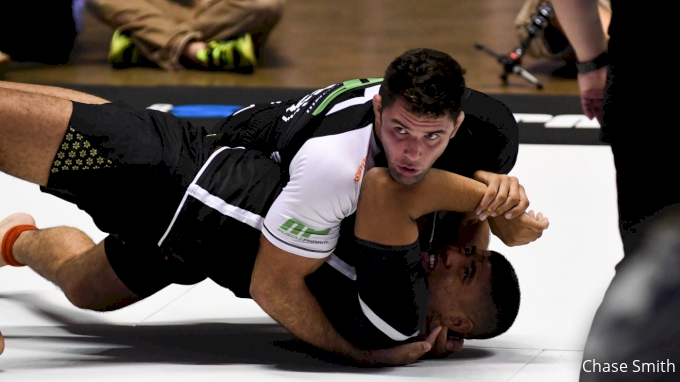 ---
+60kg: Gabi Garcia, Ana Carolina Vieira, Tayane, & Carina Santi Advance
Gabi Garcia opened her campaign cautiously, narrowly defeating her opponent Stephanie Egger 2-0 in overtime. A slow start for the champ, but certainly not a bad performance by any stretch of the imagination.
Ana Carolina Vieira finished North America trials winner Amanda Leve in overtime via RNC to ensure her position against Gabi Garcia in one-half of the semi-finals.
WATCH: Amanda Leve vs Ana Carolina Vieira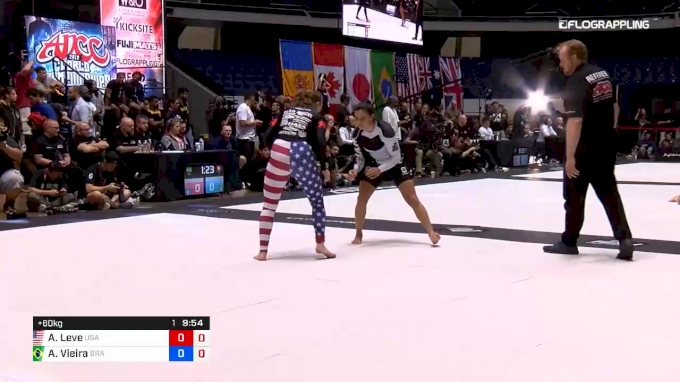 Unlock this video, live events, and more with a subscription!
Get Started
Already a subscriber? Log In
Carina Santi Pulls Off the Upset
Nathiely de Jesus is the 2018 No-Gi World champion with a recent submission-only decision win over Gabi Garcia at F2W back in August of this year; she has painted a potential favorite in the division, but Carina Santi had different plans. The Brazilian trial winner managed to take De Jesus' back to win the match 8-0. She will face Tayane Porfirio in the semi-final on Sunday.