Unlock this article, live events, and more with a subscription!
Get Started
Already a subscriber? Log In
Andre Galvao confirmed his ADCC legend status with a resounding win over Felipe Pena in the 2019 superfight. This extended Galvao's record-breaking run to a total of three ADCC superfight defenses, the most in history.
Galvao beat his rival in a one-sided contest that was scored 2-0 after 30 minutes of match time (one 20-min. period, one 10-min. overtime). A fired-up Galvao used superior wrestling and an aggressive work rate to out-hustle Pena, who seemed overwhelmed by the veteran's pace and pressure.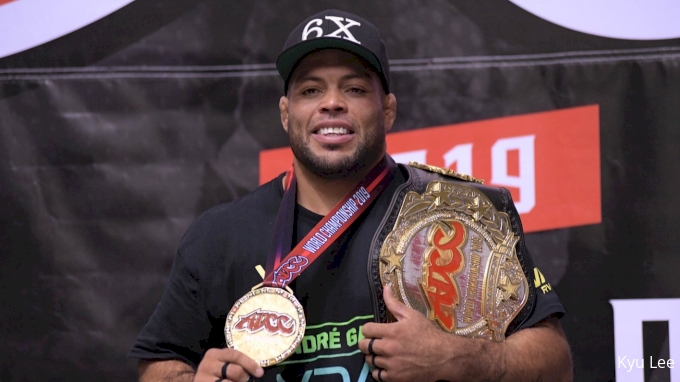 2019 Superfight champion Andre Galvao. Photo: Kyu Lee
Galvao claimed the ADCC Superfight title in 2013 by submitting then-champion Braulio Estima. He qualified for the Superfight by winning the absolute in 2011 as an 88kg competitor. He has now defended the title three times, against ADCC absolute division winners Roberto Cyborg in 2015, Claudio Calasans in 2017, and Felipe Pena in 2019.
It is not known if Galvao will return to defend the title in 2021 against 2019 absolute division winner Gordon Ryan. Galvao had already publicly stated that this would be his last match and that he intended to retire from competition. But he walked onto the mat for a ceremonial face-off with Ryan at the end of the event, signaling the possibility he may come back.
It was Galvao's 37th birthday on the day of the superfight, and his students jubilantly sang their well-wishes to him from matside as his arm was raised by the referee.
WATCH: Andre Galvao vs Felipe Pena