Fight 2 Win 127
Grappling Bulletin: The Rise and Rise of Fight 2 Win
Grappling Bulletin: The Rise and Rise of Fight 2 Win
There's a chance that Fight 2 Win could be hitting a town near you. Do yourself a favor and check out the hype– you won't be disappointed.
Oct 7, 2019
by Hywel Teague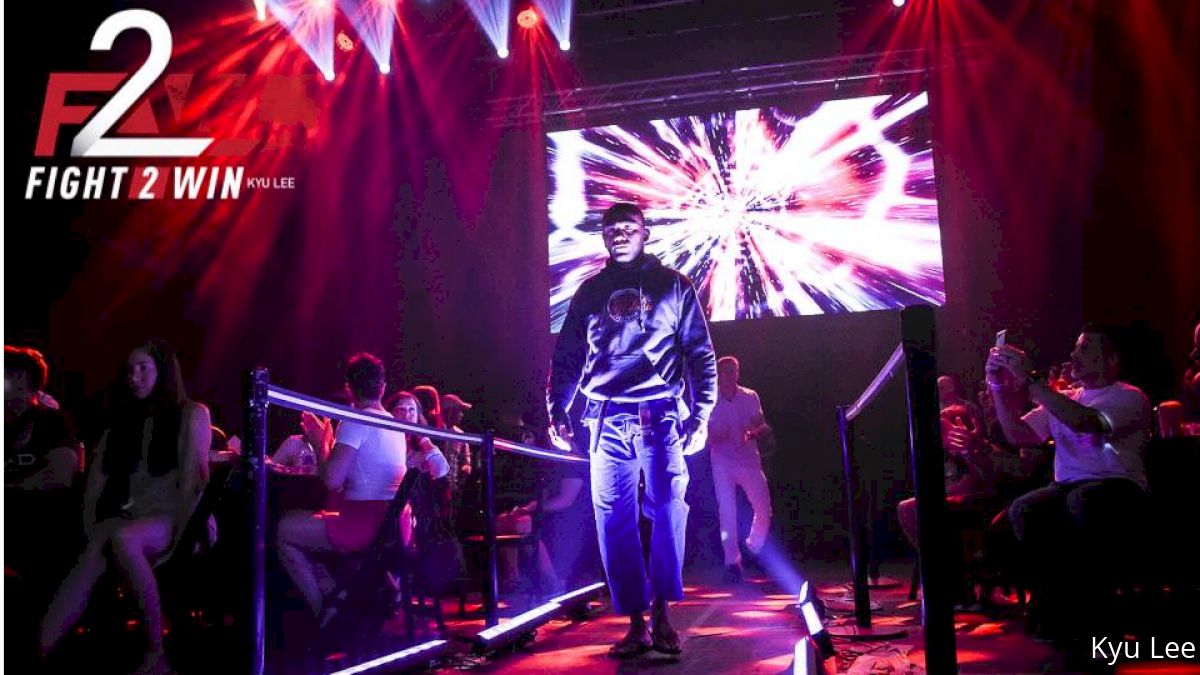 Unlock this article, live events, and more with a subscription!
Get Started
Already a subscriber? Log In
You remember ADCC from just over a week ago? Of course you do. How could you forget the best-looking ADCC in years. The lights, the music, the entrances... it was a level of production that ADCC had been crying out for, and set a new benchmark for what high level grappling events could (and should) look like.
Much of this was possible because of Fight 2 Win. Seth Daniels, the sharp-tongued hustler behind the prolific submission-only grappling event, was brought in to spice up production. The ADCC promoter Mo Jassim hired Seth and his crew to work their magic, and the results speak for themselves.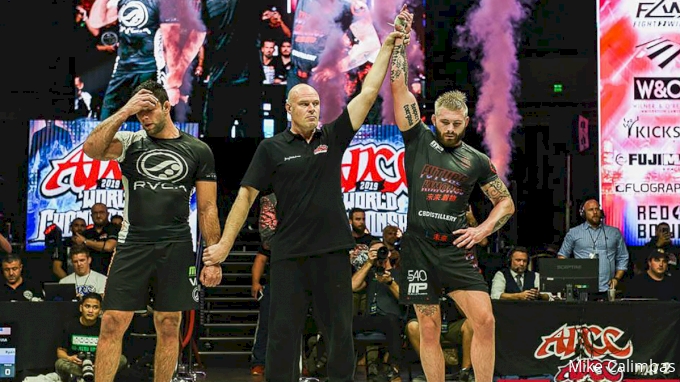 A look at a tiny part of the production of ADCC 2019
It's no surprise ADCC 2019 looked like a million dollars. Fight 2 Win averages around 40 shows a year all over the United States, criss-crossing the country to hosts events in cities as far apart as San Jose and Miami, Phoenix and Philly. The promotion's non-stop touring schedule sees them rolling through cities overlooked and under-served by the greater grappling community, and every show follows the same format: put together a card of 30-40 submission-only matches featuring a ton of local talent and bring in a couple of big names to headline the show. This ensures both local fans and the wider community are satisfied, as friends and family get to watch their loved ones and training partners perform on the same stage as World and ADCC champions, with every match being streamed on FloGrappling and recorded for posterity in the match archives.
Fight 2 Win sprang to life in 2016. A former national-level judoka and retired MMA fighter, Seth Daniels was working in concert production and hosting open jiu-jitsu tournaments on weekends in his home of Colorado. As jiu-jitsu boomed across the States, he sensed an opportunity to use his production capabilities and contacts in the world of grappling to create an event that looked and sounded unlike any other.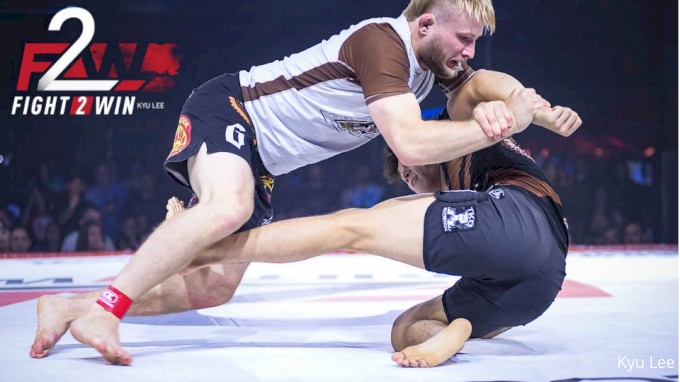 Seth describes Fight 2 Win as "the biggest party in grappling". Anybody who has been to one of their live shows will agree with the description. With a 10-foot high video wall, pumping music and a light show that rivals that of the best nightclubs, Fight 2 Win looks and feels different to other grappling events. Anybody watching ADCC would have got a taste of what F2W fans experience almost every single weekend.
Part of Fight 2 Win's appeal is that it caters to everyone. They have gi and no-gi matches featuring all sorts of competitors, from yellow belt kids to black belt veterans. Since February of this year they even introduced judo matches, utilizing an adapted fan-friendly ruleset designer for maximum entertainment while respecting judo's traditional roots.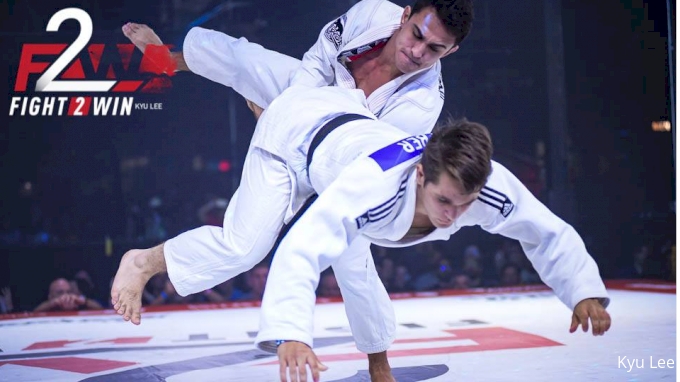 F2W judo in action
The most important thing about Fight 2 Win is that their business model is entirely sustainable. They pay every single competitor and employ a decent-size production crew. They don't need to borrow money or rely on backers. They started modestly and scaled up to the point where they are the most consistent pro show on the scene. Nobody hosts more professional grappling matches than they do.
A unique part of Fight 2 Win's work is that they are developing grappling at the grass roots level. Take away the bright lights and the big stage for a second and focus on what is really happening. Up and comers have an opportunity to make their name on Fight 2 Win– nobody knew who Marvin Castelle was until he hit a spectacular Imanari roll on Fight 2 Win 24. Over 10 million views later, he had been catapulted into the grappling consciousness and made his name. 2019 IBJJF black belt world champion Matheus Gabriel was a Fight 2 Win regular since he was a purple belt and held gi and no-gi titles at purple and brown belt in various weight divisions, which helped him hit the ground running when he entered the black belt ranks– people already knew who he was, and followed him every step of the way as he tore through his rookie year, winning World and Pans.
127 shows down and a lot more around the corner. With events booked through to the end of the year there's a chance that Fight 2 Win could be hitting a town near you. Do yourself a favor and check out the hype– you won't be disappointed.
Watch our documentary: The Story of Fight 2 Win
This extensive film tells the life story of one of grappling's most well known characters and reveals how Fight 2 Win built their business from nothing to the jiu-jitsu juggernaut it is today.
Upcoming F2W events on FloGrappling:
Fight 2 Win 128 – Philadelphia PA, Oct 18 featuring Kaynan Duarte vs Nick Rodriguez
Fight 2 Win 129 – Chicago IL, Oct 26
Fight 2 Win 130 – Denver CO, Nov 2
Fight 2 Win 131 – Richmond CA, Nov 9
Fight 2 Win 132 – Honolulu HI, Nov 23
Fight 2 Win 133 – Fresno CA, Nov 7
---
Results recap
Speaking of Fight 2 Win, there was an event on Friday night in Dallas. Here are the most notable results:
Just five days after winning the -66kg division Augusto "Tanquinho" Mendes returned to take on Matheus Gabriel for the F2W lightweight no-gi title. Mendes won via split decision.
Vitor Oliveira beat Rafael Formiga Barbosa for the Masters welterweight title.
Johnny Tama scored nasty submission via rear naked face crank against Diego Santana.
Luanna Alzuguir beat Chelsey Lyons vis decision in a no-gi match.
Hunter Colvin tapped Kody Steele with an inside heel hook for the brown belt no-gi welterweight title
William Tackett is only a purple belt but tapped brown belt Michael Salazar Bia RNC in a no-gi match.
Gordon Ryan was back in action this weekend too, facing off with Rousimar "Toquinho" Palhares. He beat the fearsome Brazilian via decision in a 15-minute match described as largely uneventful. Ryan took his back early and worked from the position for the remainder of the match, unable to find a submission.
On the same event:
Rafael Lovato Jr tapped Richie Martinez with a kimura.
Edwin Najmi submitted Mathias Luna with a rear naked choke.
Mikey Musumeci submitted Joseph Lee with an omoplata.
Diego Ramalho tapped out Bill Cooper.
---
Photo of the Week
The power of a precisely-applied heel hook. Photo by Mike Anderson.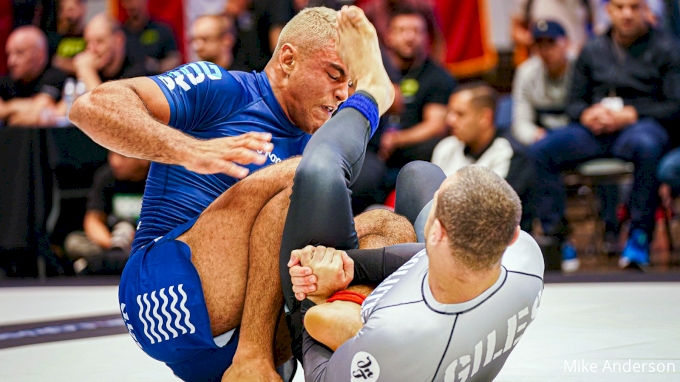 ---
Quote of the Day
"I try to put on the best performance I possibly can. I'm not going to just try outpoint the guy in a way that's not conducive in trying to submit him. I think using tactics and strategy like that is very bad for our sport and it puts us in a bad place. So I'm happy to be one of the guys that represents our sport in such a positive and exciting way."

– Garry Tonon
---
In Case You Missed It
Nicky Rod vs Downey In Adapted Rules Wrestling Match
Watch as Team USA wrestler Pat Downey takes on grappling superstar Nick Rodriguez at Who's #1!
ADCC Trends: What Is Working At The Highest Level?
Michael and Reid break down what technique and strategy trends they saw being used successfully at ADCC 2019 in Anaheim over the weekend.
16 Year Old Tye Ruotolo Heard Miyao's Knee Pop
After an incredible run at ADCC, 16 year old Tye Ruotolo reflects on his 4th place run and loss to Paulo Miyao.
Danaher Analyzes Biggest No-Gi Trends at ADCC
John Danaher recaps the madness at the 2019 ADCC World Championships, including Gordon Ryan's near flawless run.
The Killer Couple That Grapple Together
We caught up with Luanna and Ana Carolina Vieira backstage at F2W 127 to discuss how their relationship affects them training and competing together.
We've been getting some heat for ranking Gordon above Galvao in the P4P ranking.
---
Rankings:
2019 FloGrappling No-Gi Jiu-Jitsu Rankings – Last Updated On Oct 1, 2019
2019 Jiu-Jitsu in MMA Ranking – Last Updated On Oct 2, 2019
---
Upcoming Live Events on FloGrappling
Sunday, November 3
2019 Long Beach International Open IBJJF Jiu-Jitsu Championship
Saturday, November 23
2019 Spyder Invitational BJJ Championship Final
Thursday, December 12