Unlock this article, live events, and more with a subscription!
Get Started
Already a subscriber? Log In
It finally happened. For the first time in 49 matches, somebody was able to submit Nick Rodriguez, a man Gordon Ryan described as "a wild animal that knows strangles".
That somebody was Kaynan Duarte, the reigning ADCC +99kg champion. They met in the main event of Fight 2 Win 128 in a do-over of last month's ADCC final, a match Kaynan won via points.
Kaynan's grappling IQ shone as he showed that the leg game is no mystery to him. A slick reverse berimbolo underneath Rodriguez opened the door to enter a leg entanglement. From there, a measured double attack gave him the inside heel hook and forced the tap. All this in 2:15.
Duarte's year has been overwhelmingly triumphant; he's won almost every major tournament he's entered, including the ADCC and IBJJF World Championships, the two biggest titles in the game. His stock continues to rise, and this win over Rodriguez cements his position as one of the most consistent and successful grapplers in the game. Bluntly speaking, Kaynan is not accustomed to losing– winning is a way of life for him.
There is but one black mark on Kaynan's recent performances and that was his submission loss to Lachlan Giles in the absolute division. Taking nothing away from Giles's achievement, but Duarte has done a lot for his image by showing that he too can play the leg game. Anybody can get caught and that's what happened to Duarte at ADCC.
There used to be doubts over Kaynan's leg lock game and questions whether this was an area of weakness for him. Let's not forget he went head to head with another leg locker from Down Under in Craig Jones back at KASAI. Duarte won that match and didn't come close to getting caught with a leg lock. it's clear now that Duarte is no slouch in the leg game, and he made a point of showing that at Fight 2 Win 128.
Just let this in for a second: this is the first time that anybody has tapped out Rodriguez. He's faced and beaten world class black belts, including two former ADCC champs in Orlando Sanchez and Roberto Cyborg. Only two men have even beaten Rodriguez in grappling matches– Duarte (twice) and Hudson Taylor, who defeated him on points at the ADCC East Coast Trials in November of 2018. Rodriguez is now 45-3-1 as a grappler.
Where next for Rodriguez? According to his coach Jay Regalbuto, it's back to the gym. Rodriguez's hunger to learn from his mistakes will see him back on the mat the morning after the loss to Duarte.
Watch Kaynan Duarte vs Nick Rodriguez Fight 2 Win 128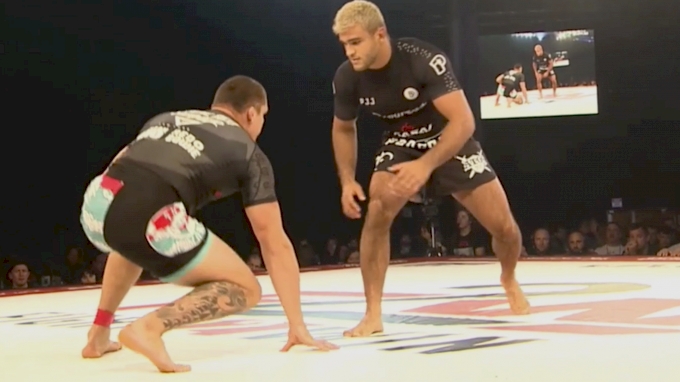 Unlock this video, live events, and more with a subscription!
Get Started
Already a subscriber? Log In