With a lightweight and heavyweight tournament and a $100,000 grand prize in each division, you can bet the biggest names are coming out for Spyder BJJ!
The Spyder Invitational BJJ Championship Finals take place in South Korea on November 23, with two eight-man brackets. The winner of each division will get a staggering $100,000 check, but they'll need to earn it as the lineup promises to be one of the most competitive we've seen.
We now know the first four names, as Spyder has revealed two of the -76kg and two of the -100kg athletes.
-76kg:
Matheus Gabriel
Edwin Najmi
+100kg: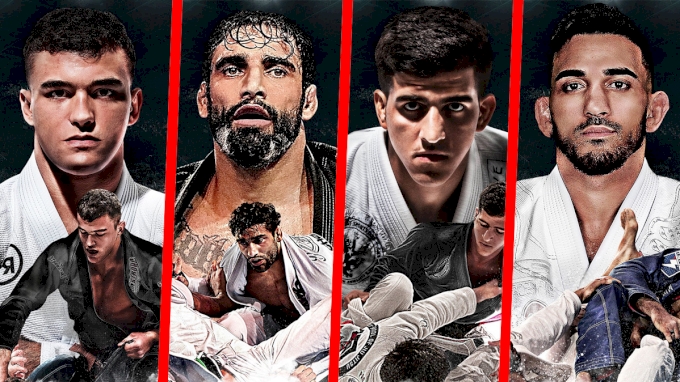 L-R: Kaynan Duarte, Leandro Lo, Matheus Gabriel, Edwin Najmi
Both Matheus Gabriel of Checkmat and Kaynan Duarte of Atos are current reigning IBJJF World champions. Both men rocked the jiu-jitsu world by winning Worlds and Pans in their first year as black belts, catapulting them into the elite ranks. They're 22 and 21 years old, respectively, and they represent the vanguard of the modern generation of competitors.
Both Duarte and Gabriel have appeared on Spyder before. Matheus Gabriel made his black belt debut on the event in July 2018, losing to Paulo Miyao in a razor-thin 8-6 match.
Kaynan is a Spyder veteran undefeated in seven matches on the promotion. He is the Spyder Invitational BJJ Championship overall winner, claiming the title in November 2018 after defeating Vinicius Trator and Victor Hugo.
Watch Matheus Gabriel vs Paulo Miyao
Watch ALL Kaynan Duarte Spyder BJJ matches
Lo and Najmi will both make their first trips to South Korea for their Spyder debuts.
Lo is a five-time IBJJF World champion and Hall of Famer. He made the finals of the absolute division at Pans and Worlds this year, a sign that his game functions well against opponents of any size.
Najmi is an IBJJF Pan champion but his focus in 2019 has been exclusively on no-gi competition – the Spyder Invitational BJJ Championship will be his first gi match since October of 2018, when he blew his knee out facing Tarsis Humphreys.
The rest of the lineup will be announced over coming days. Stay tuned to FloGrappling for info.