Unlock this article, live events, and more with a subscription!
Get Started
Already a subscriber? Log In
On Saturday, November 23, the largest payday in the sport's history will be awarded to not one but two competitors who come out victorious at the Spyder Invitational BJJ Championship. There will be two star-studded eight-man divisions, under 76kg and under 100kg. The winner of each bracket will take home an incredible $100,000 for winning three matches. The Invitational is hosted by Spyder Korea and will take place at the KBS Arena Hall in Seoul.
The under 100kg division contains a ridiculous amount of talent, with five IBJJF World champions who have won a combined 15 IBJJF Black Belt World Championships. The big story entering this tournament is the return to competition of the legendary Rodolfo Vieira, competing in his second gi competition since 2014. No. 1-ranked pound-for-pound Nicholas Meregali is also registered, along with 2019 heavyweight World champion Kaynan Duarte. Six-time IBJJF Worlds champ Leandro Lo is another legend that should contend for the title here.
Here is a quick description of the athletes competing: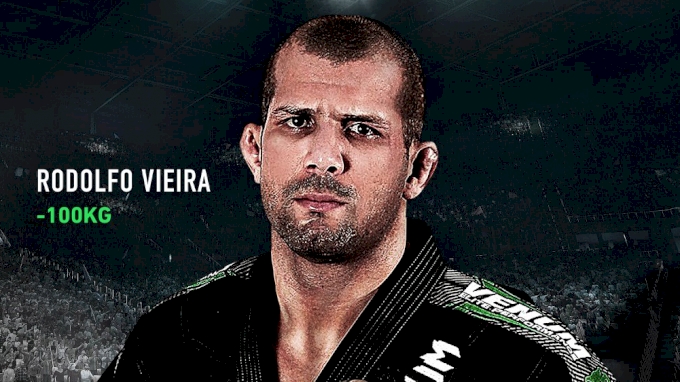 Rodolfo Vieira (GF Team)
Rodolfo is a legend, one of the greatest of all time. A five-time world champ along with Pans and Euros double gold, nobody wants an early match with Rodolfo, let alone at all.
After not having a gi match since 2014, Rodolfo returned in 2018 for one tournament at the Black Belt CBD Invitational. He looked great at that tournament, defeating then-current super-heavyweight World champion Mahamed Aly in the final.
Rodolfo is an intimidating matchup for anyone. He has a well-rounded game, great takedowns, guard and passing. His passing is the stuff that is most associated with his dominance, though. Rodolfo has never lost in four matches with Lo and Calasans, but has no history with the new generation of athletes. Potential matchups between Rodolfo and current World champs Meregali and Kaynan could both be headliners for any superfight event.
---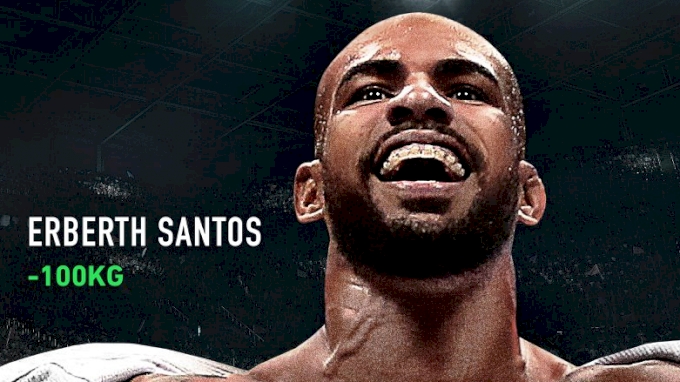 Erberth Santos (Esquadrao)
Erberth has won everything in the sport: He's a 2017 Worlds and Pans champ, two-time Europeans champ, and a four-time Brasileiro champ. His vicious takedown game and fast paced guard passing can be exciting when he's on, but the last couple of years have been marked by inconsistency in his fights.
The same guy who has wins over Andre Galvao, Felipe Pena, Romulo Barral, and Bernardo Faria has lost recently by verbal tap to Matheus Spirandeli, Anton Minenko, and Breno Mascarenhas. We will have to wait and see which Erberth shows up in Seoul, but it is proven that when he's on a roll he can defeat anyone.
Erberth has struggled with a few guys in this bracket, with losses to Lo, Kaynan, and recently a decision loss to Spriggs at Fight 2 Win 130. He holds an ancient victory over Meregali; Nicholas was still a brown belt at the time, though.
Watch: Erberth Wins 2017 Worlds
---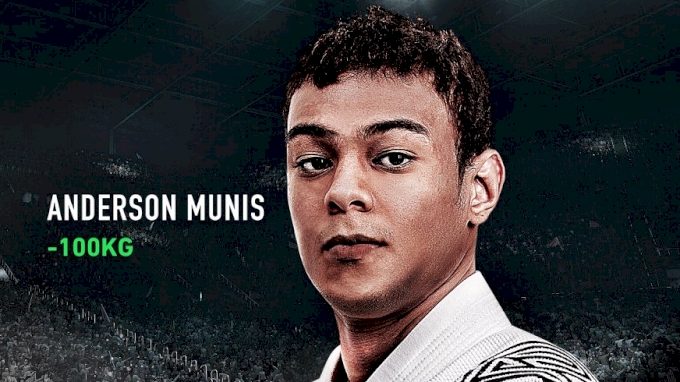 Anderson Munis (Alliance Dream Art)
Currently the top-ranked at brown belt super-heavy, Anderson Munis is in for his biggest challenge yet. The massive 6-foot-5, 220-pound Anderson will actually be having his first season at brown belt in 2020, having just been promoted from purple after winning Worlds at super-heavy and closing out the open class with his brother Erich in June. Anderson had a massive year at purple in 2019 though, winning Euros, the Abu Dhabi World Pro, and Brasileiro to go with his Worlds gold.
Anderson finished third already at the Spyder Qualifiers, defeating Roberto Jimenez and Matheus Diniz. He lost to Claudio Calasans in the semifinal — Calasans is another competitor invited for this edition of Spyder. Anderson's win over Diniz at that event shows that he is ready to compete with the highest level, no matter what belt he is.
Anderson is long, strong, and knows how to use his size well. He employs a highly technical spider/lasso guard that is no easy task passing. How that guard will fare being tested against the likes of Rodolfo, Kaynan, Lo, and Meregali is a big question heading into Spyder. Obviously a win against any of those names would project Anderson into superstar status immediately.
Watch: Anderson Defeats Matheus Diniz At Spyder
---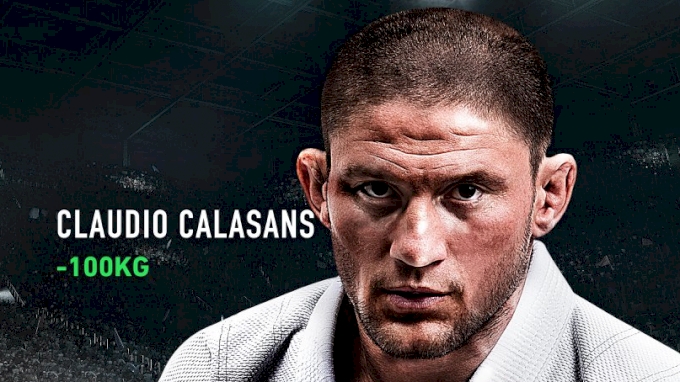 Claudio Calasans (Atos)
2015 World champion Calasans recently turned 36 and usually competes at middleweight, smaller than every other competitor in this division. Calasans finished second at the qualifier event to punch his ticket to this event and can't be counted out.
One thing not in Claudio's favor, however, is his win/loss record against the other athletes in the bracket. Besides the win over Anderson at the qualifier, he has gone winless in his career against Spriggs, Rodolfo, and Lo for a combined seven losses. Despite being a world champ and two-time pans champ, Calasans is no doubt a huge underdog to take home the $100K.
Claudio has a great closed guard game and likes to attack with wrist locks from there. His strongest position though is the 50/50 guard; he has some good leg attacks from there, but trying to slow down some of these bigger opponents and win a tactical 50/50 battle with the last sweep might be his best bet here.
---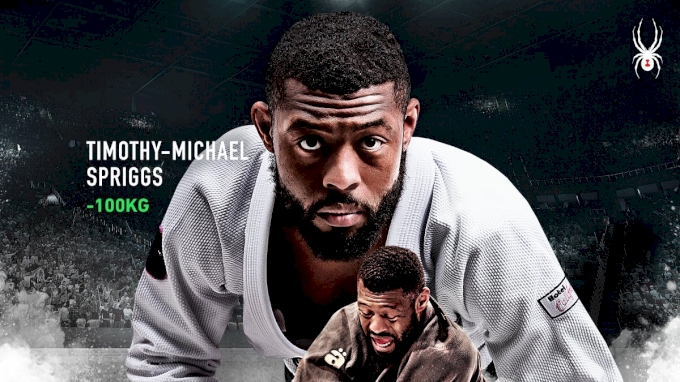 Tim Spriggs (Team Lloyd Irvin)
Two-time pans bronze medalist Spriggs won the qualifier event to make it here, and had a tough road to get through that tournament. Spriggs had to beat Rudson Mateus, Matheus Diniz, and Calasans just to qualify for this event. He did it in dominant fashion, though, not conceding a point and winning those three matches by a combined score of 11-0.
Spriggs has a great takedown game, especially in the gi where he employs his "trainwreck" takedown with devastating results. He has struggled playing guard at times against elite opponents and would probably do best to end up on top here. At ADCC, Spriggs hit two vicious guillotines; opponents at Spyder will have to be careful shooting in for a takedown or giving up the front headlock from any position.
Spriggs is coming in off a big win over Erberth at F2W 130, where he walked away with the title and looked great in the standup game.
Watch: Spriggs Wins Spyder Qualifier
---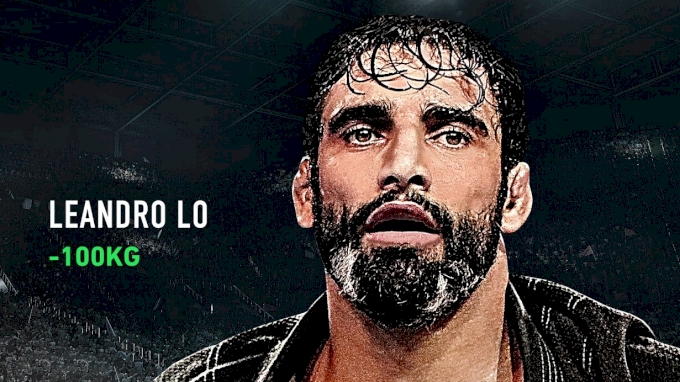 Leandro Lo (NS Brotherhood)
Leandro Lo is a hall of famer and will go down as one of the best ever; he has won an incredible 253 matches in his black belt career. Along the way he has won six world titles and the open class at all four IBJJF grand slam tournaments.
Lo has looked like he has lost a step in the last year, though. His cardio frequently looks sub-par, a bad sign considering the high-paced matches he has built his name on. His guard attacks haven't been as dynamic as they used to be, and he has settled for a lot of low action closed guard while on bottom this year.
Losses to Kaynan, Hulk, Braguinha, Wardzinski, and Meregali this year are not easy matches, but he has looked far from the Lo who would only lose in the open class in past years. Maybe you can chalk it up to his opponents all knowing his game so good from years of study. I'm hoping Lo can get it back for another run at the top; a strong performance at Spyder would say a lot concerning that. Remember that Lo made it to the open class final at Worlds this year. A down year for him is still an incredible year by most athletes' standards.
---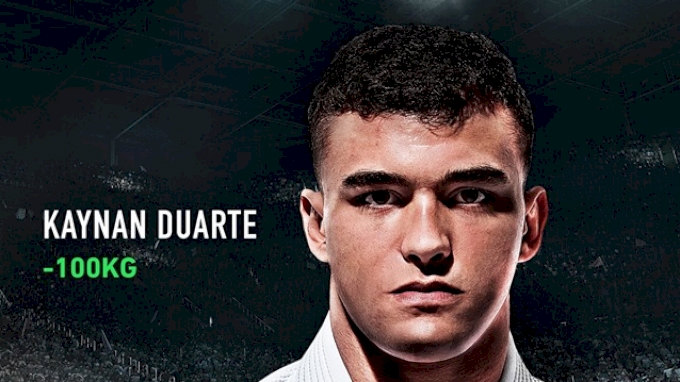 Kaynan Duarte (Atos)
Kaynan Duarte is currently ranked first at heavyweight and fourth pound-for-pound after one of the best debut seasons at black belt of all time. Kaynan won Euros, Pans, and the Abu Dhabi World Pro before defeating Leandro in the Worlds final. Although a no-gi match, a win over the legendary Buchecha at ADCC last month deserves mentioning here as well.
Kaynan has gone 83-12 in just over one year competing as a black belt. He holds the previously mentioned victory over Lo from Worlds, in which he did the unthinkable and passed Lo's guard. He has split his two matches with Meregali 1-1, although Nicholas won the last meeting in dominant fashion by choke from the back at Brasileiro.
Kaynan is like a new age Rodolfo in my opinion, equally skilled on top and bottom and a frequent finisher. A first fight with Rodolfo and a rubber match with Nicholas seem to be highly likely here, and after the incredible 2019 he has had you absolutely can not count Kaynan out.
Watch: Kaynan Defeats Lo In Worlds Final
---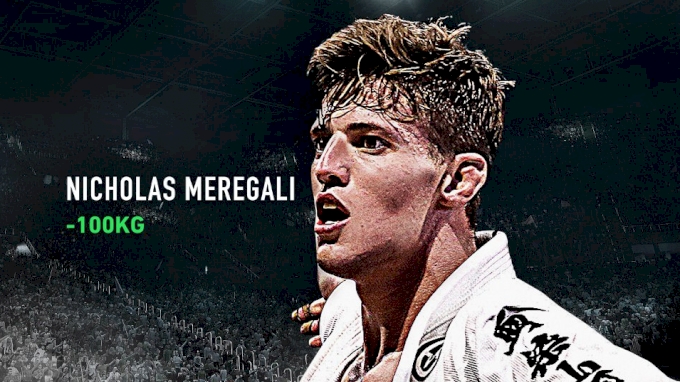 Nicholas Meregali (Alliance Mario Reis)
Currently first in our pound-for-pound black belt rankings, Nicholas Meregali has been on a tear in 2019. Going 19-1 with 12 submissions, Nicholas won Worlds along with double gold at Brasileiro this year. During this stretch he has tapped World champ Kaynan, Pans champ Fellipe Andrew, Euro open class champ Gustavo Batista, 2018 World champ Mahamed Aly, and shut out Pans open class champ Lucas Barbosa 9-0. Nobody has been as dominant this year, the 2-0 loss to Keenan in the Worlds open class being the lone blemish on his resume.
We know Nicholas is going to bring the intensity when he takes the stage at Spyder. According to BJJ Heroes, he has tapped 32 out of his 41 wins at black belt, an incredible 78-percent submission rate.
Nicholas has a great collar/sleeve and de la riva based guard game, but I think he's currently the top passer in the game. Nobody seems to get three points against elite competition as much as he does, combined with back takes off forced turtles and submissions from top; he is a terror while passing guard.
Nicholas lost his first three matches against Lo, but has bounced back to win the last two. He has a loss to Erberth while still a brown belt and has split his two fights with Kaynan.
Watch: Meregali Wins 2019 Worlds
Now let's get to the bracket-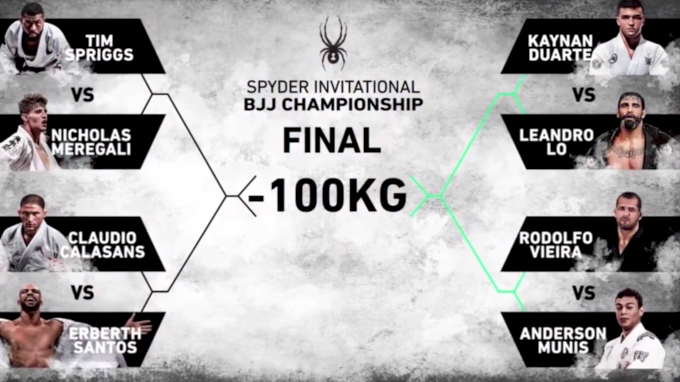 Nicholas Meregali vs Tim Spriggs
Spriggs is coming in with some momentum after beating Erberth at F2W 130 and looked great at the qualifiers, but nobody in the gi is on a roll like Nicholas is. No offense to the other three competitors on this side of the bracket, but it would be a surprise if Nicholas does not make the finals here.
I think it's obvious that we will see Nicholas pull with Spriggs passing. Nicholas has great success working his collar/sleeve guard to triangles and omoplatas against passers, just check out his Worlds final this year vs Tim's teammate Mahamed Aly. If he gets on top expect him to pass or take the back off a passing attempt.
Not to say Spriggs doesn't have a shot. Tim has a great base while passing and is hard to sweep. Possibly he can replicate the success of Victor Honorio and Aly passing Nicholas guard in 2018, but Nicholas no doubt has to be considered a heavy favorite here.
Erberth Santos vs Claudio Calasans
These two fought to a pretty uneventful draw in 2016, with Erberth pulling guard and both athletes unable to score. They were both arguably at a better place in their careers at that point; Calasans is 36 years old and Erberth is frustratingly inconsistent.
Erberth should weigh in close to the 100kg limit and have a big size advantage. Calasans was willing to stand and test his judo against Erberth last time around, if he pulls expect him to work from closed guard or 50/50.
If Erberth gets the takedown I think he wins this one easily, using his size on top to resist sweeps and possibly pass the guard of Calasans. Winner of this most likely gets Meregali, a much-anticipated grudge match between Erberth and Nicholas is one to look forward to.
Kaynan Duarte vs Leandro Lo
A rematch of the 2019 IBJJF World Championships final at heavyweight. Kaynan won that meeting 5-2 after passing Leandro's guard early in the match. Since that meeting, Kaynan has continued his rampage through the black belt level, while Lo seems to still be plagued by the cardio troubles that were so obvious at Pans and Worlds this year.
Not sure who is going to pull here, as Kaynan should be wary of Leandro's legendary passing and Lo probably still has the shocking pass from Worlds in his mind. I'm thinking we could see it start off like Leandro vs Keenan at Worlds, with both athletes refusing to pull and fighting for the takedown.
Given the recent performances from both athletes, I find it really hard to see Lo winning this one. He's one of the best of all time, though, with so much money on the line maybe we get an in shape Lo at Spyder. Kaynan is first at heavyweight and fourth pound-for-pound for a reason; if he defeats Lo soundly again I think it's safe to say there has been a changing of the guard at heavyweight.
Rodolfo Vieira vs Anderson Munis
Definitely the craziest matchup of the tournament, an IBJJF hall of famer vs a brown belt. Anderson will be looking to pull first and get to his lasso guard as fast as possible, a daunting task against one of the most aggressive guard passers of all time.
Saying Rodolfo is a big favorite here is an understatement. Anderson is huge though and has defeated elite black belts in the past, but if he wins this one it will be a victory he can make his legacy from. One big question is how Rodolfo's gi game is currently, with so much of his recent time spent focused on his MMA career.
---
My Picks
I have Nicholas, Erberth, Kaynan, and Rodolfo rolling in the first round, setting up some crazy semifinals.
There is a lot of bad blood between Nicholas and Erberth; this one will be a war. I have Nicholas sweeping, taking the back and finishing Erberth in that semi.
Kaynan vs Rodolfo is a tough one to call. Rodolfo is a legend. Kaynan is like a younger version of Rodolfo though and has been killing it this year. Both athletes are extremely well rounded, while Meregali/Erberth will be a war I expect this match to be more of a technical masterpiece to watch. I'll go with Kaynan over Rodolfo in a close one.
That would set up a Mergali/Kaynan rubber match in the final. Nicholas tapped him in their last meeting, I don't think it will be as easy this time around. I'll still pick Nicholas to come out the victor but I'm thinking by points this time.
---
Watch The 2019 Spyder BJJ Invitational Final Live On Demand On FloGrappling