Unlock this article, live events, and more with a subscription!
Get Started
Already a subscriber? Log In
We may have just experienced the busiest weekend in grappling since ADCC with major tournaments going down across the United States and in Brazil.
Key points of interest include the crowning of AJP Tour's Queen and King of Mats as well as the Rio Grand Sam; Tim Spriggs claimed the heavyweight title at F2W and there was a bevy of action in Long Beach IBJJF International Open.
Read on for a full breakdown of the results and updates you know should know.
---
Long Beach Open: Ronaldo Claims Double Gold, Jessa Khan Promoted To Brown Belt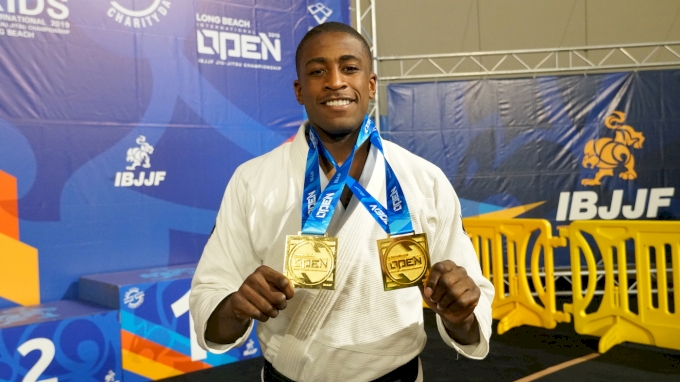 Ronaldo Junior won middleweight gold with two wins.
The first was a choke from the back vs the game Vinicius Lino of Alliance, a fast-paced start to the day for Ronaldo who suffered a lack of a warmup as his first opponent no-showed.
Lino came out hard but Ronaldo's intensity was too much and he beat him in every exchange. The final was a short match with Breno Bittencourt, who was unable to continue due to injury. Bittencourt's hip popped at some point during the match, which Ronaldo told us he heard.
The absolute division was an Atos closeout – Ronaldo Junior scored a sub over the returning Horlando Monteiro in the semifinal, while Rafael Vasconcelos beat Checkmat's Gabriel Almeida on the other side of the bracket.
The brown belt division was dominated by Roberto Jimenez, who scored double gold with a total of five matches. The Alliance rep won both heavyweight and the absolute, taking out Gabriel Duarte Panicali Machado in both finals.
Jansen Gomes tore through the purple belt divisions – the Checkmat youngster caught six submissions in six matches, the majority of them by kimura, his preferred attack.
Jessa Khan was promoted to brown belt after winning her division and closing out the absolute with her teammate Iasmim Casser. The 18-year-old has been training with Mendes since she was 10 years old, and he has said that she has the qualities to become a black belt world champion. Hear it from the man himself.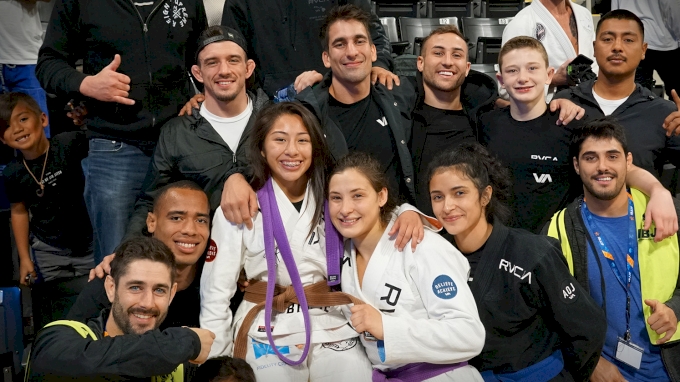 ---
AJP Tour Roundup: King & Queen of Mats Results + The Rio Grand Slam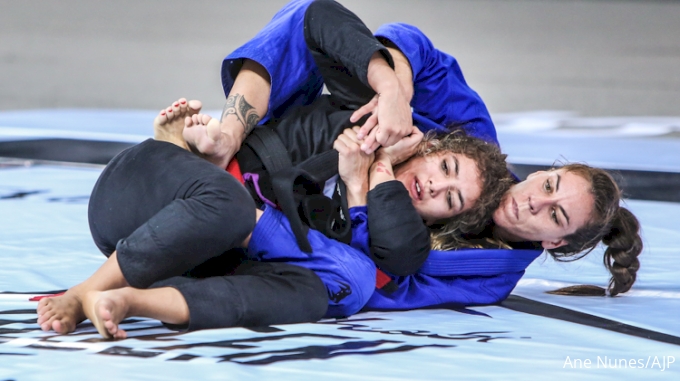 Brazil crowned three Abu Dhabi King of Mats this afternoon of Saturday, November 2, at the Arena Carioca 1. In three action-packed matches under a special set of rules that turned advantages and penalties into points, the crowd was treated to high-paced action all around.
With impressive performances, Leonardo Saggioro (lightweight), Isaque Bahiense (middleweight), and Jackson Sousa (heavyweight) walked off the main mat as the rulers of their weight classes
Results:
Leonardo Saggioro def. Isaac Dooderlein 7-5
Isaque Bahiense def. Charles Negromonte 11-6
Jackson Sousa def. Joao Gabriel Rocha 8-6
Abu Dhabi Queen of Mats: nearly perfect, Luiza Monteiro finishes three out of four opponents on her way to claim the lightweight crown
Long live the Queen! Brazil's Luiza Monteiro had a nearly perfect campaign this Friday, November 1, in Rio de Janeiro, Brazil, to become the first-ever lightweight Abu Dhabi Queen of Mats. With 10 years of experience as a black belt, Luiza imposed her game on much younger opponents to finish three out of four matches. Only Ana Rodrigues, in the final, was able to survive the six minutes against Luiza. Here's how the champion was crowned at the Arena Carioca 1.
Grand Slam Rio Results
56kg – Carlos Alberto Oliveira is now a back-to-back ADGS Rio champion. In two matches, Bebeto first caught Fed Guimarães with a toe hold to qualify for the final and face teammate Jorge Nakamura. The gold medal came with a guillotine finish.
62kg – Diego Pato went down one weight class from his gold medal campaigns in Moscow and Los Angeles to win his third title in the 2019-20 season. He caught Carmones Alencar with an armbar, beat Gabriel Sousa by referees decision, and then finished Hiago George in the semifinals. The gold medal match was a nail-biter against Cleber Fernandes. Pato took the gold medal home with a 5-2 lead on advantages after a 4-4 tie on points.
69kg – In a crowded bracket, Alexssandro Sodré fought five times on his way to the gold medal. He beat Marcos Santos 12-0, Bernardo Dib 2-0, Pedro Neto 8-6 and Marlus Souza 8-6 in the semifinal. In the gold medal match, Sodré outscored Gabriel Figueiró 6-2 to secure the title.
77kg - In another jam-packed bracket, champion Natan Freitas fought five times to conquer the gold medal. He beat Moises Souza 2-0, Caio Caetano 2-0, Marcelo Pereira by referees decision, and Pablo Lavaselli 2-0 in the semifinal. The gold-medal match was a very close one against Yan Paiva. Freitas managed a narrow 1-0 lead on advantages for the win.
85kg – After competing in the middleweight ADKOM super match on Saturday, Charles Negromonte bounced back Sunday to claim the gold medal in his weight class. In four matches, he finished Alexandre Vieira, beat Matheus Souza 2-0, and finished Rafael Paganini in the semifinal. The gold-medal match was a nail-biter with Charles going on a blitz in the final minute of the match to tie the score at 4-4 and beat Igor Sousa by one advantage.
94kg – In four matches, Luan Lima wrote his name in the pantheon of ADGS Rio champions. He beat Alexandre Lima 2-0, finished Cauê Rodrigues and beat Felipe Trovo 1-0 on advantages. The gold-medal match was against Poland's Adam Wardzinski and a narrow 1-0 lead on advantages made Luan the new champion.
120kg – Patrick Gaudio made his way to the top of the podium in three matches. He first beat Gilmar Oliveira 5-0 and then outscored Victor Hugo Martins 2-0 in the semifinal. The gold-medal match was short-lived, as Gaudio quickly found his way to Rafael Message's back to finish the match with a bow and arrow choke.
FEMALE BROWN/BLACK BELT
49kg – Mayssa Caldas is back on the top! After losing the final to Brenda Larissa in Los Angeles, Mayssa fought twice to reclaim her throne of queen of the 49kg weight class. She first beat Eliana Carauni 14-0 and then met Brenda in the final for long-awaited revenge. A 2-1 lead on advantages was the narrow edge Mayssa needed to win once again.
55kg – Ana Rodrigues needed one day of rest after her Queen of Mats campaign to defend her title of 55kg division champion since the ADGS Los Angeles. In three matches, she finished Milena Nascimento with a choke from the back and then beat Amal Amjahid 3-1 on advantages to reach the final. The gold-medal match was a close one against Talita Alencar, but Ana built a 2-0 lead on advantages for the title.
62kg – Bianca Basilio finished the Abu Dhabi Queen of Mats in third place, but came back for more on Sunday. She first beat Luciane Silva 1-0, then beat Lysandra Sousa 5-0 and finally finished Ruth Cathen in the semifinals. The gold-medal match put Bia against Luiza Monteiro in a rendition of the ADQOM semifinal match. A foot lock gave Bia the title.
70kg – Thamara Ferreira is still the queen of the 70kg weight class. She fought three times to win her second gold medal of the season. Thamara first beat Renata Marinho 4-0 and finished Melissa Cueto in the semifinals. The gold-medal match was short-lived as Thamara found an armbar to finish Larissa Dias.
95kg – Competing in front of her family and teammates, Gabrieli Pessanha was able to stay on top of her division. In three matches, she first beat Karla Albuquerque 7-0 and then outscored Yara Nascimento 4-2 in the semifinals. The gold-medal match was a close one and Gabi took the gold medal home with a referees decision win after a 4-4 tie on points.
---
Tim Spriggs Claims Heavyweight Title at F2W 130
Tim Spriggs (TLI) upset Erberth Santos (ESBJJ) to become the new F2W heavyweight champion at Fight 2 Win 130 in Denver on Saturday night
A year that Spriggs describes as acclimating to the elite black belt level and making strides in the technical aspects of his game culminated Saturday night as he defeated 2017 IBJJF World Champion and F2W Heavyweight Champion, Erberth Santos.