Create a free account to unlock this article!
Get Started
Already a subscriber? Log In
In possibly the most anticipated Fight 2 Win match of the year, 37-year-old Vagner Rocha of Fight Sports takes on 16-year-old Tye Ruotolo of Atos this Saturday, November 9, in Richmond, California.
Watch Fight 2 Win 131 LIVE or On-Demand ONLY on FloGrappling
There's so much to talk about with this match: Rocha is Masters eligible, while Tye is still limited to the juvenile division in most federations. Rocha is well-versed in many rule sets, and this is Tye's F2W debut. And, of course, Rocha is an accomplished black belt while Tye is "just" a blue belt (albeit with over a decade of training to get there). Let's break it down.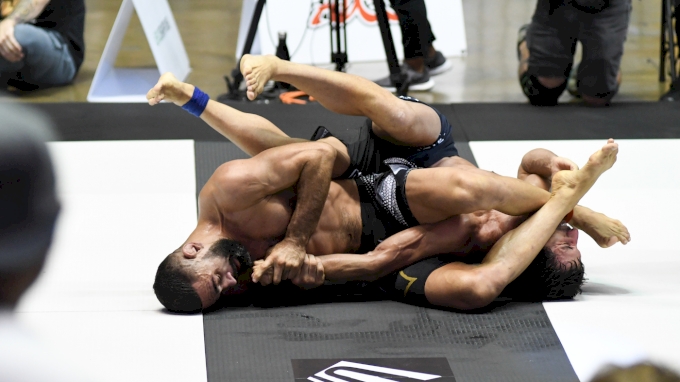 Nearly everybody turned down the idea of a superfight with Ruotolo. He made such an impression at ADCC that nobody wanted to face him. Only 37-year-old Vagner Rocha said "yes." One of the most distinguished grapplers in the game, Rocha has appeared in everything from KASAI, Fight 2 Win, EBI, Polaris and, of course, ADCC. That's not even counting his MMA career or Combat Jiu-Jitsu matches.
These accomplishments have allowed him to retain a top-three position in the rankings (currently ranked No. 2 for the -77kg division) for two consecutive years. So why would someone with nothing left to prove take on a match with someone 21 years his junior, a match many saw as a "lose-lose"? The veteran explains:
"I believe as a professional the mindset should be different. The sport placed this young man in a position that makes him an unappealing match to many because of his age. I'm 37 years old, and I know a lot of competitors who think 37 is too old, or that 16 is too young. But, age is nothing but a number," he says.
All Rocha sees is time on the mat and skill, not age or rank.
"I expect to face a high-level, motivated professional athlete come November 9," he said.
And Tye Ruotolo agrees. Age is the only thing holding him and his twin brother Kade back from progressing their careers in many federations, due to strict rules regulating age and belt rank. He and his brother have been training for 12 years, longer than some black belts.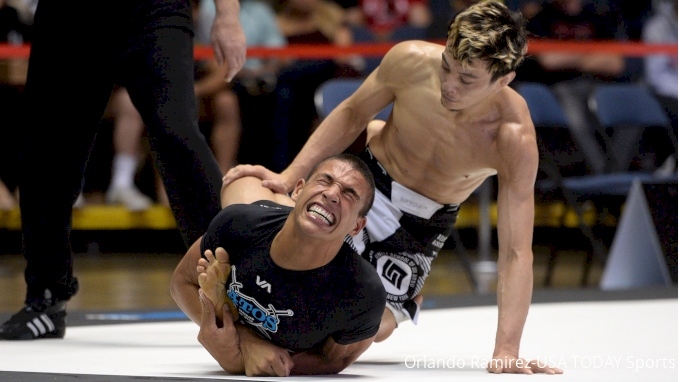 Tye admits that when he entered his first ADCC trials at 15 years of age he still felt like a kid. Making -66kg was easier, and he hadn't fully developed yet – either physically or technically. But he's changed in the two years from his first trials to his standout ADCC performance in September.
He's not going to be that guy who brags about being a blue belt taking on high profile matches. For his F2W debut he says, "I don't see belt color in this match as a thing. I just see a veteran of the sport and a young veteran of the sport agreeing to the match."
Promotions like Fight 2 Win allow athletes like Tye to advance their careers at an earlier age and take on more robust challenges.
In addition to the age factor, there's the weight discrepancy. After getting invited to ADCC as an unranked and bottom-seeded alternate, Tye worked his way up to the No. 5-ranked position for -66kg grapplers in the world, but it took a brutal weight cut to get there. Now, he gets the opportunity to compete against one of the most established no-gi grapplers, and at a heavier weight than he's ever competed before. So many notable factors about this matchup, but the only thing that matters is that two of the very best are motivated to give their best Saturday night.
In addition to an outstanding main event, the F2W 131 card has been dubbed "the most stacked." So, just to name a few more keep your eye out for:
Three-time no-gi world champion and ADCC bronze medalist Josh Hinger (Atos) and the legend Murilo Santana (Unity) will light up the stage in a 185 lbs no-gi match.
Edwin Najmi (Gracie Barra) and Jaime Canuto (GF Team) are set for a 180 lbs gi match.
No. 8-ranked medium heavyweight, Nisar Loynab (Atos) returns to the stage for a match against Gustavo Andrade (Serao Academy).
The Masters Lightweight title in on the line between reigning champ, Marcos Torregrosa (Yemaso BJJ) and Sean Nkmorad (Gracie Fighter). Torregrosa is the hometown favorite with a dominant campaign in the F2W lightweight division.