Create a free account to unlock this article!
Get Started
Already a subscriber? Log In
Three-time IBJJF No-Gi World champion and ADCC bronze medalist Josh Hinger is not one to hold back his opinions. As fans of his Matburn Podcast have come to know, Hinger is quick to share his unfiltered thoughts on a wide range of topics.
We felt it was essential to catch up with Hinger ahead of his submission-only no-gi superfight this weekend to find out what's on his mind. Hinger will face off with Murilo Santana on Fight 2 Win 131 in Richmond, CA. This is a rematch that Hinger has wanted for a long time, as Santana submitted him with his own favorite technique way back in 2016, and the loss has haunted him ever since.
Read on for Josh Hinger's takeaways from ADCC, learn about how he beat the crap out of Tye Ruotolo to prepare him for Vagner Rocha, and find out why he thinks he sucks at superfights.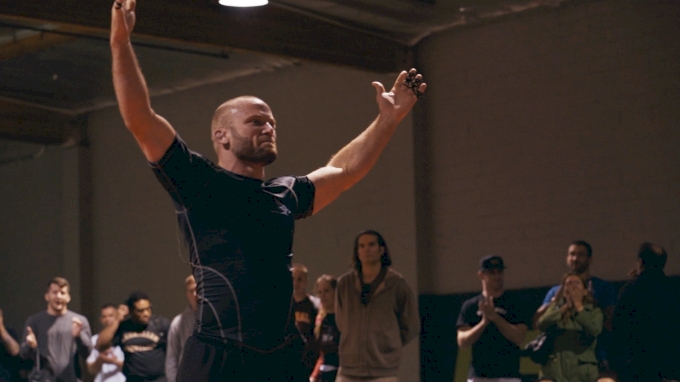 The day Josh Hinger won ADCC Trials
In 2016 Josh Hinger lost to Murilo Santana in the absolute division of No-Gi Worlds, which was the same event where Hinger won his first world title, conquering the medium-heavyweight gold medal.
"The last time I faced him was in 2016 and I was super nervous to face him, because I hadn't won anything significant at that time. I had one match on the first day, and then I jumped into the absolute division and has this crazy match with Mahamed Aly. I just wasn't prepared for the match with Murilo, I was overwhelmed. I did this thing where I tried to take his back, it didn't work and I tried it again and he beat me, he caught me and that's fine. But it didn't sit well that he beat me. Because I tried the same thing twice, and he's too smart for that.
"He didn't have a bad performance at ADCC; he lost a decision to Jon Blank. I spoke to him backstage. I always go out of my way to talk to Murilo. I like him a lot, I've never heard him say anything I've disagreed with – he's always been very complimentary and says that he likes watching my matches. I told him at ADCC I'd like to have another match with one day, and it happened that Seth threw his name at me."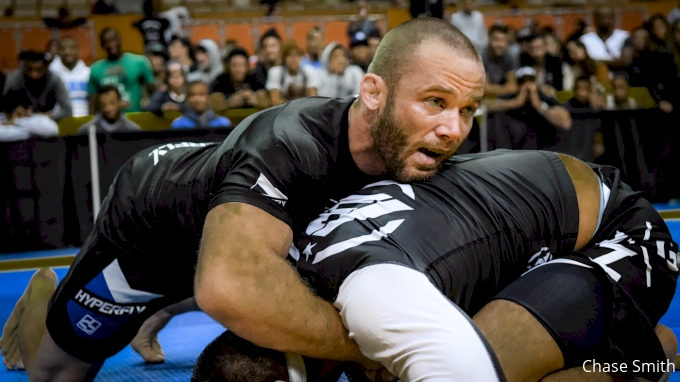 Hinger's famous guillotine choke in action, the "Hingertine"
It's apparent that Josh both likes and respects Murilo as a person and competitor. They're a similar age and are two of the most honest people you'll ever meet. Stylistically they're very different, so we asked Josh about what he made of Murilo's 1-1 performance at ADCC and how he thinks this match will play out.
"All his matches I've seen, Murilo plays a lot of sit-up guard. I thought, I can deal with that, that's something I can work with. I know his closed guard is really good and that's how he finished me, with a guillotine from there.
"He's a smart guy, he knows what I want. It wouldn't surprise me if he changed his strategy. Especially as the head coach of a team, I'm sure he's a great strategist and that he can adapt his game for me. He might pull guard, but I anticipate a little bit of wrestling with him. I'm not going to pull guard, that's for sure. I'm going to try and outpace him, just like I did with Arnaldo [Maidana]."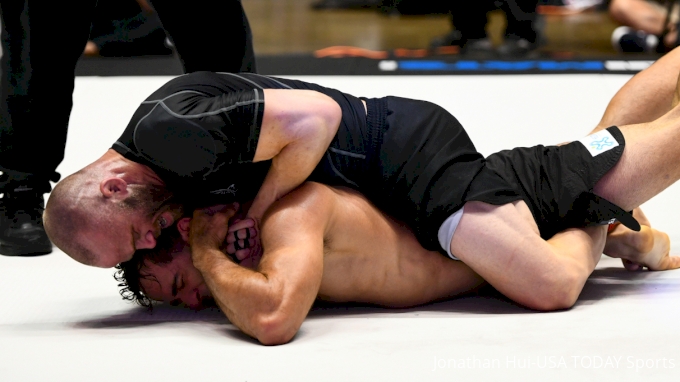 Josh chokes Gabriel Almeida at ADCC 2019
Hinger had a bittersweet experience by taking bronze at ADCC. He lost to champion Matheus Diniz in the semifinal, and the loss haunts him. Yet it was a learning experience and one that may even help for the match with Murilo.
"It eats me up that I lost to Matheus [Diniz]. I text him all the time that I hate him, but that I respect him too! I don't feel like I made any other mistakes; nobody else scored a point on me the whole tournament. To be honest, Adam [Wardzinski]'s jiu-jitsu is very similar to Murilo's. Adam surprised me — his no-gi game was better than I expected. He did this thing where he gets you to post on the mat and goes for the reverse armbar. I think Murilo has some similar techniques in his arsenal, a lot of the butterfly guard stuff."
It's not often you hear a well-known competitor openly discuss their flaws or weakness, but Hinger readily admits that he's not got the best superfight record. Naturally, we wanted to know why that was.
"I told Seth I want to do more Fight 2 Wins this year. My superfight game has always kind of sucked. I don't have a good record, it's probably only 50-60 percent victories. But I always take superfights with really good opponents. It's not like I'm terrible and lose all the time; I get good draws in tournaments as I'm usually a high seed so I get the lesser-known guys first and then the better guys later when I've gotten going.
"But a superfight is not like that. I'm a slow starter. I'm like that even in the gym. My third, fourth and fifth rounds are the best. It's like I come back from a superfight and I need to fight somebody on the warmup mats. I know what I need to do, I need to have a couple really hard warmup rounds to get ready. That's why it's great that Nisar [Loynab] Tye Ruotolo are on the same card as me."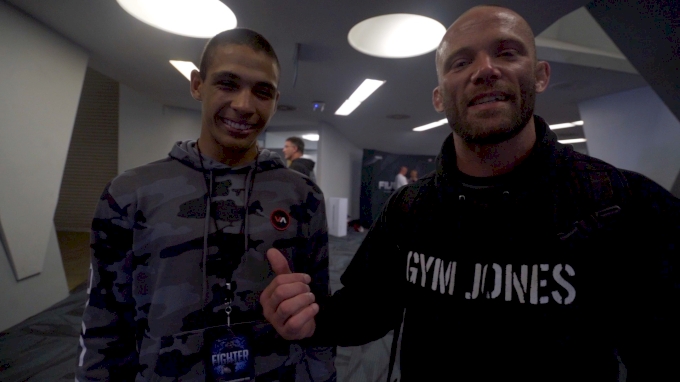 Josh with Atos teammate Tye Ruotolo
Finally, we got Hinger's thoughts on the match everybody is talking about: 16-year-old Tye Ruotolo vs 37-year-old Vagner Rocha. Ruotolo stunned the world with his breakout performance at ADCC, fighting his way into the semifinals. Rocha is an ADCC silver medalist and known as one of the grittiest competitors in the game. Hinger is known for being pretty intense, too, so he's been doing his best to get Tye ready for what Vagner will bring.
"I've beaten the shit out of Tye the last two weeks. I've done everything to get him ready for Vagner. I've been clubbing him and covering his mouth and stuff. And he took it like a champ. I have no idea what is going to happen. Everybody has been talking about how Vagner has a lot of experience but Tye has been training for 12 years, since he was 4 years old. And he's been competing for a long time. I think Tye is really good at chaining submissions together and scrambling, he just goes for submissions after submission. I think this is his advantage, because every submission on Fight 2 Win is like an invisible point on the scoreboard."
Josh Hinger will match up with Murilo Santana on Fight 2 Win 131 on Saturday, November 10 – watch it LIVE or On-Demand ONLY on FloGrappling.
Editor's note: The morning after the superfight Josh will fly to Dallas for a Blackbelts for Butterflies charity seminar the following day. The proceeds will benefit H.E.R.O.E.S., an organization which serves all people with different abilities from ages three through adulthood. Find out more here.
WATCH: Previewing Fight 2 Win 131: Ruotolo vs Rocha, Murilo vs Hinger, Najmi vs Canuto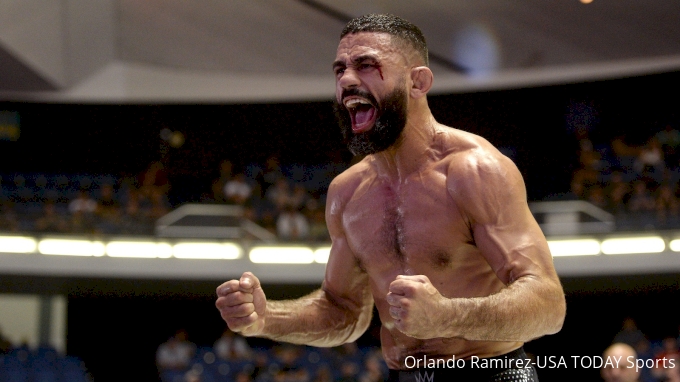 Unlock this video, live events, and more with a subscription!
Get Started
Already a subscriber? Log In