Dante Leon has had a breakout year in 2019, storming the no-gi circuit with submission wins over Isaque Bahiense, Edwin Najmi, and Matheus Lutes to go with a fourth-place finish at ADCC. Dante was no slouch in previous years, winning Pan No-Gi twice and finishing third at No-Gi Worlds, but he has no doubt gone up a level in 2019.
Watch: Dante Taps Isaque At Fight 2 Win
The action isn't about to stop anytime soon for Dante, though, as he is scheduled to compete at both the BJJ Fanatics Submission Only Grand Prix and GrappleFest 7 on FloGrappling in the upcoming weeks.
Here's what he said about his transition to no-gi competition this year: "It's just kind of where the exposure is. I see the way it's going; it's leaning towards the no-gi side. I think more people can relate to it. MMA fans can watch it and relate to it more than gi. The money, the exposure, the events, that's where it's at right now."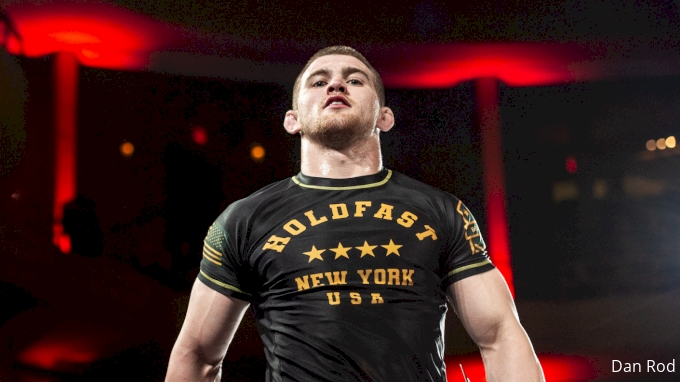 Just Getting Started
Next up on Dante's schedule it the aforementioned BJJ Fanatics event. Dante will be one of the smaller competitors in the absolute bracket containing Nick Rodriguez, Lucas "Hulk" Barbosa, and Aaron "Tex" Johnson. Dante has never been one to shy away from absolute divisions, though, and has spent the last few years in Toledo training primarily with teammates over 200 pounds.
"It is a great event. A great collection of no-gi and submission only guys. It is a huge challenge for me, for a couple of reasons," he said. "First off is the size of the bracket — there are a lot of guys competing. Then you have the size of the competitors, some big dudes. They have a weight advantage but I love absolutes. I'm one of the smaller dudes but I'm excited for the challenge. I've fought and trained with bigger guys for most of my career so it's something I'm ready for."
About some of the lesser-known competitors in the field: "I think it is hard to put your finger on just one. So many good guys. Kyle Boehm has a win over me; he's a super talented grappler. I think he is just getting started."
Dante is coming off the best performance of his career at the 2019 ADCC World Championships. He fought a tough come-from-behind win in overtime in the first round over Jon Satava, advancing to the quarterfinals with the legendary Lucas Lepri. Dante took the back of one of the all-time greats in that match, winning by a final score of 3-0.
"Leading up to the event I was studying everyone. Not one person more than the other. They make the brackets late so you don't know who you will have. I obviously had some things in mind for Lepri. I knew he likes to pass my kind of guard, the knee shield half guard. I knew he could give me problems, but that I could give him problems, too. I executed well; I got to his back. As soon as I sat up and got to the body lock, I knew I don't lose those positions. I stayed tight, got the one hook and seat belt and had to stay tight to finish."
"Obviously with somebody like Lepri you have to stay tight because he's dangerous. I was cautious, opened up only as much as necessary, and capitalized on the mistakes and openings that I created."
Watch: Dante Leon Vs Lucas Lepri At ADCC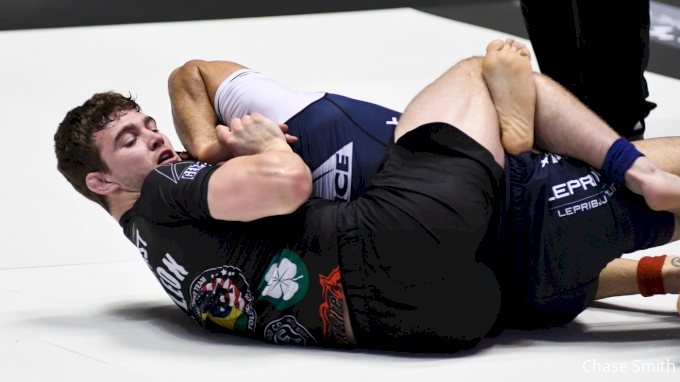 Back-To-Back Events
Just one week after the BJJ Fanatics Grand Prix, Dante will be in Liverpool, England, for more no-gi submission-only action at GrappleFest 7. This time he will have a superfight with a formidable opponent, No-Gi World champion Marcio Andre.
"Marcio has some of the best jiu-jitsu in the world. A beautiful game, a great guard and great passing. People forget he has such good no-gi — he's a black belt world champ in no-gi. It is cool that he is branching out to sub-only. I had a lot of change in opponents, up until two weeks ago I didn't know who I had for sure. I appreciate him taking the fight on short notice."
Dante has no intentions of slowing down with this tremendous momentum he has generated so far in 2019. The Canada native — who for the past several years has called Toledo, Ohio, his home — has great ambitions for the future.
"I'm gonna keep improving, just getting better, and take advantage of the right opportunities. The best fights, events, to not only grow my career but expose my brand and help improve myself. BJJ Fanatics is a tall task and will help me improve as an athlete. I think people worry too much about failing, about being judged."
"I want to be here and I plan to be on top. I have some goals, I have to take some steps to get to those goals in the time I have planned."
---
Watch The BJJ Fanatics No-Gi Submission Only Grand Prix Live On Demand On FloGrappling