Create a free account to unlock this article!
Get Started
Already a subscriber? Log In
We are just under a month away from the final major tournament of the year: the 2019 IBJJF No-Gi World Championships.
Set to go down in Anaheim, California, on Dec. 12-15, the event has already netted a sizable competitors list that includes some of today's top-ranked athletes.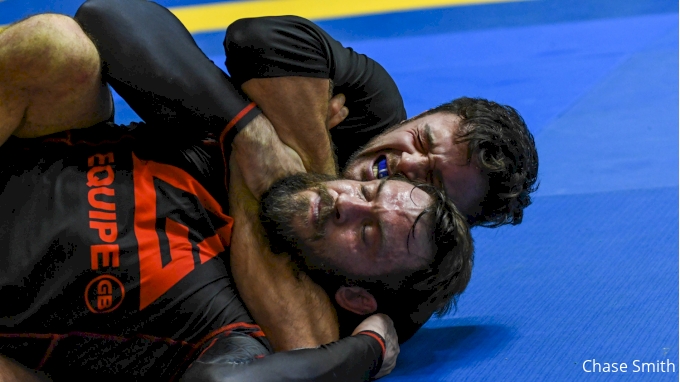 Light-feather is currently among the more stacked black belt divisions and features a bevy of exciting potential matchups. The fresh black belt Jonnas Andrade is set to mix it up with talented veterans, including Lucas Pinheiro, Renez Lopez, Hiago George, and Gabriel Souza, among others.
A few no-gi world champions have also thrown their names into the hat for this year's festivities, including Roberto "Cyborg" Abreu in at ultra-heavy, Otavio Sousa will fight middleweight, Samir Chantre is signed up as feather, and Marcio Andre is featured at Lightweight.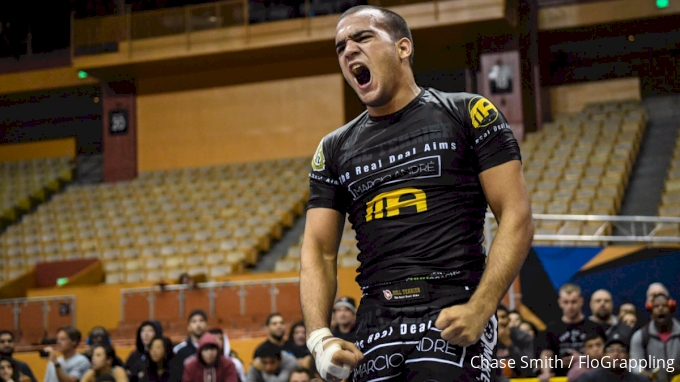 Marcio Andre.
Women's past champions already registered to compete include Karen Antunes, Mayssa Bastos, registered at Light and roosterweight, respectively. Other key competitors in the women's ranks included like Talita Alencar, Amanda Monteiro, Catherine Perret, Amanda Lowen, Thamara Ferreira, and Raquel Canuto.
Competitors List as of 11/14/19
BLACK / Adult / Male / Rooster
Ares BJJ
Taniel Santos de Jesus
PSLPB Cicero Costha
Thalison Vitorino Soares
Tri-Force Jiu-Jitsu Academy
Nobuhiro Sawada
Unity Jiu-jitsu
David B. Zennario
Total: 4
BLACK / Adult / Male / Light-Feather
Atos JJ USA
Lucas dos Santos Pinheiro
Brasa CTA
Rene Eduardo Lopez
PSLPB Cicero Costha
Francisco Jonas Borges Andrade
PSLPB Cicero Costha
Hiago George Santos Silva
Renato Tavares Association
Suraj Kumar Budhram
Werdum Combat Team France
Anthony Guy De Oliveira
ZR Team California
João Gabriel Batista de Sousa
Total: 7
BLACK / Adult / Male / Feather
Ares BJJ
Samir José Chantre Dahás
Fight Sports
Orlando Fernando Castillo Andaviza
Fight Sports International
Thomas James Halpin
GF Team
Israel de Sousa Almeida
Tinguinha BJJ Academy
Cole Thomas Franson
Unity Jiu-Jitsu Brasil
Thiago Aguiar Abud
Zenith BJJ
Emilio Alejandro Hernandez-Rodgriquez
Total: 7
BLACK / Adult / Male / Light
Absolute MMA Australia
Lachlan John Warne
Alliance Charlotte
Frederico Augusto Alves Silva
Alliance Marcelo Garcia
Athos Ribeiro de Miranda
Carpe Diem
Tomoshige Sera
Nova União
Marcio Andre da Costa Barbosa Junior
Open Mat Mixed Martial Arts
Daniel Seth Davis
Rodrigo Freitas Brazilian Jiu-Jitsu
Rodrigo Lamounier de Freitas
Zenith BJJ
Leonardo Domingos Costa Benedito
Total: 8
BLACK / Adult / Male / Middle
99 Nine Nine JJ - International
Sergio Raimundo Rios da Silva
GF Team Ohio
Robert G. Malof
Gracie Barra Huntington Beach
Otavio Ferreira de Sousa
Gracie Barra Nottingham
Oliver Johnathon Lovell
Pirâmide Grappling Association
Marco Aurellio de Queiroz
Unity Jiu-jitsu
Felipe Cesar Silva
Total: 6
BLACK / Adult / Male / Medium-Heavy
Alliance SP
Edson Antonio de Oliveira Filho
BARBOSA JIU-JITSU
Marcos Vinicius de Oliveira Martins
Hilti BJJ Turku
Jaakko Vilander
Total: 3
BLACK / Adult / Male / Heavy
American Top Team Junior Fernandes
Charles Kilyan Mcguire
Atos Jiu-Jitsu
Helton Jose Mendes da Silva Junior
CheckMat
Jackson Sousa dos Santos
Inglorious Grapplers
Max Leon Bickerton
Ralph Gracie
Nicholas Greene
Unity Jiu-jitsu
Devhonte M. Johnson
Total: 6
BLACK / Adult / Male / Super-Heavy
Checkmat Northridge
Arnaldo Maidana de Oliveira
Gracie Humaita International
Jan Victor Zander
Team Lloyd Irvin
Roberto Torralbas
Yemaso Brazilian Jiu-Jitsu
Eliot Andrew Kelly
Total: 4
BLACK / Adult / Male / Ultra-Heavy
Fight Sports
Roberto de Abreu Filho
Vinny Magalhaes BJJ
Vinicius de Magalhães
Total: 2
BLACK / Adult / Female / Rooster
GF Team
Mayssa Caldas Pereira Bastos
Gracie Barra New Mexico
Amber Rymarz-freitas
Total: 2
BLACK / Adult / Female / Light-Feather
Brazilian Top Team - ATX
Patrícia Magalhães Machado
GF Team
Amanda Monteiro Nogueira
Notorious Mixed Martial Arts
Fiona M. Watson
Total: 3
BLACK / Adult / Female / Feather
Absolute MMA Australia
Liwia Gluchowska
Alliance Los Angeles
Ana Talita de Oliveira Alencar
Atos Jiu-Jitsu
Heather H. Raftery
Atos JJ International
Georgina Contel Gallego
CheckMat
Gabriela Meireles Fechter
CheckMat USA
Karen Deisy Antunes Girotto Borges
Total: 6
BLACK / Adult / Female / Light
Brazil 021 International
Kristin Mikkelson
CheckMat USA
Catherine Fuhro Perret
Mako Team Paris
Veronica Macedo Fernandez
Total: 3
BLACK / Adult / Female / Middle
Barum Jiu-Jitsu
Anna Sophia Maria Nordenö
CheckMat
Raquel Dayne Kaleialoha Canuto
Gracie Humaita International
Hannah Katharina Rauch
SBG International (SBGI)
Amanda Loewen
Total: 4
BLACK / Adult / Female / Medium-Heavy
Checkmat New York
Vedha Clemente Toscano
PSLPB Cicero Costha
Thamara Ferreira Silva
Soul Fighters Texas
Jessica Lynn Guedry
Total: 3
BLACK / Adult / Female / Heavy
BARBOSA JIU-JITSU
Graciele Del Fava De Carvalho
Total: 1
BLACK / Adult / Female / Super-Heavy
Gracie Barra New Mexico
Tammy M Griego
Total: 1