The blatant act of punching an opponent midway through a grappling match should be an immediate call for disqualification, but confusion and hesitation gave Aaron "Tex" Johnson a "get out of jail free" card on Saturday night.
A frustrated Johnson socked William Tackett in the mouth with a right hook, a move that goes beyond dirty: It was disrespectful, disgraceful, and downright unnecessary.
The incident took place during the quarterfinal match of the BJJ Fanatics Submission Only Grand Prix. Three and a half minutes into a match with William Tackett, an 18-year-old purple belt who weighs 60lbs less than him, Johnson responded to a perfectly legal push to the chest by committing one of the gravest fouls in any form of grappling.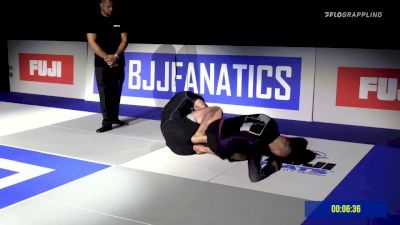 Create a free account to unlock this video!
Get Started
Already a subscriber? Log In
Johnson broke the most important bond of trust that exists between grapplers.
Competitors put their bodies on the line and are prepared to be slammed into the mat, have their limbs twisted and joints hyperextended, and be choked to the point of unconsciousness. But striking is never permitted.
This isn't MMA or combat jiu-jitsu. Fighters enter the ring knowing full well to expect a fist, elbow, knee or foot aimed at their head. Grapplers do not. Jiu-jitsu has practical use in mixed martial arts and self-defense scenarios, but grappling competitions remove any form of striking. Tackett was shocked and stunned by the punch, as was everybody watching. It just shouldn't have happened.
It should have been an immediate DQ. But the failure of the referee to fulfill his duty is another cause for concern. He stopped the match but seemed unsure of what to do. The crowd immediately started to jeer in protest, while Tackett looked around in shock thankfully unhurt.
"I would assume it's going to be a DQ for Tex Johnson," said Gordon Ryan, who was on the commentator's mic. "That should definitely be a DQ; he just blatantly punched him in his mouth."
A warning was issued and Tackett took it up a gear, almost immediately passing the guard and mounting Tex. He passed Johnson's guard twice more in the match.
Johnson went on to win in overtime, moving into the semifinal where he lost to eventual winner Kyle Boehm. He should never have been allowed to advance; he took Tackett's rightful spot in the semifinal.
Johnson's explanation of what happened leaves a lot to be desired. He claims it was accidental, but the video clearly shows him ball up his fist and take aim at Tackett in response to the legal push to the chest, which Johnson describes as a kick.
"We were coming up. He kicked me. I went to reach really fast. My fist was closed. As I saw it, I pulled it. But I still grabbed the shot. It was not a legit punch. I was not trying to hurt William — I respect him. We had a nice conversation after and I apologized.

"I'm sorry for the mishap. It was an accidental punch. I was reaching, my hand was closed, I thought I was grabbing his head but it was a closed fist."
It would have been understandable if Johnson just said what obviously happened – that he got frustrated and let his emotions take over. But he didn't. He tried to come up with a frankly ridiculous explanation that anybody can see right through.
The referee failed to act in accordance with his role. Instead of disqualifying Johnson on the spot, he avoided responsibility in making a decision. He deferred to the event organizers, Bernardo Faria and Michael Zenga. But as Zenga explained, neither of them saw the incident.
"Bernardo and I had looked away for a second to talk to each other and we didn't see the actual incident. When we got to the stage right after it happened, I asked William if he was OK. Being the warrior that he is, he said that he was. Bernardo and I then assured Tex that anything even close to the line was gonna be called a DQ and he said OK. William was clearly OK to continue and fought well rest of the way."
Zenga has accepted responsibility for not properly preparing the ref for this kind of incident, but it says a lot about the ref that he doesn't know it's an immediate case for disqualification.
Johnson should be held accountable for his actions. No governing body exists to sanction such behavior as BJJ Fanatics is a private event. If this were an IBJJF competition, he would be subject to a minimum ban of 12 months. It's up to BJJ Fanatics whether they want to work with Johnson in the future – only they will know but how many fans and fellow competitors would want to see Tex invited back after such a display?
Watch every match from the BJJ Fanatics Submission Only Grand Prix here