Unlock this article, live events, and more with a subscription!
Get Started
Already a subscriber? Log In
Nicholas Meregali gives an introspective interview into his mindset, philosophy, and goals heading into the Spyder Invitational.
What is your philosophy towards training and competing? What do you think is a good representation of jiu-jitsu?
"Jiu-jitsu is a martial art of immobilization where the submission is the result of a combination of perfect and precise movements. It is clear in my mind that only the submission is the perfect expression of art. One hundred percent of the time I am willing to pursue this path and always make plans to reach that level of perfection. Jiu-jitsu has suffered a lot from the rules in recent years, but I believe that nowadays because the sport is being more commercialized, this old and real philosophy that only submitting matters will be back on the mats and in the minds of the all the athletes."
Watch: Nicholas Meregali Wins His Second Black Belt World Title
I think one of your major strengths is your mindset, getting yourself in the zone on the day you fight. Can you describe a little the process you go through, the emotions, where you are mentally before the fight?
"I usually go into a very intense state of meditation on my competition day. Nowadays I have even felt gratitude every time I fight, because I am managing to be and do what I have been dreaming for years. Competition is a difficult environment for any human being — no matter how used to it we are, it will always be an environment of fear, because we dedicated our lives for that moment. Usually when I am about to get on the mat, I feel a different vibration; it seems like a degree of meditation, because my instinct is really sharp and my brain is totally shut down. It's like no one is controlling my mind."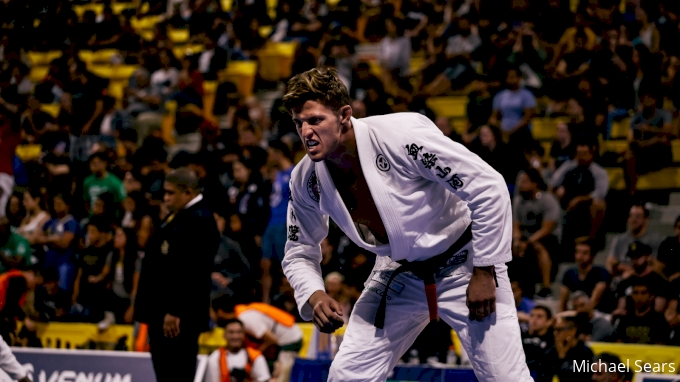 How do you feel about being the current pound-for-pound No. 1 in the FloGrappling rankings?
"I feel very grateful and motivated to work harder. I love my life so much and I love everything that happens in it. I completely trust the process. 2019 was my year, and I lost the Absolute for being overconfident, which generated arrogance and then defeat. I am fully aware of this.That is the coolest thing in life, to be attentive to all the lessons. I always wanted to be remembered as the best of today's generation, not for the titles but for being the most skilled, technical, tactical, aggressive, and strong in the moment. I look up to all the lighter jiu-jitsu athletes; they are the reference of movement to me. One day, I want to win Worlds by just doing berimbolo."
Read: FloGrappling Pound-For-Pound Black Belt Rankings
This Spyder tournament is crazy, maybe the toughest heavyweight tournament of all time. What do you think of the tournament? Are there any matches that you are looking forward to?
"Yes, this will be the best heavyweight event in history. The card is fantastic. We have two legends of the sport, Leandro Lo and Rodolfo Vieira. We have the new generation represented by me and Kaynan, and other top athletes. I particularly have in mind only one opponent who I still didn't score victory on my resume, but for championships I believe that what matters is quality rather than quantity. I just put myself in big events this year, and it had a huge impact on me. Next year I hope to choose the challenges as well as we chose this year."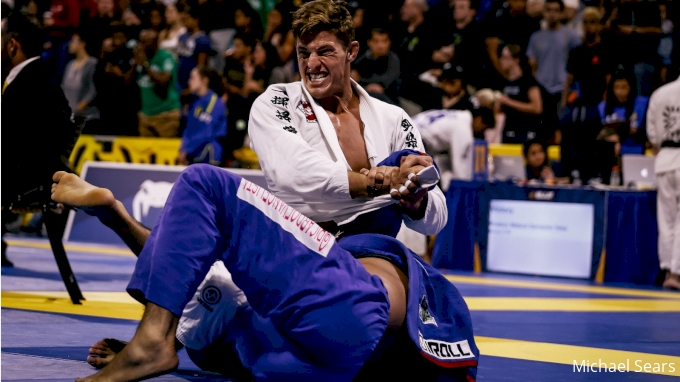 What would winning Spyder mean to you?
"The closing of a perfect year. The consecration of my first place in the pound-for-pound ranking. The last evidence we needed for everyone to respect me and accept that I am the best in the world today, the best in the sport I devote my life to. I am sure it will be a great challenge, and if the victory does not happen I will continue to follow my career in the same way, because it looking beautiful and rewarding."
Watch: Mario Reis Discusses What Makes Nicholas Special
Mario Reis has a very special academy that has produced a ton of homegrown champions. What is it like training under Mario?
"Sensei is a father/teacher to all his students. Since he develops all his students from white belt, he creates a different emotional bond that makes our academy one big family. Sensei's leadership style is slightly different from other teachers — he believes that through personal development we will be able to achieve the athlete development. This is a little heavy and hard to understand at first, but gradually he is able to form solid athletes for the future and especially great people. The easiest thing is to take a champion from another team and keep him a champion; the hardest thing is to look at a rough stone and see a diamond."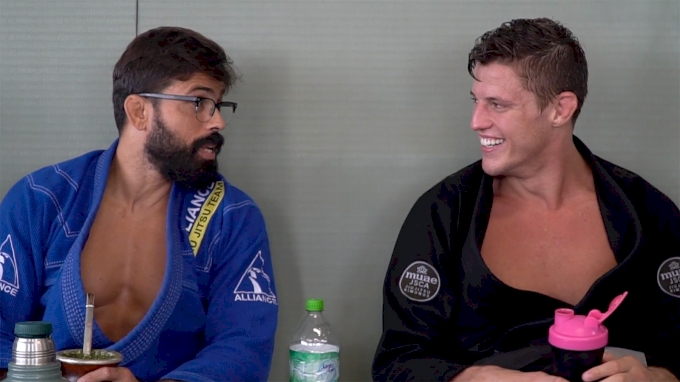 Mario has a lot of energy at the tournaments; how does having him in your corner affect your fight?
"He knows how to put himself in the same vibration as the athlete. He knows the right time to slow down and the time to motivate. He gives a lot of confidence to each challenge. I believe that for these characteristics he is our main Alliance coach."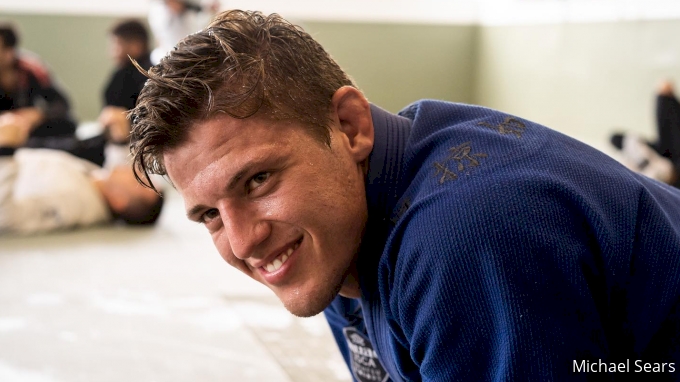 You and I have discussed a lot about your passion for the art. Describe your passion for jiu-jitsu, martial arts and how it influences your life.
"I am intensely in love with my work and what I chose to live. I am obsessed with everything I do, and 100% of my actions are thinking about something beneficial for my jiu-jitsu. For not being a talented guy I had to learn about dedication and commitment. My mind is 24 hours trying to find ways to improve myself. And these thoughts are not the type, 'I want to be better than this or that guy.' They are like, "What can I do to be better than I already am now.' As long as I have this kind of mindset I will always be motivated and evolving, because I see life as a game and I always need to be one step ahead if my dream is to succeed."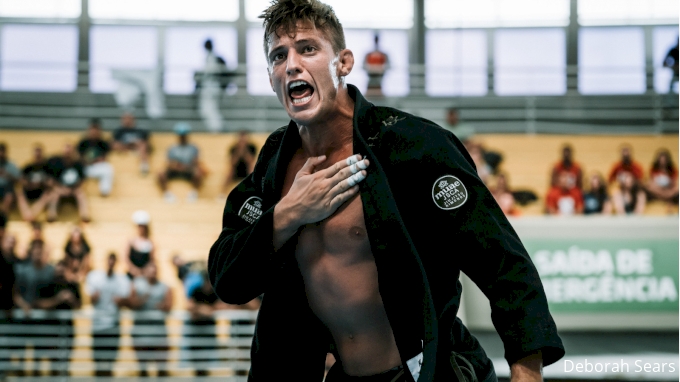 What are your short-term and long-term goals in jiu-jitsu?
"My understanding of my career and life today is to be the best I can be in every moment. Certainly I set goals for the future, but what really motivates me are the ones that are in my control, in my daily routine, helping me shape myself and to be constantly evolving and attentive to every life lesson. For me the year of 2019 was magnificent; regardless of what happens on Spyder I am very grateful for what I did. And I'm sure 2020 will be another milestone year for my life and for all jiu-jitsu lovers."
What would being black belt absolute world champion mean to you?
"I always dreamed about this moment. I have often imagined myself being the Absolute champion, crying with my friends, family, vibrating intensely to achieve the title I was born to have. These days, after still not conquering the Absolute title, the meaning changed a little for me. Before, I used to believed that only the title would mark my name in history, but studying great examples in different sports I learned that the title is not what makes you a legend, but what you did to change and improve the art. The athletes need to change the sport in some way, add new attitudes and thoughts, think outside the box. A great example is Ayrton Senna, who has won three titles in Formula 1, but his bold personality about everything; his way of driving and his dedication marked his name in history."
---
Watch The Spyder Invitational Live On Demand On FloGrappling