Unlock this article, live events, and more with a subscription!
Get Started
Already a subscriber? Log In
"The Finishers" Davi Ramos (Atos) and Garry Tonon (Renzo Gracie) face off at Fight 2 Win 132 in Honolulu, Hawaii, this Saturday, November 23, in a special catch-weight main event.
While most main events are with Fight 2 Win are just 10 minutes, this weekend the explosive Davi Ramos meets the unorthodox Garry Tonon in a 15-minute, all subs legal 185lbs superfight. And it really is a superfight.
Watch Fight 2 Win 132 Live or On-Demand ONLY on FloGrappling
In this match we have two highly successful and established submission grapplers who have shifted their focus to their professional MMA careers in the last few years with great success: Tonon fighting for ONE Championship with a 5-0 record (all of which have ended by either submission or TKO), and Ramos, now with the UFC, who holds a 10-3 record for his pro MMA career.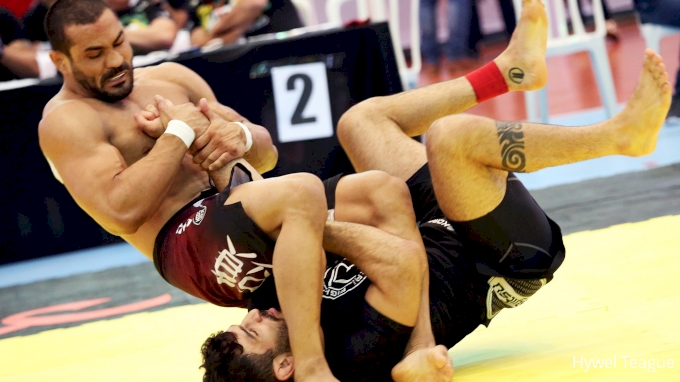 Davi Ramos is most known for becoming the 2015 ADCC champ with a vicious flying armbar over Lucas Lepri in the first few minutes of the match. Although he hasn't competed in pure jiu-jitsu in about a year, he's proven to rely heavily on his jiu-jitsu roots in his MMA career, claiming seven of his 10 wins via RNC. In his jiu-jitsu prime he was known to set an extraordinary pace, with the ability to attack from anywhere.
What can we expect from him now? The last time we saw him in the grappling circuit was in 2018 where he exchanged wins with Edwin Najmi in ACB. In their first match we saw Davi's aggression create too much opportunity, exposing his back and getting caught in a choke, but he came back a few months later to avenge his loss in the gi. While most probably think of his wrestling and dynamic top game, always in pursuit of the back, he is equally successful in wrestling his way up from the bottom position, creating scrambles, hunting toe-holds, and most importantly for this match, he has no fear of leg entanglements.
And if we are talking about guys who excel in a scramble, Garry Tonon is it. After two years away from strict grappling competition, No. 3-ranked 77kg grappler "The Lion Killer" Garry Tonon made a remarkable resurgence with his most successful ADCC performance to date. His bronze medal campaign created pandemonium, with brawl after brawl, like his action-packed rumble with Renato Canuto, which has since been dubbed "the most exciting match" of the event where he was equal parts outrageous and methodical.
WATCH: Garry Tonon vs Renato Canuto, 2019 ADCC World Championship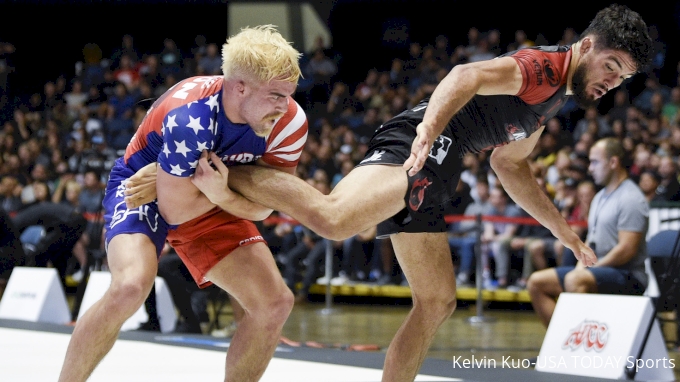 Unlock this video, live events, and more with a subscription!
Get Started
Already a subscriber? Log In
Tonon has been a multiple-time ADCC contender, claimed EBI titles in three weight classes, and won IBJJF No-Gi Pans in 2015, yet his performance in September revealed an even more audacious athlete. Outstanding conditioning, aggression, and strategy will be necessary to keep the edge in this matchup and recently Tonon has proven to excel in all of those areas.
Watson vs Liera Jr.
Since earning his black belt in June, No. 7-ranked medium-heavyweight Jake Watson has made a rapid rise in the black belt division. In just the last few months since his promotion he has managed to score wins in his weight and open class and numerous IBJJF open events, rendering an impressive 18-2 record.
A hungry Watson says, "I aim to dominate matches, as I aim to dominate every aspect of my life." It's not easy, but he is absolutely on a mission. Holding a 6-1 F2W record at the lower ranks, Watson takes on the undefeated, No.-12 ranked middleweight, Michael Liera Jr for his F2W black belt debut. Liera Jr. is established in the black belt division as one of the best. He was just seen at F2W Denver a few weeks ago where he landed a slick bow and arrow choke for the win.
WATCH: Michael Liera Jr. vs Phil Lietz Fight 2 Win 130

Unlock this video, live events, and more with a subscription!
Get Started
Already a subscriber? Log In
More matches to catch:
The Crucifix King, Baret Yoshida takes on Jordan Gomez for the co-main event for the masters featherweight gi title.
Hometown favorite, Tracey Goodell, defends her claim on Honolulu and the masters bantamweight gi title against Jena Bishop.
The rankings face off as No. 4-ranked Victor Hugo meets No. 7-ranked Helton Jose Jr in a 240-pound no-gi match.