Create a free account to unlock this article!
Get Started
Already a subscriber? Log In
Buchecha opened up in an hour-long interview on Nick The Tooth's podcast where he discussed his love for surfing and reveals why he underperformed at ADCC.
Nick the Tooth is a black belt under the Mendes brothers; a podcaster, photographer, writer and more, he has interviewed a ton of names from the world of jiu-jitsu. He's got a knack for pulling at threads that get people to reveal the most incredible stories. He started things off with the Mendes brothers in 2015 and since then has interviewed everybody from Andre Galvao, Josh Hinger and Geo Martinez to Garry Tonon, Baret Yoshida and Bear from Shoyoroll.
Word is that Tooth is wrapping up the podcast soon, so it's fitting that he was able to sit down with Buchecha before he called it a day. No series would be complete without the 13-time World champion. After bonding over a love of the ocean, they made sure to talk about the world of grappling, too. Here are the main things we learned:
Buchecha Hates Trash Talk
Buchecha and Tooth were discussing the recent Spyder event, who offered a massive $100,000 cash prize to the winners. Leandro Lo and Rodolfo Vieira, two of Buchecha's closest friends, were in the heavyweight bracket. Kaynan Duarte beat Buchecha at ADCC in September but this didn't seem to put him off the fact he took the grand prize home.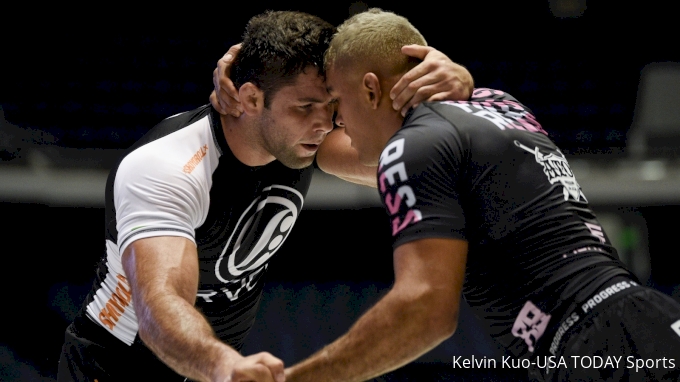 Buchecha ties up with Kaynan at ADCC 2019
In fact, Buchecha seemed pleased that it was Kaynan who won as he admires his demeanor.
"The thing I like the most, it's respect, it's real athletes that won. Not the MMA-style guys who do the trash talking, because that's killing the sport in my opinion. Kaynan, you don't even know his voice because he doesn't talk. I think one really important saying, 'If you lose don't say anything. If you win, say even less.' You need to prove with results, not talking. And it's happening so much nowadays and it's killing the sport in my opinion. The media try to sell that, but I just can't stand that."
Any time we've interviewed Buchecha you can tell he dislikes the experience. He has said time and time again, he prefers to let the jiu-jitsu do the talking. It's an old-school attitude that epitomizes the traditional values instilled in him by his coach Leo Vieira: respect, honor, and professionalism.
Whether trash talk should or should not exist in jiu-jitsu is a topic up for discussion – there are arguments for and against the practice of promoting a match or event with a little heat. But Buchecha's position is firm: He prefers to keep it classy.
---
A Surfing Injury Made Him Miss Half Of His ADCC Training Camp
Six weeks out from ADCC, legendary surfing champion Kelly Slater invited Buchecha to his surf ranch. For somebody as passionate about surfing as Buchecha, it's an invitation you simply don't refuse. To put it in grappling terms, that's like Buchecha inviting a diehard purple belt grappling fan to go roll around with him and his boys. Of course you're going to do it.
Buchecha said he was feeling overtrained, and decided to take the day off and relax in the wave pool with Slater and co. But what should have been a pleasurable day took a turn for the worst.
"I remember we surfed for like four hours straight, because it was just his friends at the ranch. And he [Slater] was surfing too – watching him surf that close was something unbelievable. We had a break for lunch, and when I got back the sun was really strong, it was really hot. I was so tired, I remember the last wave I wiped out and the fin cut my leg really bad."
"I had to go to the hospital and got over 10 stitches, I had to stay three weeks without training. So the ADCC, I was out of shape. That's why I fought really bad, because I was out of shape. But I knew, it's only every two years, I'm not going to say I'm not in shape – whatever, I'm a fighter, I'll figure it out."
Look closely at the pictures in the post above and you'll see a blue bandage on Buchecha's knee. Despite the cut on his leg, Buchecha did just that. Even though he lost a decision to Kaynan in the semifinal of the +99kg division, he came back and fought his way into the absolute division final for a highly-anticipated showdown with Gordon Ryan. But the match turned out to be an anticlimax that even Buchecha was unhappy with.
"The final with Gordon – 30 minutes of the most boring fight ever. I think they just gave me a penalty because the table couldn't handle watching. You know, just give a penalty to someone, no more overtime."
---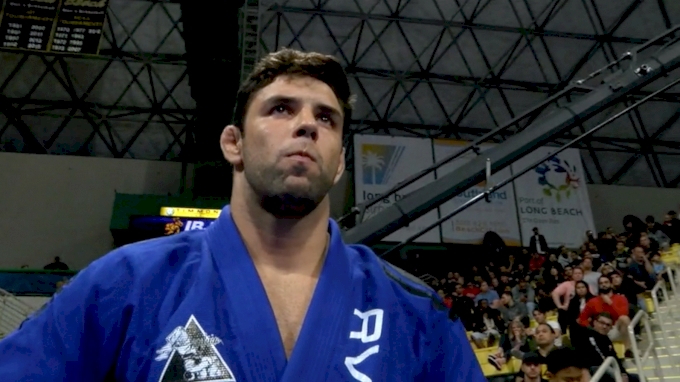 He's Unsure About His Future
Buchecha has always been choosy over which tournaments he enters, preferring to focus on the big ones. That means he sometimes only competes once or twice a year. And at this stage in his career, he's not even sure about whether he's going to keep doing Worlds.
"[It has to be] something that pays me really good money, otherwise it makes no sense for me. Pan Americans, Europeans, Opens, whatever. It doesn't make sense for me. I have more to lose than to win nowadays. Even the Worlds, I feel like I have a really big target on my back."
Looking ahead to 2020, Buchecha says he has no idea if he will return to continue his record-setting run of World Championship gold medals.
"I'm still thinking about Worlds, it's too soon to say. I'm going to go to Brazil, relax with my family, go enjoy a little bit. After when I come back, I'll really decide what I want to do. I live my life one day at a time. I don't make plans for the future, I just live for today."