2019 World IBJJF Jiu-Jitsu No-Gi Championship
No-Gi Worlds: Black Belt Division Reactions
No-Gi Worlds: Black Belt Division Reactions
Registrations are closed and we take a look at who is registered and in what division.
Dec 5, 2019
by Michael Sears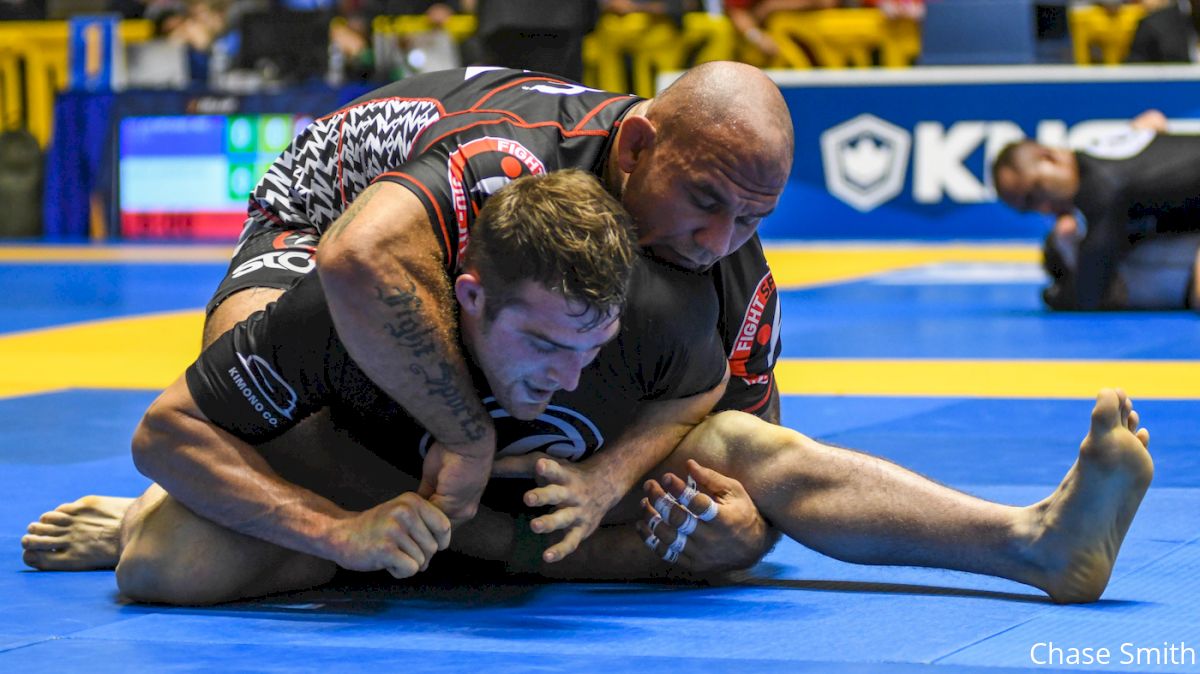 Unlock this article, live events, and more with a subscription!
Get Started
Already a subscriber? Log In
December 12-15, the IBJJF will be hosting their 12th edition of the World Jiu-Jitsu No-Gi Championship at the Anaheim Convention Center. While a few factors (ADCC burnout, points requirements and fear of the daunting first ever USADA tests at No-Gi Worlds) have led to sparsely filled black belt divisions, there are still quite a few juggernauts of the sport registered along with a solid group of newcomers doing their first major tournament at black belt.
There are 111 male black belts registered in the adult division, with middleweight being the most densely populated at 19 athletes, followed by both light and medium-heavy at 17. In the female adult black belt divisions, 36 athletes have registered, with lightweight and middleweight both containing seven athletes each.
Two out of the nine male black belt No-Gi World champions have returned from 2018, and on the women's side three out of seven are defending their titles. Eighteen previous No-Gi Worlds winners are registered at black belt adult however out of 137 athletes, amounting to an impressive 13 percent of athletes being former champs.
Here's an initial reaction to the registrations after they closed. Brackets will be released by the IBJJF on Wednesday, December 11.
Black Belt Male
Roosterweight
Ranked Athletes - #1 58kg Nobuhiro Sawada, #4 58 kg Kristian Woodmansee
Nobuhiro Sawada (Tri-Force) returns to defend his 2018 No-Gi World title, along with bronze medalist Kristian Woodmansee (Atos). Sawada still holds the top ranking in a lean 58kg no-gi division, but a pair of elite competitors will be challenging him for that top spot in Anaheim.
Rodnei Barbosa (Qatar BJJ) has taken second in the world for two years in a row in the gi. While Rodnei is more closely associated with gi competition, he won this event as a brown belt.
The big story for roosterweight heading into No-Gi Worlds is the IBJJF black belt debut of phenom Thalison Soares (Cicero Costha). Thalison had one of the most successful colored belt careers of all time and did the No-Gi Grand Slam in 2018, winning the no-gi versions of Worlds, Pans, Euros, and Brasileiro.
---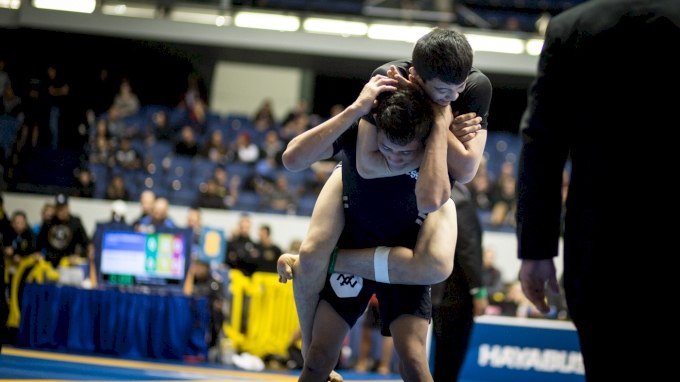 Light-Featherweight
Ranked Athletes- #7 66kg Lucas Pinheiro, #8 66kg Joao Miyao, #9 66kg Richard Alarcon, #19 66kg Jonas Andrade
Another weight with a returning No-Gi World champion as Joao Miyao (Cicero Costha) will attempt to secure his fourth No-Gi Worlds title. Joao was recently victorious at the No-Gi Brasileiro, submitting two opponents to win that tournament.
From a fan's perspective, this weight division is a nightmare. Four out of the nine athletes are from Cicero/Unity, so let's just hope we don't end up with the same situation as gi worlds in the light-featherweight bracket where both semis and the final were closeouts. There's a great probability it will occur, however, as joining Joao are the ranked Jonas Andrade (Cicero Costha), returning No-Gi Worlds bronze medalist Hiago George (Cicero Costha), and talented no-gi grappler Junny Ocasio (Unity).
Attempting to spoil the potential closeouts will be seventh-ranked Lucas Pinheiro (Atos) and ninth-ranked Richard Alarcon (One Jiu-Jitsu). Pinheiro is a former runner-up at this event and recently defeated Joao in a Fight to Win referee decision. Alarcon has defeated Ocasio at Kasai, and also recently took out Gianni Grippo in the first round at ADCC.
Watch: Joao Miyao Defeats Lucas Pinheiro At No-Gi Worlds
---
Featherweight
Ranked Athletes: #4 66kg Gabriel Sousa, #14 66kg Cole Franson, #16 66kg Alex Sodre, #20 66kg Emilio Hernandez-Rodriguez
The featherweight division is more up in the air than some others, with four ranked athletes as well as several other contenders. Gabriel Sousa (ZR Team) comes in with some momentum after winning No-Gi Euros, defeating Paulo Miyao in the quarterfinals in Rome.
Alex Sodre (Nova Uniao) won No-Gi Brasileiro this year, winning by armbar in the finals in Rio. Cole Franson (R1NG) recently split two no-gi matches with the 2018 champion in this weight Kennedy Maciel. Emilio Hernandez-Rodriguez (Zenith) finished second at No-Gi Pans, taking out Gianni Grippo in the semifinals.
There is an assortment of other contenders at feather, led by three-time No-Gi World champion Samir Chantre (Ares). 2016 bronze medalist Gabriel Marangoni (Brasa CTA), ADCC veteran Thomas Halpin (Fight Sports), gi standout competitor Israel Sousa (GF Team), Thiago Abud (Unity), no-gi worlds bronze medalist Silvio Duran (Nova Uniao), and Orlando Castillo (Fight Sports) are all in the mix for the world title.
---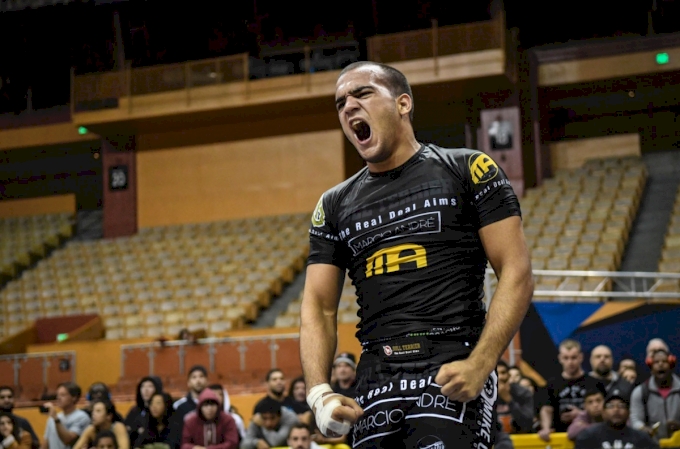 Lightweight
Ranked Athletes: #15 77kg Fabio Caloi, #17 77kg Ygor Rodrigues, #20 77kg Athos Miranda
Three out of four podium finishers from last year are registered, in silver medalist Marcio Andre (Nova Uniao) and bronze medalists Rodrigo Freitas (Rodrigo Freitas) and Frederico Alves (Alliance). Although not currently ranked in no-gi due to inactivity, 2016 No-Gi World champion Marcio Andre has to be considered the favorite here.
Fabio Caloi (Alliance) and Athos Miranda (Alliance) closed out No-Gi Pans this year; Caloi also won No-Gi Euros and finished second at No-Gi Brasileiro. Caloi went down in that Brasileiro final to Ygor Rodrigues (CTMR), who won Brasileiro in both the gi and no-gi this year. Johnny Tama (Alliance) finished second at No-Gi Pans in the middleweight division, and first-year black belts Natan Chueng (Cicero Costha) and Pedro Veras (Cicero Costha) should contend in Anaheim.
Watch: Marcio Andre Defeats Gianni Grippo At No-Gi Worlds
---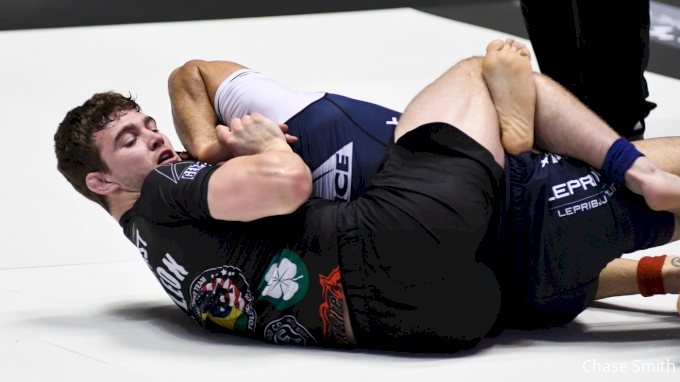 Middleweight
Ranked Athletes: #4 77kg Dante Leon, #8 77kg Jefferson Guaresi, #16 77kg Jon Satava, #18 77kg Felipe Cesar
This by far the most talent-rich black belt division at No-Gi Worlds in my opinion. Two of last year's medalists are returning, runner-up Jaime Canuto (GF Team) and bronze medalist Dante Leon (GF Team). Leon is the highest-ranked athlete in the division, and the two-time No-Gi Pan champ has been on a tear this year in no-gi, defeating Lucas Lepri, Isaque Bahiense, and Edwin Najmi.
Jefferson Guaresi (Cicero Costha) won No-Gi Pans this year; the first year black belt is certainly one of the contenders next week. Other ranked athletes include Jon Satava (Alliance) and Felipe Cesar (Unity).
Otavio Sousa (Gracie Barra) has to be considered one of the favorites here. The three-time world champion in the gi is also a No-Gi Pans champ and runner-up at ADCC and No-Gi Worlds.
Guthierry Barbosa (Carlson Gracie) is another first-year black belt to keep an eye on. Barbosa already has several marquee wins in his short black belt career and is a threat for the title here. Brasileiro No-Gi champ Pedro Rocha (Double Five) is another name to keep an eye on.
Watch: Dante Leon Defeats Lucas Lepri At ADCC
---
Medium-Heavyweight
Ranked Athletes: #10 88kg Jonnatas Gracie, #14 88kg Gabriel Almeida, #19 77kg Servio Tulio, #20 88kg Jake Watson
None of last year's medalists in this weight have returned at medium-heavyweight, but a contingent of tough first-year black belts should make this weight exciting. Manuel Ribamar (Rodrigo Pinheiro) is a returning bronze medalist from 2018, down a weight at middle.
Pan No-Gi champ Jonnatas Gracie (Atos) is one of three tough Atos competitors in this division, along with Nisar Loynab and Ronaldo Junior. Gracie defeated Jake Watson (Maracaba) in that Pans final. 2019 ADCC competitors Gabriel Almeida (Checkmat) and Servio Tulio (Gracie Barra) should also figure in here. Rafael Paganini (Alliance), Mathias Luna (Checkmat) and Lucas Rocha (ZR Team) add even more depth to the medium-heavyweight division. Paganini won the open class at Brasileiro No-Gi.
Watch: Jonnatas Gracie Vs Jake Watson In Pan No-Gi Final
---
Heavyweight
Ranked Athletes: #5 88kg Adam Wardzinski, #8 88kg Murilo Santana, #12 99kg Devhonte Johnson, #13 99kg Jackson Souza, #20 99kg Helton Junior
Two of last year's medalists return in runner-up Jackson Sousa (Checkmat) and bronze medalist Devhonte Johnson (Unity). Jackson is a former champ at No-Gi Worlds, and so is 2019 No-Gi Pans champ Murilo Santana (Unity). Johnson recently won No-Gi euros.
Adam Wardzinski (Checkmat) went 1-1 at ADCC before going on to finish second at No-Gi Euros after closing out with a teammate. Helton Junior (Atos) and Fellipe Trovo (Gracie Barra) should give anybody in this division a run for their money.
One of the most interesting entries at No-Gi Worlds is the legendary Roberto "Tussa" Alencar (Gracie Barra) in this division. The 39-year-old is a four-time No-Gi World champion, last winning the event in 2012.
---
Super-Heavyweight
Ranked Athletes: #4 99kg Vinicius Ferreira, #10 99kg Aaron Johnson, #11 99kg Marcelo Gomide
Vinicius "Trator" Ferreira (Alliance) has been on a tear in the no-gi scene this year. First defeating Luiz Panza at the Heavyweight Grand Prix, he would go on to defeat Keenan Cornelius on his way to winning No-Gi Pans. Then the cherry on top was a three-win run to the finals at ADCC, where he lost to P4P #1 Gordon Ryan and took home the silver medal.
Three-time No-Gi Pans champ Aaron "Tex" Johnson (Fight Sports) is also registered at super-heavy. Marcelo Gomide (Gracie Barra) won the open class at No-Gi Euros and finished second at the No-Gi Brasileiro open class. 2017 No-Gi World champ Arnaldo Maidana (Checkmat), Elliot Kelly (Yemaso) and James Puopolo (Ribeiro) are three veterans that could realistically end up on top of the podium in Anaheim.
Watch:Trator Defeats Keenan At Pan No-Gi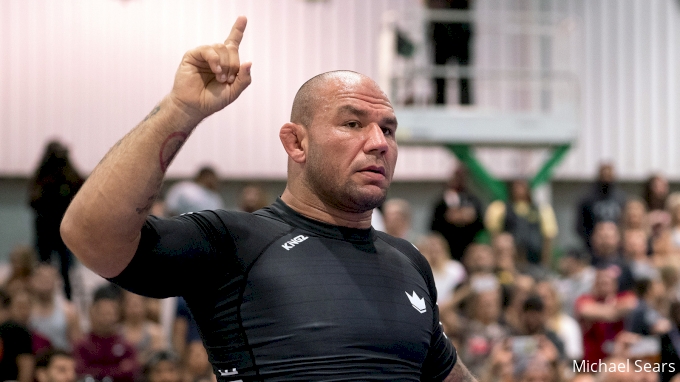 Ultra-Heavyweight
Ranked Athletes: #4 99+kg Roberto Abreu, #5 99kg Vinicius Magalhaes, #8 99+kg Victor Hugo
Only five athletes at ultra-heavyweight, but two of them are ADCC champs in Roberto "Cyborg" Abreu (Fight Sports) and Vinny Magalhaes (Vinny Magalhaes BJJ). Both men have also previously won No-Gi Worlds, five times in Cyborg's case.
One of the top prospects in jiu-jitsu will be joining them in this bracket, Victor Hugo (Ribeiro). Victor was a No-Gi World champion at purple and brown belt.
Watch: Cyborgs Defeats Hulk At The Heavyweight Grand Prix
---
Black Belt Female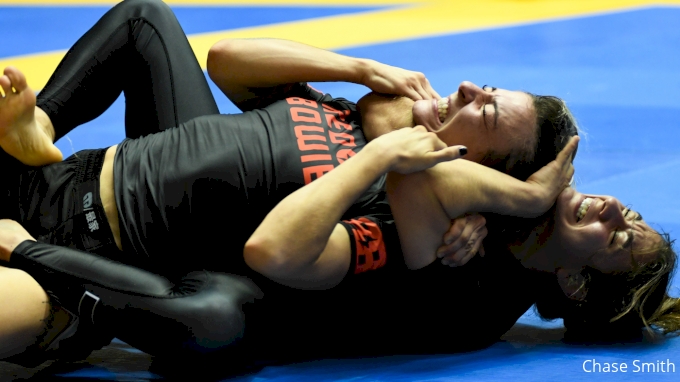 Roosterweight
Ranked Athletes: #7 under 60kg Mayssa Bastos
Only two women at roosterweight, and one of them is the most dominant female roosterweight in the world Mayssa Bastos (GF Team). Mayssa won No-Gi Worlds, No-Gi Pans and No-Gi Brasileiro in her first year at black belt. Mayssa is one of the best no-gi guard passers in the female divisions, smashing her way through the guard with a strong pressure passing game. Amber Rymarz-Freitas (Gracie Barra) is the other competitor and will have her hands full with Mayssa.
---
Light-Featherweight
Amanda Canuto (formerly Monteiro, GF Team) is a returning silver medalist at this weight and could plausibly give GF Team back-to-back No-Gi World champs in the female division. Fiona Watson (Notorious MMA), Patricia Machado (BTT), and Sofia Amarante (Fight Sports) make up the rest of the division.
---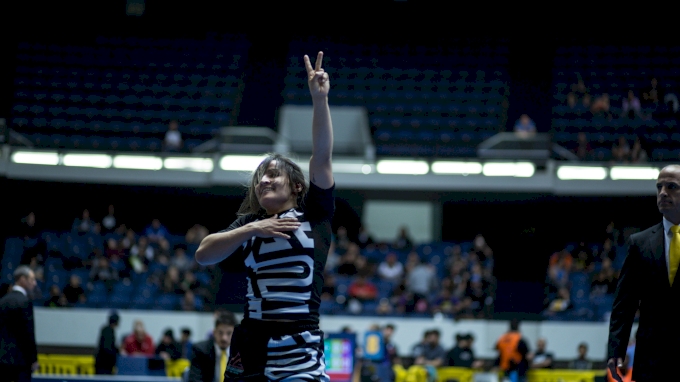 Featherweight
Ranked Athletes: #8 under 60kg Talita Alencar
Five women in this bracket and they all have a very realistic chance to win it all. I guess you could consider No-Gi World champs Karen Antunes (Checkmat) and Talita Alencar (Alliance) the favorites, but Heather Raftery (Atos), Gabriela Fechter (Checkmat), and Liwia Giles (Absolute MMA) all have solid no-gi games as well.
---
Lightweight
Ranked Athletes: #5 under 60kg Jena Bishop, #6 under 60kg Catherine Perret
Another weight with two No-Gi World champs in Jena Bishop (Alliance) and Catherine Perret (Checkmat). Both women are coming off ADCC camps and should be ready to go. Nicole Sullivan (Atos) and Nathalie RIbeiro (Checkmat) should give the world champs a tough challenge at lightweight.
---
Middleweight
None of the 2018 medalists at middleweight are returning, but 2017 No-Gi World champ Raquel Canuto (Checkmat) is in at middle. Amanda Loewen (SBG) finished third in the open class in 2017 as well. Gabi Mccomb (Gracie Humaita) is a Pan No-Gi champ and was a No-Gi Worlds champ at brown belt.
Watch: Raquel Canuto Wins 2017 No-Gi Worlds
---
Medium-Heavyweight
A tough four-woman bracket at medium-heavy, including 2019 gi world champ Andressa Cintra (Gracie Barra). New black belts Julia Boscher (Double Five), Thamara Ferreira (Cicero Costha) and Vedha Toscano (Checkmat) are all poised to make a big difference at black belt and could get things started here.
---
Heavyweight
Talita Nogueria (NS Brotherhood) is an IBJJF gi world champ and should be considered the favorite here in this four-woman bracket, but could be challenged by Jessica Guedry (Soul Fighters).
---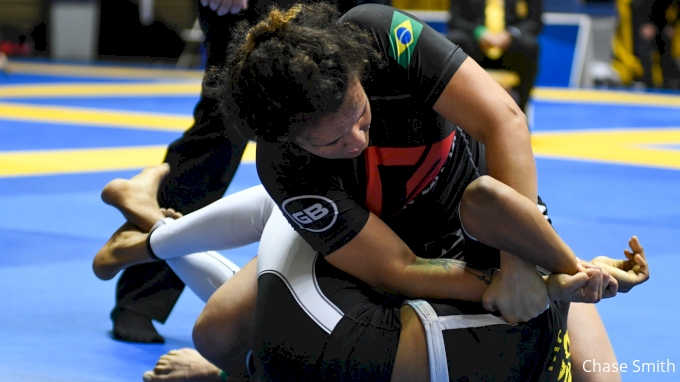 Super-Heavyweight
Ranked Athletes: #5 over 60kg Jessica Flowers
Jessica Flowers (Gracie Barra) won double gold here in 2017 and is a two-time ADCC medalist. She should be one of the favorites not just at her weight but in the open class this year. Challenging Jessica will be a four-time No-Gi World champ at the colored belts, Kendall Reusing (Gracie Barra).
---
Watch The 2019 IBJJF World No-Gi Championships Live On Demand On FloGrappling