Unlock this article, live events, and more with a subscription!
Get Started
Already a subscriber? Log In
The black belt absolute division brackets are out now. Check out the first round matches and see who are the contenders for gold.
Click here to watch the 2019 World No-Gi Championship
Number one seed in the division is Marcelo Gomide, a relatively unknown new black belt repping Gracie Barra. It'd worth paying attention to him though, as since getting promoted to black belt in June of 2019 he won the IBJJF European and Brazilian No-Gi Championships. Gomide goes on Mat at 10:26am.
The biggest names registered include:
Roberto "Cyborg" Abreu, a five-time World No-Gi champ who won his first title way back in 2010.
Vinny Magalhaes, whose jiu-jitsu is a bled of good old fashioned Brazilian fundamentals mixed with 10th Planet trickery.
Vinicius "Trator", the Pan No-Gi champ who took silver at ADCC in this very Arena less than three months ago.
Jackson Sousa, who has made the podium at No-Gi Worlds every year since 2015, but is still looking for his first gold medal.
Some spicy first round matches to pay attention to are:
Manuel Ribamar vs Victor Hugo (Mat 7, 10:02am)
Medium-heavyweight vs ultra-heavyweight in this David vs Goliath match, which will see a minimum 40lb weight difference.
Jonnatas Gracie vs Fellipe Trovo (Mat 9, 10:14am)
Pan No-Gi medium-heavyweight champ Jonnatas Gracie (no relation) will take on the unorthodox super-heavyweight Fellipe Trovo, who is known for his hyper flexible guard and sneaky attacks.
Scroll down for a look at the men's brackets: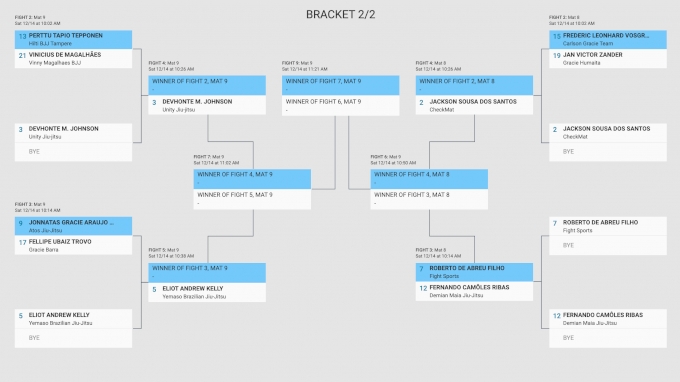 The women's black belt absolute division has 12 competitors, and is overshadowed by the number one seed Jessica Flowers of Gracie Barra, the 2017 double gold champ. On the other side of the bracket is her teammate Kendall Reusing, another super-heavyweight. They pose a strong chance of facing off in the final, where they could possibly close out.
The second and third seeded competitors are Julia Boscher of Double Five Jiu-Jitsu, who won double gold at the recent 2019 Brazilian No-Gi Championships, and Amanda Loewen of SBGi, a veteran competitor here at No-Gi Worlds who has made the podium four years running.
The most notable first-round matches are:
Raquel Canuto vs Kendall Reusing (Mat 8, 10:50am)
Canuto won No-Gi Worlds in 2017 and has always had a strong no-gi game thanks to her MMA background (she still fights). The much bigger Reusing will be a tough challenge.
Gabi Mccomb vs Nicole Sullivan (Mat 8, 10:38am)
It's a San Diego showdown as Gracie Humaita and Atos face off. 2018 Pan No-Gi champ Mccomb takes on the new black belt Sullivan.
Scroll down for the bracket: