Unlock this article, live events, and more with a subscription!
Get Started
Already a subscriber? Log In
Espen Mathiesen burst onto the black belt scene at the 2018 IBJJF World Championships, finishing third after losing a close match to Lucas Lepri in the semifinals. Him and his Norwegian compatriot Tommy Langaker both made the Worlds podium that day, but followers of the European jiu-jitsu scene have been seeing how excellent their jiu-jitsu is for quite some time. Espen also won the 2018 Abu Dhabi World Pro, winning by submission in the final.
Watch: Edwin Wins By Sub In World Pro FInal
Espen was inactive for most of 2019, and now plans to make his return at the IBJJF European Championships later this month. He's moving up to a new weight class, and the inactivity is a question mark, but we know Espen can take anyone's back and is a fan favorite for his exciting style. I recently caught up with Espen to ask a few questions regarding his comeback.
After a great start at black belt, you have taken 2019 off from competing, what happened?
I competed at the King of the Mats (Middleweight) in the beginning of January, but I got an injury in my match against Lucas "Hulk" Barbosa. This forced me to pull out from Europeans and it kept me away from the mats for a while. I decided to grab the opportunity to do septoplasty (correcting my deviated septum), since I had been incapable of breathing through my nose for years and it affected me in many ways. The plan was to come back for worlds, but the recovery process took longer than I hoped, so I had to skip it this year. However, the surgery was a success and it has helped me a lot to be able to breath better.
How do you feel about the events that have taken place during your absence?
It is never fun to be on the sideline watching big tournaments like worlds, but it hasn'tbothered me too much. I still have many years ahead of me, and the break has just motivated me to work harder and smarter.
Was it difficult watching all year without competing? If you were injured, what else did you do to occupy your time?
I accepted the situation I was in, so it wasn't too difficult. I did whatever I could, I started doing running and strength training some weeks after the surgery, and I´m stretched a lot to improve my flexibility. Also I meditated a lot, which I believe is extremely beneficial for jiu-jitsu. \
Watch: Espen Chokes Edwin At 2018 Worlds
Why did you move to middleweight? Do you think things will be any different from you there?
I have decided to move up from lightweight because I have grown bigger with the years. It has been difficult cutting down to lightweight the last couple of times, and it has affected my ability to perform properly at the mats.
I don´t think there is a huge difference between light and middle. A lot of my training partners are middleweights, so I'm quite used to it.
How do you feel competing at Euros? Is it a special tournament to you?
I feel really good competing at Euros, as it is one my favorite competitions. The energy in the arena is always amazing, and there are always a lot of friends and teammates there.
Europeans is a special tournament to me, because it was where I won my first big tournament as brown belt. I didn't win any golds as a purple belt, and I didn't win any IBJJF tournaments in my first year as a brown belt. But I was able to get the gold in 2017, winning all my five matches on submissions, and all of them within seven minutes. Tommy Langaker won gold too that day, and Vegard Randeberg got silver. So it is for sure one of the best memories I have from jiu-jitsu.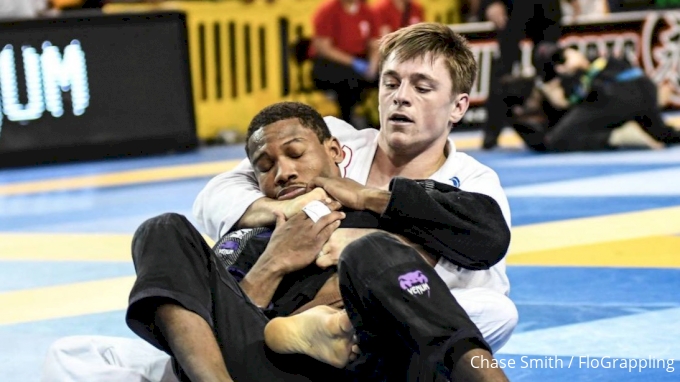 What can the fans expect out of you at the 2020 Euros?
I will do my best to have exciting matches, and I will always pursue submissions. I have improved many areas of my game this year, so I hope I will be able to showcase that.
How are things coming with your academy? Do you see progress with the level of jiu jitsu in Norway as a whole?
The plan is to open our academy in January, and I´m very excited about that. We have been training at a local MMA gym, called Herjer MMA, but we felt we were ready start our own now. The gym will be named Wulfing House, and I'm sure it will be very good for the development of jiu-jitsu in Haugesund.
The level of jiu-jitsu in Norway has had a good progression that last couple of years. We have athletes that take medals at the biggest tournaments in the world, so that's awesome to see. And it is cool to see how technically many are, like Tarik Hopstock, who has even created his own move, Tarikoplata.
What do you like about training and competing?
There are many things that I like about training and competing, but the most important; I have fun doing it. gives me a lot of joy and I truly appreciate that. Constantly learning new things and challenging myself are two other important factors as to why I like it so much.
What are your plans for 2020?
My plan is to compete as much as possible, and win whatever I sign up for. I will also focus on building our gym and create a great atmosphere for our students whether they are hobbyist or want to pursue jiu-jitsu.
---
Watch The 2020 IBJJF European Championships Live On Demand On FLoGrappling