Unlock this article, live events, and more with a subscription!
Get Started
Already a subscriber? Log In
In a clash of styles, Marcio Andre defeated Benson Henderson in the main event of F2W 134. Former UFC champion Benson Henderson is known for his wrestling in MMA, and a fluid style that truly mixes martial arts forms, but Marcio Andre provided no room for his opponent to play that game displaying superior offensive jiu-jitsu.
After an immediate guard pull Marcio smothered Benson with attacks from everywhere. Part of Benson's smooth style has a reputation for being able to evade anything, which was evident on Friday night. Though Marcio racked up submission attempts (and the invisible "points" that come with them) Benson was able to consistently escape.
The match was pretty one-sided in Marcio's favor. It seemed as though Benson was just a little slow to start: evading the first half and non-committal to any attacks while Marcio capitalized on the lack of urgency. In the second half Benson's performance intensified with some more convincing ankle lock attempts, but Marcio was still able to match it.
Marcio's consistent and composed performance earned him the unanimous decision victory over Benson Henderson.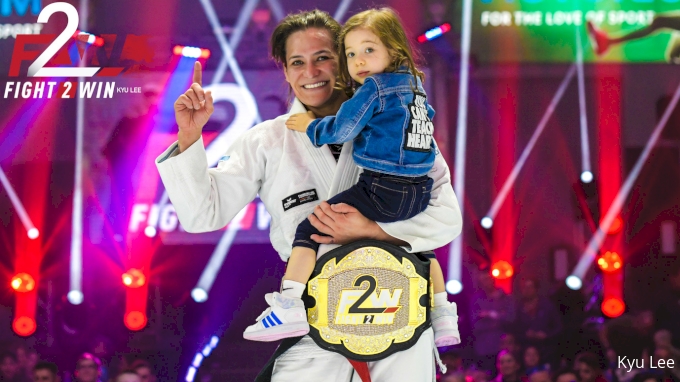 Karen Antunes
The co-main event was the third of a saga of always-unpredictable matches between former F2W Flyweight champion, Karen Antunes and reigning F2W Flyweight champion, Talita Alencar. A scrap between these women never disappoints.
While some matches that go the distance are slow to start this match started fast and ended faster with Karen Antunes taking Talita's back in the first minute and Talita ending the match with a brazen toe-hold attempt. Back take, choke attempt, reverse triangle, slam, and armbar: five legitimate attacks that happening in just the first minute and a half of the match. Both are well-rounded grapplers.
Karen's willingness to keep her game open and offensive despite an extremely dominant start, and Talita's eagerness to "score back" kept the match dynamic and allowed us to see their skills from every position. Karen Antunes reclaimed the F2W Flyweight title by split decision over Talita Alencar.
Other notable matches:
Jake Watson starts his series of 2020 F2W performances strong with a decision victory over Arnaldo Maidana. Catch Jake this weekend on F2W 135 against Ronaldo Junior.
It was a family affair for Brenda Heller as she won alongside husband, Marcio Andre, with a foot lock over Nivian Oliveira.
Maria Henderson also joined her husband (Benson Henderson), on the stage taking home a split decision victory in her brown belt match against Karla Shellhammer.