Fight to Win 135
Clash Of The Titans: Nick Rodriguez vs Victor Hugo
Clash Of The Titans: Nick Rodriguez vs Victor Hugo
Titans take the stage as ADCC silver medalist Nick Rodriguez and 2019 No-Gi Absolute World Champion Victor Hugo face off.
Jan 15, 2020
by Rose Miller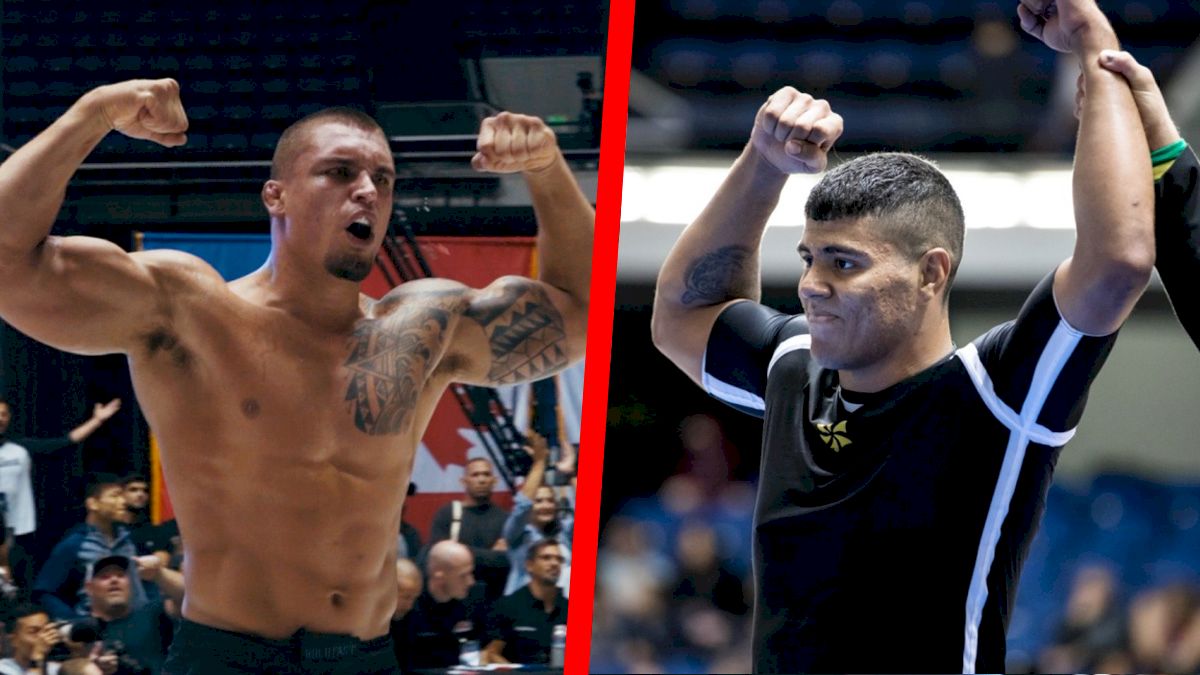 Unlock this article, live events, and more with a subscription!
Get Started
Already a subscriber? Log In
Titans take the stage as Fight to Win 135 makes its way to Sacramento, California, on Saturday, January 18, with a main event between No. 2-ranked +99kg grappler Nick Rodriguez (Renzo Gracie Academy) and 2019 No-Gi Absolute World Champion and No. 4-ranked +99kg grappler, Victor Hugo (Ribeiro Jiu Jitsu).
Nick Rodriguez and Victor Hugo are a couple of the most talked-about up-and-coming athletes in the grappling scene, but for entirely different reasons, making this match a must-see.
Nicky Rod is the breakout phenomenon that everyone underestimated because he was "just" a blue belt with a wrestling pedigree when he wrecked shop at ADCC.
Victor Hugo is one of the most promising rising ultra-heavyweights, originally regarded for his accomplishments in the gi but now notorious as the man who submitted Cyborg in the absolute final at No-Gi Worlds.
The Danaher Death Squad purple belt Rodriguez was dubbed the "black belt slayer" after running the gauntlet to the silver medal at ADCC. Since then he's had a number of high-profile matches against elite black belts, most recently defeating BJJ black belt and former UFC middleweight champion Luke Rockhold at Polaris.
He's known as the "wrestler-turned-grappler" because his success relies heavily on his relentless, explosive style and wrestling instincts. If you ask Nicky he will reveal that, contrary to popular belief, he wasn't Division I or All-American. In fact, he was just Division III for a year before turning to modeling and jiu-jitsu. He's a bit smaller for the +99kg division, but we've seen it pay off as he performs moves not commonly seen in the heavier weight divisions: cartwheel passing, rolling kimuras, all the agility of a lighter athlete paired the brutality of his, still titanic, size. He's consistent, steadfast in his game plan to take the back and strangle his opponents, and he's up for anything making his performances some of the most fan-friendly grappling matches.
But Victor Hugo is a different kind of ultra-heavyweight. He's incredibly long, towering above the tallest guys. While Nicky Rod prefers to scrap on the feet and stay on top, Hugo's length creates a labyrinth of a guard that stumps even grapplers with the highest mat-IQ. This could pose a serious threat to the less experienced no-gi sensation. Nick has admitted that he still has a lot of jiu-jitsu to learn, and avoids getting into deep leg entanglements. Although better known for his accomplishments in the gi (the guy has countless titles through the ranks), Hugo has won no-gi worlds at purple, brown, and now black in the absolute division, so his no-gi game should not be underestimated. In December he created an uproar submitting four-time no-gi world champion Cyborg via kneebar in less than a minute to become the absolute champ.
Will Nicky Rod's athleticism prevail, or will Victor Hugo's experience and jiu-jitsu remain dominant?
More on the card:
Coming fresh off a win at last weekend's F2W 134, Jake Watson (Maracaba BJJ) looks to upset Ronaldo Junior (Atos). They have competed against each other on at least three occasions in both gi and no-gi, Ronaldo getting the "W" every time, but it's always a barn burner.
The women's brown belt lightweight gi title is on the line between defending champ, Joy Pendell (Dustin Akbari BJJ) and Heather Woods (Atos).
Catch these and more of northern California's top talent live on FloGrappling.
Watch Fight to Win 135 LIVE
Jan. 18 | 2 PM EST