Unlock this article, live events, and more with a subscription!
Get Started
Already a subscriber? Log In
The wait is nearly over!
The IBJJF dropped the brackets for the 2020 European Championships today, revealing a bevy of intriguing matchups and storylines for competitors and spectators alike.
Given the scope and size of the divisions, many top-ranked athletes will receive a bye in the first round, forcing us to take into account more than one round for this article.
Read on to find out which early-round matches have got us on the edge of our seats
All match times approximate and subject to change. Check the IBJJF tournament page for info.
---
Bruno Malfacine vs Thalison Soares - Roosterweight
Sunday Jan 26, Mat 8, approx 9:42am
Remarkably the most anticipated matchup in the roosterweight division is set to play out in the quarterfinals where rookie black belt phenom Thalison Soares could face the legendary Bruno Malfacine.
The match requires Thalison so get by division stalwart Kristian Woodmansee – indeed, no simple task – but if he does, then we will have another generational clash for the ages.
For those unfamiliar, Thalison has dominated the roosterweight division throughout his time in the colored ranks, replicating that success in his first IBJJF black belt major at No-Gi Worlds where he took gold in December.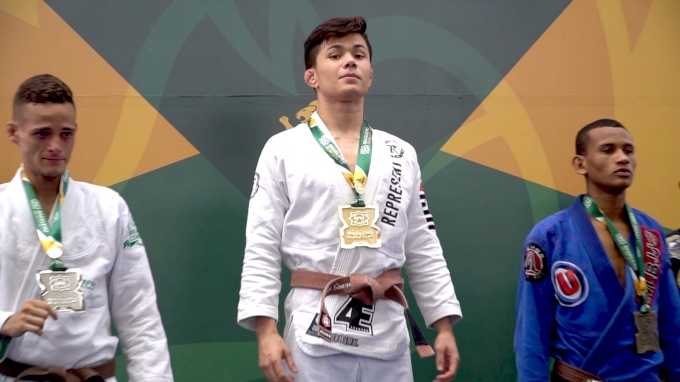 Thalison on top at Brazilian Nationals in 2019.
For his part, Bruno Malfacine is a ten-time world champion, conquering nearly every major title in the sport; his tenure at the top is one of the longest ever seen in jiu-jitsu, and he is generally guarded as the greatest roosterweight of all time.
It's well known that Malfacine and Thalison are good friends, but the fact his match takes place so early the competition eliminates any chance of a closeout.
---
Tommy Langaker vs Oliver Lovell - Middleweight
Saturday Jan 25, Mat 7, approx 6:07pm
The middleweight division is one of the most-talent rich brackets in the entire tournament, so it's no surprise that we've got several options for fire first-round matchups. Still, none grab our attention quite like Oliver Lovell versus Tommy Langaker.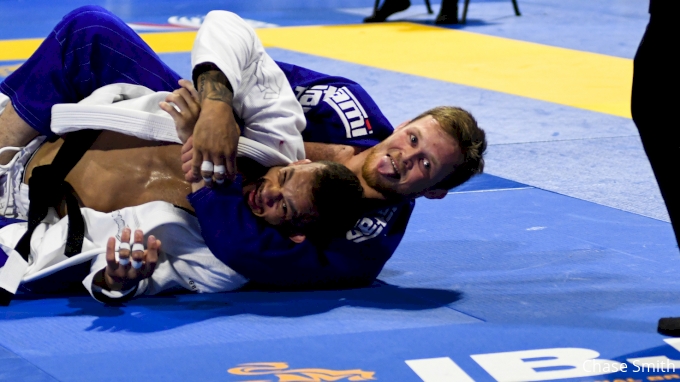 Tommy in action.
Lovell shocked the world last year by submitting Levi Jones-Leary at World Pro with a beautiful kneebar. The UK native has shown great potential in the past and clearly has a well-defined defense to the berimbolo game. This is a chance for revenge, too. Lovell lost via submission to Langaker in the final at World Pro, so look for him to address that in Lisbon.
Will it be enough to take out Viking berserker and division favorite Tommy Langaker?
It would certainly be an upset, Tommy is one of the very best athletes in the middleweight division today. If we had to make a pick, we would guess that Langaker makes his way through the bracket to meet Ronaldo Junior in the semifinals – one of the most highly anticipated bouts of the entire championship.
---
Manuel Ribamar vs Espen Mathiesen - Medium-Heavy
Saturday Jan 25, Mat 4, approx 6:52pm
Is this finally Ribamar's year?
That's the question that many are asking after witnessing the Rodrigo Pinehro's gutsy performance at the No-Gi World Championships at the end of 2019 where he earned his first major IBJJF black belt world title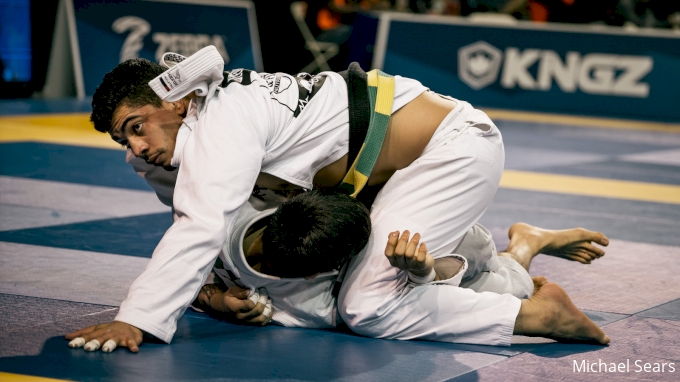 The Rodrigo Pinheiro Jiu-Jitsu representative holds a litany of impressive wins over some of the most prominent names in ju-jitsu like Claudio Calasans, Isaque Bahiense, and Marcos Tinoco — and on the right day, he can submit anyone on the planet.
Can he put together a winning run for one of the most stacked tournaments of the year?
Standing across from Ribamar is a familiar face, but one we haven't seen in action for quite some time.
Espen Mathiesen has been out of major tournaments since January of 2019 after sustaining several injuries. Typically competing at lightweight, Espen is a real dark horse for the middleweight division, and he has one of the bracket's best competitors in the very first round.
This match is a guaranteed barn-burner.
---
Heavyweight: Keenan Cornelius vs Dominque Bell
Sunday Jan 26, Mat 3, approx 12.54pm
Though technically not a first-round matchup (Keenan has a bye), there is a solid chance that former teammates Keenan Cornelius and Dominque Bell could meet in the quarterfinals.
A top representative for Atos as a colored belt competitor Bell spent years on the mats training side by side with lapel-guard king and surely knows his game inside and out. Bell has an extremely well-rounded game with great standup and passing.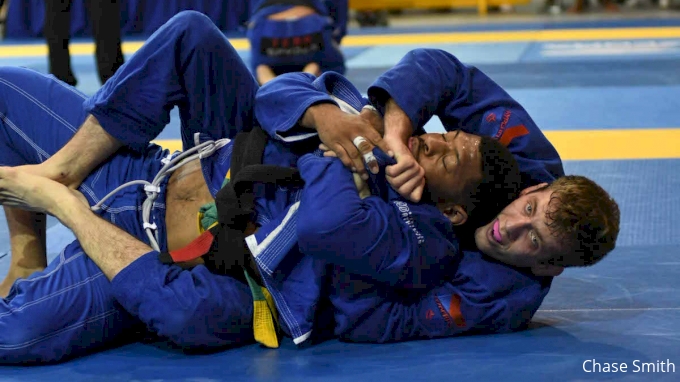 Meanwhile, everyone's wondering what new tricks Cornelius will bring to the table this year at Euros, the assumption being that his infamous lapel guard series has mutated into some further-diabolical menace for top players to untangle.
Elite skills aside, a major talking point is the question of whether the toll of launching a new team and opening his own academy wear on Keenan in a negative manner.
---
Patrick Gaudio vs Fellipe Trovo - Super-Heavy
Sunday Jan 26, Mat 3, approx 1:18pm
It seems as if Patrick Gaudio has decided to keep on some of the muscle mass from ADCC for the European Championships, registering for the very first time as super-heavyweight.
A former Pan and Brazilian National Champion, as well as multiple time medalist at the World Championships, Guadio is a front-runner for the super-heavyweight divison, but he's got a particularly tricky first-round opponent in that of Fellipe Trovo.
Trovo trains under Romulo Barall at Gracie Barra Northridge and has picked up major titles at the colored belt level, but is still searching for his first major black belt title. He has a high-level guard and looked fantastic at no-gi worlds back in December.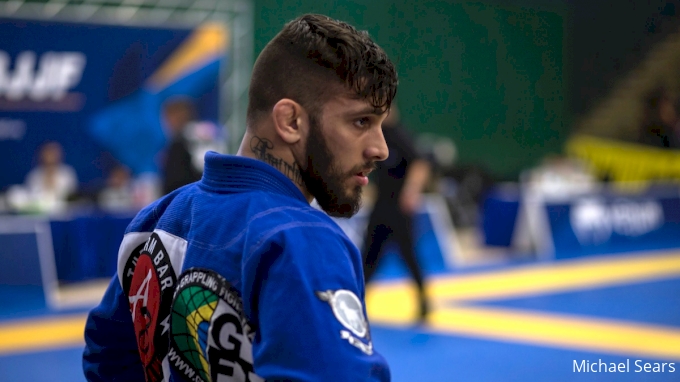 Patrick Gaudio.
---
Nathan Cheung vs Jonnatas Gracie - Lightweight
Sunday Jan 26, Mat 8, approx 10:54am
No. 9-ranked lightweight Natan Cheung burst onto the black belt scene where he won the AJP Rio and Sao Paulo BJJ Pro in 2019 as a new black belt. Cheung is one of FOUR cicero Costha competitors competing.
Jonnatas Gracie (Atos) is returning to a weight class he hasn't competed in since purple belt, and is an instant threat at this weight. Jonnatas will no doubt be the favorite in many people's eyes; if the weight cut goes well he's going to be a problem here.
They will both have to advance past their first-round opponents to face each other, but make no mistake, our fingers are crossed that this match goes down.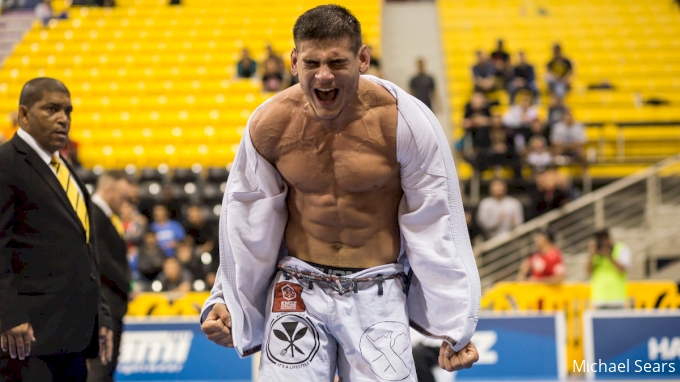 ---
Pedro Elias vs Fabiano Alano - Heavyweight
Saturday Jan 25, Mat 4, approx 7:28pm
Pedro Elias is an NS brotherhood representative who looks like a modern version of old-school Leandro Lo. A great collar sleeve guard with nasty triangle, Pedro picked up a bronze medal at Europeans last year in the heavyweight division.
Fabiano Alano is the 2019 Brown belt Worlds silver medallist and is prepared to make his Faxia Preta debut at the 2020 World Championships. One of Nicholas Meregali's main training partners, Alano is an excellent guard player who relies heavily on spider guard, lasso, and x-guard variations to get the job done.
Alano has been one of Mario Reis' best-colored belt representatives, and we're very eager to see him mix it up with the elite.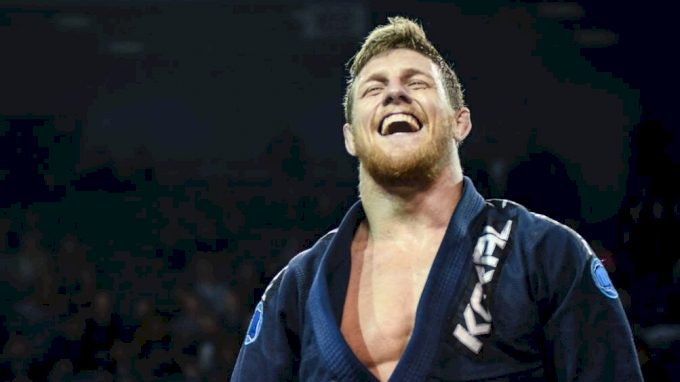 Fabiano Alano.