2020 KASAI Pro 7
How Cyborg Plans To Tackle Nicky Rod Rematch At KASAI Pro 7
How Cyborg Plans To Tackle Nicky Rod Rematch At KASAI Pro 7
KASAI fans will be looking forward to seeing a rematch between Cyborg and Nicky Rod, and Cyborg believes it'll happen for sure.
Jan 20, 2020
by Heather Raftery
Unlock this article, live events, and more with a subscription!
Get Started
Already a subscriber? Log In
KASAI fans will be looking forward to seeing a rematch between Roberto "Cyborg" Abreu and the brash wrestler Nick Rodriguez, and Cyborg believes it'll happen for sure.
The KASAI Pro 7 Heavyweight tournament this February 1 will showcase an intriguing mix of some of jiu-jitsu's established legends, with a few of the sport's exciting up-and-comers. In addition to Cyborg and "Nicky Rod," the all-star lineup includes Patrick Gaudio, Lucas "Hulk" Barbosa, Joao Gabriel Rocha, Bruno Bastos, Vinny Magalhaes, and Kyle Boehm.
While the KASAI tournament features two round-robin brackets of four – in which the winners of each bracket will face each other in the final – Cyborg expects the organizers will place him in the same group as Nicky Rod, looking to highlight a "rematch" of the controversial ADCC semifinal match.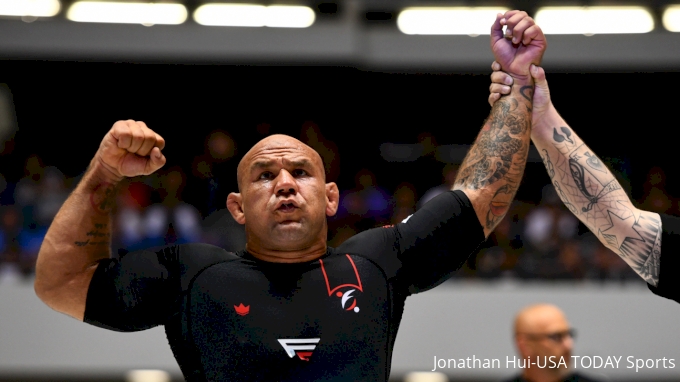 Cyborg at ADCC 2019
"For sure they're going to try to place us in the same group. For sure we're going to get to fight. We had a controversial fight at ADCC. It happened. I lost, in their eyes. But it's not going to change my story. I've grown past that," Cyborg said. "Nick is a very aggressive fighter. My strategy will be different this time. I'm going to be more aggressive with him. But he's just going to be one more. I'm going to have to fight all the other amazing fighters, so I'm not really focused on him. I'm focused on the competition."
As one of the most seasoned competitors of the group, with over 15 years of experience competing at black belt alone, Cyborg isn't concerned about creating hype around any single event.
"I've been doing this so long. Many of the guys my age have retired already. I've just been super persistent. I've been a stubborn old man!"
"But I feel great and I feel honored to be there. If I win, great, if I lose, OK. I'm just happy to still be representing."
Cyborg versus Joao Gabriel Rocha in the final of the IBJJF 2019 Heavyweight Grand Prix
Despite being well over a decade older than many of his opponents, his persistence has continued to pay off, as 2019 was chock-full of highlights and very close misses.
"Last year was an amazing year. I won Fight to Win, lost at Third Coast, won the IBJJF Grand Prix, lost in the semifinals at ADCC, won my division at No-Gi Worlds, lost in the finals of the Absolute. I believe that life is a roller coaster; that's the beauty of it. We're going to win some, we're going to lose some."
KASAI Pro 7 will be Cyborg's first event of 2020. Besides long-time friend Patrick Gaudio, who also attended Cyborg's ADCC camp last year, and 10th Planet's Kyle Boehm, who received his black belt just three months ago, Cyborg has faced every other fighter on the roster, some multiple times.
"Everybody's tough, everybody has a lot of great experience. I'm just happy to be there. Let's do it."