2020 KASAI Pro 7
KASAI Pro 7: Undercard Results and Match Videos
KASAI Pro 7: Undercard Results and Match Videos
Kicking off the evening with the prelims – follow along for a play-by-play of the action plus live results and updates.
Feb 2, 2020
by Hywel Teague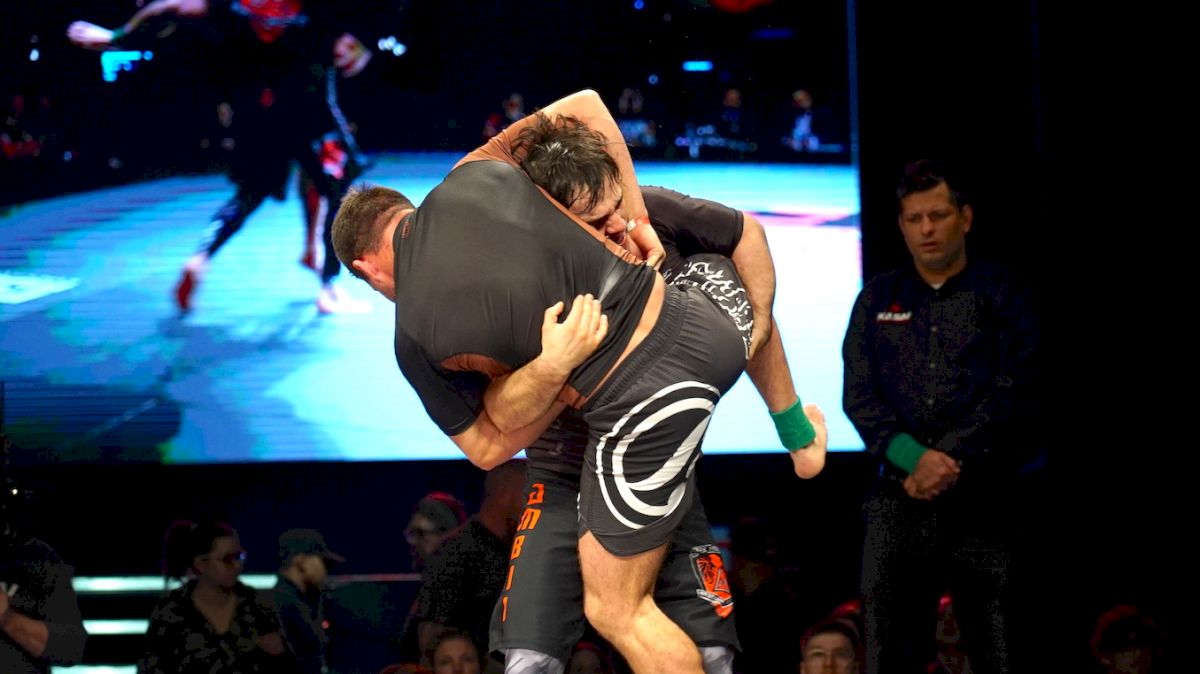 Unlock this article, live events, and more with a subscription!
Get Started
Already a subscriber? Log In
Kicking off the evening with the prelims – follow along for a play-by-play of the action plus live results and updates.
Thomas Gentile (Rillion Gracie) vs Vernon Lewis (Select Jiu-Jitsu) – No-Gi Heavyweight
Big boys kicking off the show here in Dallas. Gentile by name, but not by nature. He uses a nice snap down to bring Lewis to his knees before turning him over for a pin– only takedown points count though, no guard pass happened.
Lewis cores back with a double-leg takedown and a guard pass into side control tat takes it to 5-2. Mount makes it 9-2. Gentile tries to buck out by Lewis rides top position, working a little at a head and arm choke. Clock runs out, solid points win for Lewis.
Result: Vernon Lewis def Thomas Gentile 9-2 – watch match
Trey Warren (TacTeam) vs Sal Martinez (AMBJJ)
Strong start from Martinez, who uses his wrestling to dump Warren on the mat. He's relentless and constantly hunting for the crucifix attacks, mixing up wrestling techniques, front headlocks and constantly worrying the neck.
Warren throws him down but Martinez counters with a Peruvian necktie attack with just over a minute left. Warren pops his head out and looks for a darce but Martinez stays in control and wins this one on points. Great scrappy match with tons of action.
Sal Martinez def Trey Warren 10-0 – watch match
Stephen Hall (Octagon MMA/Alliance) x James Markle (Macacao Gold Team)
A heavyweight gi match here. Black belt Stephen Hall hits a nice triangle from guard to earn the first submission of the night.
Stephen Hall def James Markle via triangle choke – watch match
Andrew Tackett (Checkmat) vs Jeremiah Mendez (Team LEAD)
155lb no-gi match featuring Andrew Tackett, the 16-year-old blue belt younger brother of William, who FloGrappling fans should know well. The younger Tackett has been making a name for himself on the no-gi scene too, with an appearance in the finals of the recent Jitzking.
It's a fast match with Tackett setting a high pace from hr off– he's got that teenage energy that the older Mendez can't match. Tackett wins via rear naked choke in only 1:15.
Andrew Tackett def Jeremiah Mendez via RNC – watch match
Michael Esquivel (MA/ARES) vs Benjamin Annunziato (Team Lutter)
Esquivel scores a quick takedown and uses a top-spin to take the back and lock up a body triangle to go 6-0. Annunziato gets out and works a guard game, but can't break the posture of Esquivel, who uses a guillotine to pass half guard and pass to mount for 4, giving him a 13-0 lead. Annunziato hangs in there and gets his guard back but not for long– Esquivel is past it and on the back with another body triangle. He goes 17-0 before getting the tap with only 22 seconds left on the clock. One way traffic.
Michael Esquivel def Benjamin Annunziato via RNC – watch match
Leonardo Machado (BTT) vs Mike Anderson (Shebaro BJJ)
200lb gi match: traditional foot in bicep spider guard sweep puts Machado on top, and he works a steady knee-cut pass to get to north-south going 5-0 in the first 90 seconds. Machado works the paper-cutter choke from top for a quick kill in a match that lasted 2:24.
Leonardo Machado def Mike Anderson by paper cutter choke – watch match
Samuel Nagai (Checkmat) vs Damion Oranday (Oranday BJJ/Alliance)
Nagai was a prodigious purple belt who won Worlds in 2018, he's now living here in Dallas training with Keiser Girao. The lightning-fast attacks we remembered were back on display, as Nagai used the double guard pull to come up with grips and attack straight for the torreando pass. A slick triangle set-up from top half guard saw Nagai get the tap in just two minutes in this brown belt gi match– very slick.
Samuel Nagai def Damion Oranday via triangle – watch match
Kevin Holland (Team Lutter) vs Anthony Cronce (TacTeam)
16-5-0 MMA fighter Kevin Holland comes out with some nice footwork and hits a fast double leg, only getting one point because he didn't follow through and hold position.
Cronce comes back with his own attack and before you know it the scoreboard saw 3-2 to Holland. Both guys are using good offensive and defensive wrestling.
Holland has a UFC fight coming up about 7 weeks from now and he's super slick in the scrambles. Cronce goes after everything from chokes to armlocks to leg locks, getting points for his attacks that make it 3-3.
A penalty against Holland right at the beginning of the match gives it to Cronce, and Holland was visibly confused as to why– guess he didn't see that he get the penalty back there at the start.
Anthony Cronce def Kevin Holland 3-3 (1 pen) – watch match
Erica Barnes (Genesis Jiu-Jitsu) vs Kecia McKenzie (Checkmat)
Lots of action in this match, which ended with McKenzie scoring a literal last-second sweep to win 5-3. Huge crowd support.
Kecia McKenzie def Erica Barnes 5-3 – watch match
Vinicius Agudo (Double 5) vs Diego Santana (Gracie Gym)
Agudo comes out with two flying attack from the off, setting fast pace. Santana looks happy to see how this plays out for a minute, hand fighting and pushing off Agudo's advances.
Santana starts going on the attack after a few minutes and gets close to tying up a heel hook but Agudo spins out. Agudo scores a nice counter takedown and a near-takedown to win 3-0. Fun match!
Vinicius Agudo def Diego Santana 3-0 –watch match
Igor Paiva (Soul Fighters) vs Andre Gomes (AMBJJ)
Back to the gi. Gomes uses a deep lapel tie-up much like a lasso to frustrate Paiva, who simply can't pass. They stay like this for long minutes and although Paiva tries a passing flurry at the end of the match it ends 0-0 so we can go to a 2-minute overtime with golden score. Paiva pulls and throws up a loose triangle at the end but it goes to a decision.
Igor Paiva def Andre Gomes via decision – watch match
Camron Couch (Mohler MMA) vs Kody Steele (Checkmat)
Steele shows a lazy shot and Couch reshoots deep and sends him flying. We got a wrestling match on our hands! Steelve waits no time in picking up a single from the restart, moving to a sidebodylock and dumping Couch. The Dallas-based grappler squirms out and gets on top, score right now is 2-1 to Steele.
Couch starts pressure passing but Steele uses a switch and a ten-finger guillotine to counter and work back up to the feet. They wrestle and it's clear Couch wants that takedown– he's got his hot crowd to please!
Couch hits a slick throw-by and hoists Steele up. He gets close to getting the back but Steele scrambles and thy transition though positions until Steele lands in mount, making it 8-2. Couch hits another throw-by in the last 10 seconds for a final two points but it's too late. One of the most entertaining matches of the night.
Kody Steele def Camron Couch 8-4 – watch match
Rafael Formiga (Double 5) x Rafael Lang (Octagon MMA)
Formiga was wrapped up in a lapel guard for the better part of two minutes until he was finally able to unravel Lang's position. The Double 5 team leader wasted no time in passing the guard and was in on a clock choke before time expired.
Rafael Formiga def Rafael Lang 5-0 – watch match
Alex Martins (AMBJJ) vs Michael Foster (Octagon MMA)
This is Alex Martins' first match back in almost 10 months since he was diagnosed with cancer. He underwent months of treatment and is incredible back to fighting fitness, and makes his return in front of his friends and students.
Foster starts hunting for legs but Martins shuts down the attacks and uses the opening to pass and start racking up points, going 9-0 in only two and a half minutes of action.
Martins is able to stuff all of Foster's leg attacks and ends the match winning 11-0 with the crowd chanting his name. What a way to come back!
Alex Martins def Michael Foster 11-0 – watch match
That's it from the undercard– time for the big boys!