2020 KASAI Pro 7
KASAI Pro 7 Results & Updates: Heavyweight Tournament, Canuto vs Leon
KASAI Pro 7 Results & Updates: Heavyweight Tournament, Canuto vs Leon
OK guys here we go! It's time for the Heavyweight tournament and the main card superfights.
Feb 2, 2020
by Hywel Teague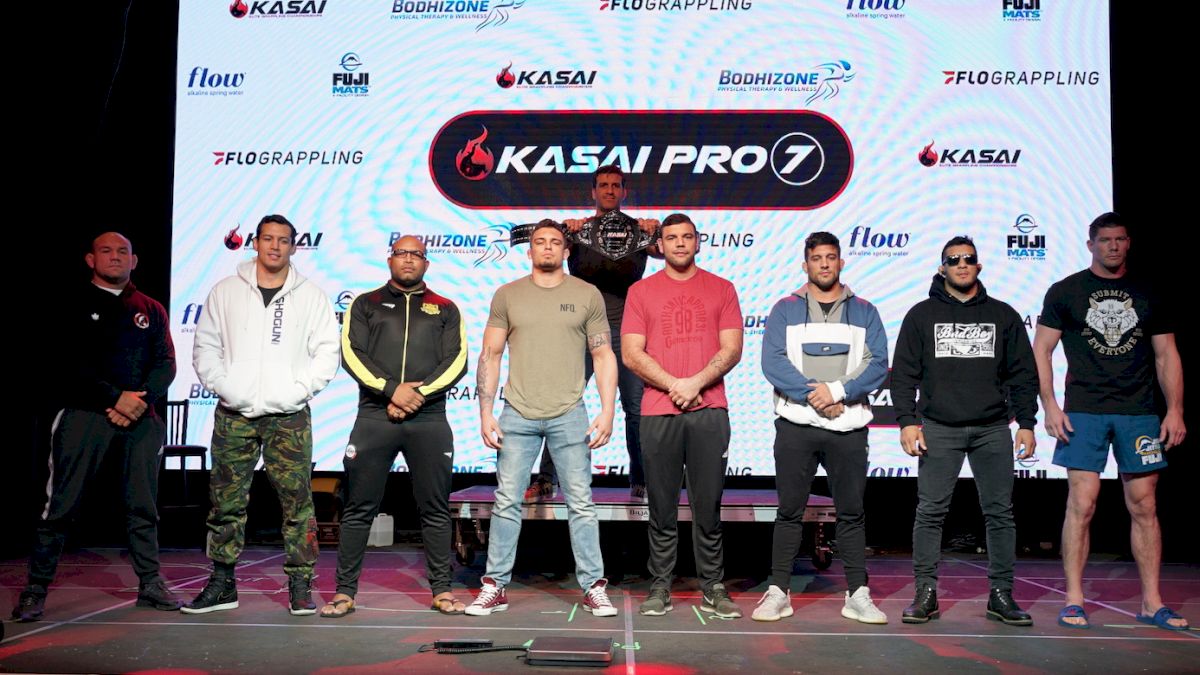 Unlock this article, live events, and more with a subscription!
Get Started
Already a subscriber? Log In
OK guys here we go! It's time for the heavyweight tournament and the main card superfights. Here's what the groups and matches look like:
8-man World Heavyweight Championship
GROUP A:
Cyborg
Vinny Magalhaes
Nicky Rodriguez
Bruno Bastos
GROUP B:
Patrick Gaudio
João Gabriel Rocha
Lucas "Hulk" Barbosa
Kyle Boehm
Superfights:
Renato Canuto vs Dante Leon
Raquel Canuto vs Gabi McComb
Pedro Rocha vs John Combs
I'll be posting the results and match videos for each contest as they happen.
MAIN CARD (all times CST)
8:20pm - Roberto "Cyborg" Abreu (Fight Sports) vs Bruno Bastos (Team LEAD)
A slow start in this match but a perfectly-timed double leg from Cyborg put him on top and ahead by two. Bastos starts paying his trademark deep half guard game but Cyborg's base is too good and he stays unsweepable until time runs down.
Roberto Cyborg def Bruno Bastos 2-0 – watch match
8:30 - Vinny Magalhaes (Gracie Tijuca) vs Nicky Rodriguez (Renzo Gracie Academy)
Smart move from Vinny in pulling guard fast. Nick nearly hits a guard pass, diving over the long legs of Magalhaes and wrapping up a front headlock. Vinny starts trying to pick up ankles but Rodriguez is like a sprinter out of the blocks and away.
Rodriguez gets close to another guard pass but Vinny turtles, and from there the American plays a smart game of constantly annoying Vinny's base, threatening hooks and shutting down sit-throughs or escapes thanks to a mean half-nelson.
Nick manages to get one hook in late and looks very close to getting both, but the match ends 0-0. The most one-sided 0-0 draw I've seen in a while.
Vinny Magalhaes vs Nick Rodriguez – draw – watch match
8:40 - Joao Gabriel Rocha (Double Five) vs Kyle Boehm (10th Planet)
This one ends controversially – Rocha claims that Boehm's foot went inside his shorts and this somehow enabled the American to slap on a heel hook. The replay showed that his foot went into the lycra for a split second, but was it factor in helping Boehm get the finish? Not really. Rocha protested but the result was clear – a submission is a submission.
Kyle Boehm def Joao Gabriel Rocha via heel hook – watch video
8:50 - Paulo Azambuja (Fight Sports) vs Lucas "Hulk" Barbosa (Atos)
Credit to Azambuja for coming into this on same-day notice after Patrick Gaudio got sick and was unable to compete. The change in opponent didn't faze Hulk, who comes out with plenty of swagger. He's going forward non-stop, obviously looking for those takedown points. He gets in on a double and drop back for a heel hook – first time I've ever seen him do this. Smart move, because the attack gets him a point under KASAI rules. 3-0 Hulk.
Hulk goes double-leg to rear body lock and gets Azambuja down, almost getting the back but settling to attack from the crucifix. Azambuja slips out, but it's 4-0 for Barbosa. Azambuja tries to pass but the clock runs down and Hulk wins via points.
Lucas "Hulk" Barbosa def Paulo Azambuja 4-0 – watch match
9:05 - Roberto "Cyborg" Abreu (Fight Sports) vs Nick Rodriguez (Renzo Gracie Academy)
This is the big match we've been waiting for! After everything that went down at ADCC, this is the chance for them to settle the score.
Rodriguez comes out hard and is straight away trying to jump over the guard. One of the best sequences of the night starts as Nick comes close to scoring one of his now-infamous diving kneecap passes. Cyborg somehow manages to bridge out and avoids conceding the guard pass, nearly gets his back taken but shucks off Rodriguez and goes on the counter.
During Cyborg's single leg attack Rodriguez spins out and Cyborg catches an errant elbow to the eyebrow that splits him open. They patch him up but the bandage lasts maybe 20 seconds it comes off and blood is flowing all over the mat.
They get back at it and it's a frantic pace for two big guys – Cyborg's guard game vs Nicky Rod's passing. It ends 0-0, although not for lack of trying. Rodriguez pressed the entire time, and Cyborg looked to come up and reverse position.
Roberto "Cyborg" Abreu vs Nick Rodriguez – draw – watch match
9:15 - Vinny Magalhaes (Gracie Tijuca) vs Bruno Bastos (Team LEAD)
Vinny Magalhaes withdraws from the tournament with a hamstring or groin injury. Bastos takes the default win.
NOTE: We're running way behind schedule, so take the start times with a giant pinch of salt.
Bruno Bastos wins via default versus Vinny Magalhaes
9:25 - Joao Gabriel Rocha (Double Five) vs Paulo Azambuja (Fight Sports)
After the blood stoppages of the Cyborg-Nicky Rod match and the news that Vinny is out with injury, you can imagine the collective groan that happened when Rocha went off stage and hurt his knee.
Rocha's knee issues definitely slowed him down, but he was able to lock up an anaconda choke with about a minute left – a huge comeback considering the circumstances.
Joao Gabriel Rocha def Paulo Azambuja via anaconda choke – watch match
9:35 - Lucas "Hulk" Barbosa (Atos) vs Kyle Boehm (10th Planet)
Barbosa plays it smart and pulls guard, coming up from the seated position into a double leg and scoring two. Once on top, he gives a little smile – he's enjoying this.
Hulk stays busy on top, following Galvao's advice and trying to pass to Boehm's left side– easier said than done, the American's long legs stop him every time.
Boehm gets back to his feet and a nice sequence unfolds– Hulk shoots a takedown, Boehm tries to wrap a kimura but can't rip it out. Barbosa gets more takedown points and even tries a flying guard pass as time runs out.
Lucas "Hulk" Barbosa def Kyle Boehm 4-0 – watch match
9:55 - Raquel Canuto (Checkmat) vs Gabi McComb (Gracie Humaita) No-Gi 140 lbs
Gabi's first to attempt a wrestling attack coming forward with a strong double leg. Canuto wraps up the neck and goes for a guillotine which McComb barely gets out of– 1 point for the sub attempt to Canuto.
McComb suddenly doesn't look like she wants to shoot as much. They spend more time in the clinch now, hand fighting and trying to fight for Russian two-on-ones. Canuto picks up a single and kicks out the supporting leg for a near-takedown.
From on top Canuto starts working a guillotine and she gets a good grip around the neck. McComb's hand seems to hover, but she somehow fights her way out through some perilous positions and even manages to end up on top. McComb makes a huge mistake by dropping back for a heel hook, Canuto rides the position, comes up on top and takes the back. She sinks in the rear naked choke and wins via submission with only 15 seconds left on the clock. Strong finish!
Raquel Canuto def Gabi McComb via RNC – watch match
10:15 - Nick Rodriguez (Renzo Gracie Academy) vs Bruno Bastos (Team LEAD)
Bastos pulls to half guard and Nick locks up a tight grip over Bastos's undertook, effectively shutting down the big man's bottom game. Here they stay, with Rodriguez avoiding coming too far forward and keeping Bastos out of sweeping range.
The ref penalizes both men and restarts them in the center. Here's where Rodriguez changes tactics– he drops back for a heel hook and gets the submission win, his first of the night.
Nick Rodriguez def Bruno Bastos via heel hook – watch match
10:25 - Roberto "Cyborg" Abreu (Fight Sports) vs Vinny Magalhaes (Gracie Tijuca)
Cyborg wins via default
10:35 - Paulo Azambuja (Fight Sports) vs Kyle Boehm (10th Planet)
Boehm throws up some rubber guard, the first time we've seen it all night. Azambuja manages to shrug it off, but he can't pass. The ref issues Azambuja a penalty for backing up too much, and Boehm wins.
Kyle Boehm def Paulo Azambuja 0-0, 1-0 penalty – watch match
10:45 - Joao Gabriel Rocha (Double Five) vs Lucas "Hulk" Barbosa (Atos)
Rocha's knee is heavily strapped up and he's not moving well. Hulk is on his toes and feinting, possibly looking for a double leg. Rocha goes for a double leg and gets stuffed on the edge of bounds, but the effort looks too much for him– his leg is a problem.
Hulk drops for a leg attack and those long arms of Rocha come over, possibly looking to wrap up that same anaconda choke he hit against Azambuja earlier. Hulk escapes.
A nice wrestling exchange – Hulk goes for the legs, Rocha wraps up the front headlock, Hulk almost succeeds in knee tapping Rocha down to the mat, Rocha counters with his infamous whizzer kick, and Hulk pops up on top and almost pushes him off the stage. All this in about 5 seconds– wild, and the crowd loves it.
We're in the last 60 seconds now. Rocha shoots for a takedown but Hulk catches him and throws him down for the counter– 2 points to Barbosa. No way Rocha can come back from this surely? Th answer is no, Hulk advances.
Lucas "Hulk" Barbosa def Joao Gabriel Rocha 2-0 – watch match
Groups update:
Cyborg will advance out of Group A– even though he and Nick are tied on points, Cyborg has more points. Hulk comes out of Group B, setting up Cyborg vs Hulk in the final. The last time we saw them compete was at the IBJJF Heavyweight GP in August of 2019 which Cyborg won.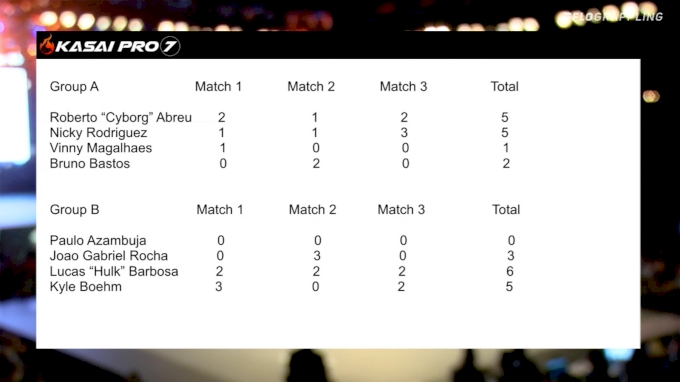 11:00 - Pedro Rocha (Double 5) vs John Combs (Easton Training Center) No-Gi 180 lbs
Heavy hand fighting and collar ties in this match between two former wrestlers. Neither seems too quick to shoot, happy to feel each other out.
Combs shoots and get Rocha down but is in a guillotine. He pops his head out and nearly gets the back, but it's only one point for the near takedown, not two. Rocha gets one back with a takedown that sends Combs off the mat. 1-1.
Combs runs back into the center of the mat and gets right after it with a quick takedown that scores two points. He spams some guard passes, makes Rocha think he's going after the legs, but lock in his patented Combatine for the submission finish.
John Combs def Pedro Rocha via guillotine choke – watch match
11:15 - Third Place match: Nick Rodriguez vs Kyle Boehm
Boehm attempts to tie up Rodriguez and puts him in rubber guard. He goes for an omoplata but Rodriguez is able to rip out of it with ease.
Rodriguez blasts past the guard and nearly secures north-south, but transitions to working on the face from the back and comes very close to choking Boehm, turning his face a nice shade of purple. Rodriguez rides position into the mount and gets his points as the time runs out.
Nick Rodriguez def Kyle Boehm 5-0 – watch match
11:25 - Renato Canuto (Checkmat) vs Dante Leon (GF Team) No-Gi 170 lbs
Dante is the first to pull, trying to go she-to-shin on Canuto. The acrobatic Brazilian flips out of it, using quick footwork to stay on the outside and deny Leon control grips.
Leon manages to snag a leg and gets to work on a deep heel hook-kneebar combo that has Canuto on the run and earns him points for the submission attempt. Canuto knows he's down on the scoreboard and so shoot a takedown, earning two. Leon uses the shot to wrap up a guillotine attempt, earning his own point in the process. 3-2, Leon with five minutes left.
Some scoring confusion here. Renato and his wife Raquel seem to know the rules better the referees, who make it 4-3 to Leon. Nobody seems to know where the points came from, least of all the refs, who talk amongst themselves trying to figure it out. They seem satisfied, Renato seems resigned to it and gets back to business.
Another quick wrestle-up sweep for Leon, who comes close to hoisting Canuto up but runs out of space. Canuto was already in the process of countering, he's so good at turning takedowns against him into his own attacks. 1 point to Leon for the near-takedown– it's 5-3 with 90 seconds left.
Canuto picks up a singled gets back another point for the takedown attempt– 5-4. We're on for a dramatic finish– Leon pulls guard. 30 seconds , clock is running, it's going to be hard for Canuto to score back here.
Leon wins it! 5-4 after the full 10 minutes.
Dante Leon def Renato Canuto 5-4 – watch match
11:40 - Final: Roberto "Cyborg" Abreu vs Lucas "Hulk" Barbosa
HUGE start to the match, with Abreu hitting his "cyplex" takedown, dumping Barbosa to the mat. The early two-point lead is going to help him.
Cyborg puts on the pressure from top, denying Hulk any kind of opportunity from bottom. He nearly passes twice, forcing Barbosa to the turtle, flattening him out and setting hooks in the final 10 seconds. He shuts down the younger man's game and wins in dominant fashion– what a performance.
Bloodied but not beaten, Cyborg confirmed his legend status by winning the heavyweight championship. Incredible.
Roberto "Cyborg" Abreu def Lucas "Hulk" Barbosa 6-0 – watch match