Unlock this article, live events, and more with a subscription!
Get Started
Already a subscriber? Log In
Leandro sets a new record in jiu-jitsu, Erberth is back on the scene, Cyborg's soldiers clean up in Miami, and much, much more.
---
Leandro Breaks 20-year Record
One of the main consequences of Kaynan Duarte's failed doping test at 2019 World Championships is that he will be stripped of his gold medal for winning the heavyweight division. That means the gold medal will go to runner-up Leandro Lo, who becomes the default winner.
As a result, Leandro can now claim to have gold medals in five different weight categories – this makes him the record holder for the most world titles in different weight classes. Previously Saulo Ribeiro held world titles in four different divisions. From 1997 to 2002, Ribeiro won the middleweight, medium-heavyweight, heavyweight, and super-heavyweight divisions. His record had stood since 2000, when he won the super-heavyweight and became the first black belt to have won four different weight categories.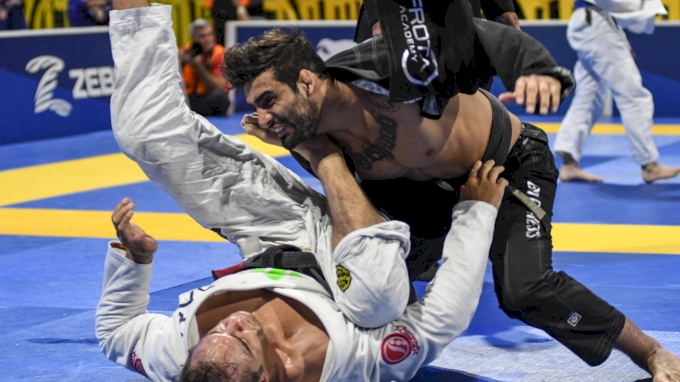 Leandro in action at the 2019 IBJJF World Championships absolute division
Lo has attempted to win gold in the heavyweight and super-heavy weights divisions every year since 2018. He first won gold in the lightweight division following up with gold medals in the middleweight and medium-heavyweight divisions. He closed out the absolute division in 2018 with close friend Marcus Buchecha Almeida, putting him equal with Saulo's record. The adjusted results from the 2019 World Championships makes him the new record holder.
Leandro Lo's IBJJF World Championship black belt medals
2012 – lightweight gold
2013 – lightweight gold
2014 – middleweight gold
2015 – medium-heavyweight gold, absolute bronze
2016 – medium-heavyweight gold, absolute bronze
2017 – heavyweight silver, absolute silver
2018 – super-heavyweight silver, absolute gold
2019 – heavyweight gold, absolute silver
The word on the street is that the Leandro isn't entirely satisfied with receiving the gold medal in this manner, and who can blame him? Nobody wants to be given a gold medal after losing a match, even if your opponent had been proven to be cheating.
Though the gold medal passed to Leandro via a technicality, it's doesn't take away from the fact that he has operated at the very highest level for the last 10 years, and across weight classes 50lbs apart. He made his name in the lightweight division (168lbs) and has fought as high as super-heavyweight (220lbs). Few athletes can claim to have done this, let alone hit the podium at major tournaments such as Pans and Worlds.
We've been told that Leandro plans to compete at the Pan Championships in March. We expect him to return at heavyweight, and with Kaynan out of the picture he will return as a strong favorite. Even though he faltered in 2019, Lo has won the IBJJF Pan Championships no less than eight times, twice winning both weight and absolute (2017 and 2018).
Leandro Lo's IBJJF Pan Championship black belt medals
2012 – lightweight gold
2014 – middleweight gold, open silver
2015 – middleweight gold, open silver
2016 – medium-heavyweight gold, open silver
2017 – heavyweight gold, absolute gold
2018 – heavyweight gold, absolute open
2019 – heavyweight bronze, absolute silver
---
Erberth is BACK...
Erberth Santos bounces back with double gold at the Curitiba Open. The tournament is now known as one one of the most prestigious in Brazil, and has consistently attracted some of the best black belts in the country. This is largely due to the points requirement to enter Pans and Worlds – competitors will sign up here with the intention of getting those all-important points so they can compete in the two most important tournaments of the year.
Erberth returned from the wilderness just a few weeks ago, and his appearance at this event signals that he's back on the scene for real. He may be a World and Pan champion, but he's had inconsistent performances over the last couple of years.
No, not an old photo. The seasons are reversed for the southern hemisphere, where it's summer right now
He had a total of eight matches to win double gold – three in the super-heavyweight division and five in the absolute. We're waiting on match results so we can review his performance (although we've heard he scored SIX submissions) but the fact he came out on top of an absolute division with a total of 41 entrants is a good sign that he could be on the right track.
Pans will be the real test. Erberth won gold there in 2017, as he did at Worlds (without doubt, his best career year). There are huge question marks over his training situation, his mental state, everything – a good performance at Pans could mean he has addressed many of his issues and be on the road to the top once again.
Erberth Santos IBJJF Curitiba Open Results:
Adult / Male / Black / Super-Heavy
1 - Erberth Santos de Mesquita - Guigo JJ
2 - Harryson Santana Pereira - Ataque Duplo
3 - Rafael Cabral Message - Drill BJJ
3 - Renan Oliveira Dias - CheckMat
Adult / Male / Black / Open Class
1 - Erberth Santos de Mesquita - Guigo JJ
2 - Rider Zuchi Samelo do Amaral - Ns Brotherhood
3 - Pedro Paulo Campi Agrizzi - Striker JJ
3 - Welington Sebastiao Marques Eller - G.A Fight Jiu-Jitsu
---
Fight Sports Clean Up in Miami
Fight Sports dominated the IBJJF Miami Open, winning gold in every absolute division from blue through black and closing out the absolute finals at purple, brown and black belt.
We rarely see Roberto Cyborg put the gi on these days but he rallied the troops and – as all good generals do – led from the front. Fight Sports entered a total of 151 competitors, from blue belt juvenile to black belt Masters 5.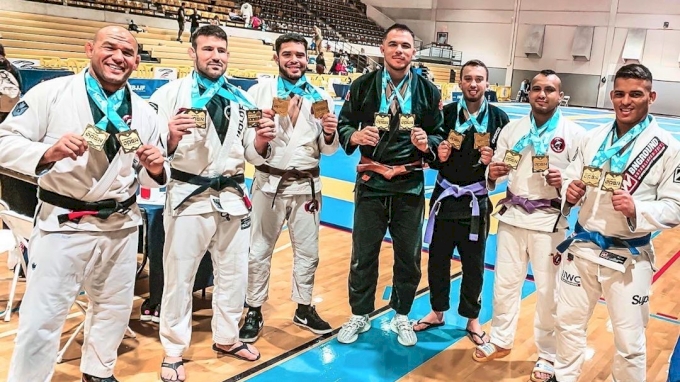 Cyborg, the jiu-jitsu king of Miami, closed out the finals of both the ultra-heavyweight and absolute divisions with Aaron "Tex" Johnson, who has been training with the Fight Sports team since last year.
Probably the most notable result from the entire Fight Sports roster was that of Francisco Albuquerque Neto, aka "Toco." Toco was a Carlson Gracie black belt and the founder of Nova Geraçao, and is the man who gave Cyborg his black belt. Competing in the black belt over-50s division, Toco kept the Fight Sports streak going by becoming the oldest gold medalist of the event.
Fight Sports IBJJF Miami Open Absolute Division Winners
Adult / Male / Blue / Open Class
1 - Luccas Lira Costa - Fight Sports
Adult / Female / Blue / Open Class
1 - Jessica Borrell - Fight Sports
Adult / Male / Purple / Open Class
1 - Felipe Porto Schiavon - Fight Sports
2 - Mauro Bastian Rebolledo Baeza - Fight Sports International
Adult / Male / Brown / Open Class
1 - Roosevelt Souza - Fight Sports
2 - André Luiz Novaes Porfirio - Fight Sports
Adult / Male / Black / Open Class
1 - Roberto de Abreu Filho - Fight Sports
2 - Aaron Michael Johnson - Fight Sports
---
Fight to Win 136
Fight to Win 136 went down in San Diego, and there were a total of 24 black belt matches! Coming out on top was Kaynan Duarte, who's USADA / IBJJF suspension does not apply to Fight to Win. He competed in a no-gi match against -99kg silver medalist Vinicius "Trator" Ferreira of Alliance, winning via decision.
We saw the return of Edwin Najmi to the gi. He only competed 10 times in 2019, with only four of those matches in the gi. Tama most recently won the World No-Gi Championships, so it's a big win for Najmi, who locked up an unorthodox reverse triangle to keep the Ecuadorian in trouble for most of the match.
Last night @EdwinNajmi hit an unorthodox and infrequently seen reverse triangle. It's rare in jiu-jitsu but a common attack in judo.

Going to do a breakdown for @FloGrappling – so much to discuss here pic.twitter.com/wyjjUbKYb7

— Hywel Teague (@hywelteague) February 16, 2020
We don't see too many reverse triangles in jiu-jitsu but talking to Edwin he told me it's a move he hits a lot. I'll be doing a breakdown of this technique very soon.
Click for results and to watch the full event replay
---
Photo of the week
Young phenom Micael Galvao goes for the kill at Who's #1. Who wants to see him back in action on another FloGrappling event?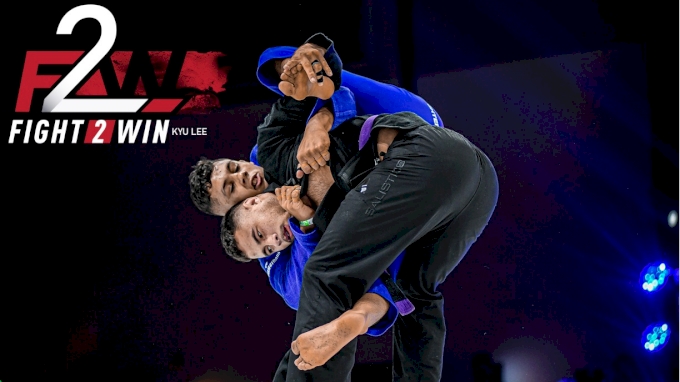 ---
Upcoming events on FloGrappling
Saturday, February 22
Artista Invitational 2
The #3-ranked featherweight black belt, Marcio Andre, will face the #5 lightweight black belt Johnatha in a 20-minute submission only match. Also, an eight-man absolute tournament featuring local talent as well as talent from all around the United States. The first Artista Invitational Open champion Tainan Dalpra will also return to face off against other brown and black belt challengers for the $1,000 cash prize. The event won't be live but we will have matches videos shortly after. Click here for more info.
Saturday, February 29
Grapplefest 8
Dante Leon vs Tye Ruotolo, Adam Wardzinski vs Jon Blank and much more! A stacked card of no-gi superfights on one of Europe's top show. Click for more
Saturday, March 14
Third Coast Grappling, Houston TX
Featuring Gordon Ryan vs Patrick Gaudio in a no time limit, sub-only match! Click for more
March 18-22
IBJJF Pan Championships
The IBJJF season continues with one of the most important tournaments of the year! Results here will have major ramifications for Worlds.
---
Unmissable Social Media Post of the Week
Mikey Musumeci show why he's universally beloved in jiu-jitsu with this fantastic piece about his relationship with jiu-jitsu. Amazing.
When I was young my parents encouraged me to play sports. The first one I tried was baseball, I would always watch it on TV and the thought of playing made me super excited. My parents signed me up but it was nothing like I thought. The more I played the more I realized I didn't like it. I wasn't a very social kid and my lack of athletic ability didn't make it any easier. I ended up being the team joke, my heart wasn't into it and when the season ended I was so happy.
The next sport I tried was basketball but my height and lack of social skills also didn't help. In the end I was teased a lot and practice became a lesson in humility.
Those two experiences helped me in life. They taught me to always live with compassion and kindness even at an early age.
JiuJitsu is not easy but I excelled in it early because in jiu jitsu I found my passion. I did not fit into JiuJitsu as much as JiuJitsu fit me. Whenever I saw a new kid sign up I was the first to encourage and welcome them into JiuJitsu, because I never wanted them to go through what I had to experience in the other sports.
I'm not fighting for me, I'm fighting for everyone saying that it's impossible. After all I was never supposed to be an athlete. While my size is still a joke for some people, being the underdog doesn't bother me, that's how it's been my whole life. They said non Brazilians can't win worlds. When I did they said I wouldn't do it again because this time miyao would beat me. When I did, they said malfacine would beat me. In truth, they could all have beaten me, but I have seen doubts killing more dreams than failure ever will. To win the absolute is a long shot but not a joke. I may fail repeatedly and you may laugh of me but if I do succeed I hope it's not too late for you to realize that you could also have done what people told you to be impossible.
Find your passion, chase your dreams, surround yourself with great people and you will find who you really are.