Grapplefest 8 goes down on Saturday, February 29, in Liverpool, UK. Now established as one of Europe's premier professional grappling shows, they're bringing international names to the UK including Dante Leon, the Ruotolo brothers, Adam Wardzinski, and Jon Blank.
About Grapplefest
GrappleFest has only been around a few years, but has quickly gained the attention of the highest echelon in the grappling world. With a simple ruleset (15 minutes of sub-only grappling) the invitational keeps it straight forward and entertaining.
Their cards feature both superfights as well as elimination matches and title fights for athletes who the promotion deems ready for the challenge, favoring submission victories.
The Main Event: Wardzinski vs Blank
Two top-10 -90kg grapplers showdown for the title. No. 4-ranked Adam Wardzinski has been extremely active both gi and nogi since his loss to Craig Jones for the -100kg GrappleFest title. He returns to Liverpool this weekend to compete for the -90kg title, and although he bounces weight classes frequently this match will be a bit closer to the weight class he pursues in major events like IBJJF No-Gi Worlds and ADCC. The Polish grappler is breaking through in the no-gi circuit bringing back the stealthy butterfly guard, the technique he used to upset Michael Perez in the first round of ADCC.
He takes on ADCC fourth-place finisher and No. 9-ranked Jon Blank aka "Thor." With a 63-percent submission rate for the 10th Planet athlete (the overwhelming majority coming from heel hooks) he certainly has a style compatible with the GrappleFest format.
The Ruotolo Brothers Return
Already on track to be among the greatest grapplers, the purple belt twins, Tye and Kade Ruotolo are eager to showcase not only their well-rounded skills, but especially their recent innovations. The pair has been working on a new passing style that evolved as they have ascended from the juvenile ranks (where even straight ankle locks are forbidden) to the elite world of no-gi and leg locks.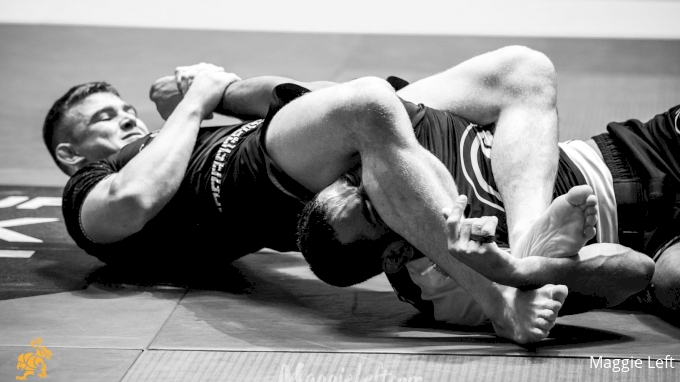 Dante in the final of the IBJJF World No-Gi Championships
Tye takes on Dante Leon in probably the most talked about match on the card. It's impossible to have missed Dante Leon's upward swing over the last couple of years. With a standout performance at ADCC, a No-Gi World title claimed after a flawless run through the division, not to mention his momentum within the GrappleFest promotion with a dominant win over Marcio Andre at the November event, the Canadian grappler has solidified himself in the top tier of the grappling world. After striving for so long to get to the top, he admits that staying on top is more difficult, but it's that pressure that drives him. "Regardless of my weight class and P4P ranking getting better is always the goal," he said.
While most people are focusing on the differences between Dante and Tye — rank, age, experience in the black belt division — let's not forget that these guys have more in common than it seems making it a highly competitive bout.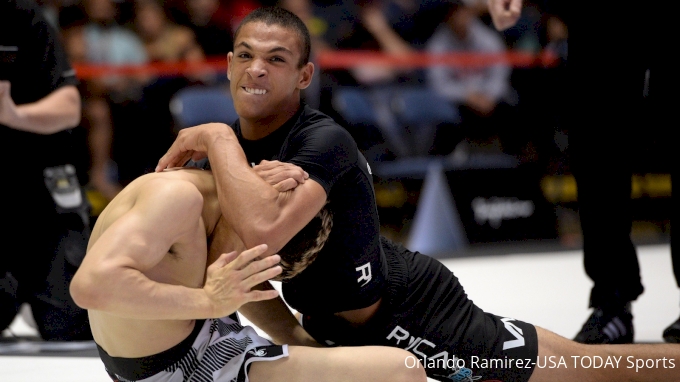 Tye on the attack at ADCC
Both finished fourth at ADCC, both are coming off big wins at GrappleFest (Tye defeated top Irish grappler, Tom Halpin), both have been training upward of 12 years, and both are ranked third in the respective weight divisions. Although Tye is currently ranked in the -66kg division, a significant size difference compared to Dante Leon, that's based off his ADCC showing which took an almost-unrealistic weight cut to achieve, so it is unlikely we will see Tye in that division again. The teen admits to walking around in the 170s these days, quickly closing the size gap. With notable wins over guys like Vagner Rocha (in a similar, sub-only format) at purple belt, Tye has already proved himself worthy of these challenges and capable of success. Dante recognizes and welcomes that. Game sees game.
Baleia Breakdown: Ruotolo's Diving Darce Choke, Explained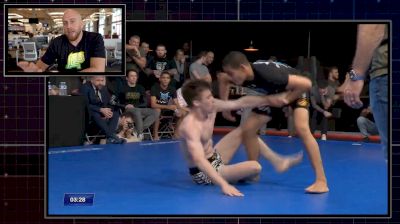 Unlock this video, live events, and more with a subscription!
Get Started
Already a subscriber? Log In
Kade is also coming off a win from the last GrappleFest event. With a stunning flying darce over Jeremy Skinner, he earned the opportunity to compete for the -60kg title against Welsh black belt, Ashley Williams. Ashley Williams has developed a reputation as a submission fiend with his success in events like Polaris, Kasai, and EBI.
How To Watch Grapplefest
FloGrappling members can see Grapplefest 8 LIVE or watch all of the action On Demand via replay once the event is over. Individual matches will be uploaded to FloGrappling soon after the event is over.
Start times:
London: 4pm GMT
Rio de Janeiro: 13:00h
New York: 11am EST
Chicago: 10am CST
Los Angeles: 8am PST