Unlock this article, live events, and more with a subscription!
Get Started
Already a subscriber? Log In
The biggest card of Fight To Win's comeback tour went down tonight in their adopted home of Dallas – and wow – what a show it was!
Gabi Garcia looked untouchable, Dante Leon was slicker than ever, and Lucas Valente and Matheus Gabriel put on one hell of a scrap. Read on for the full review of what went down tonight at Fight To Win 142.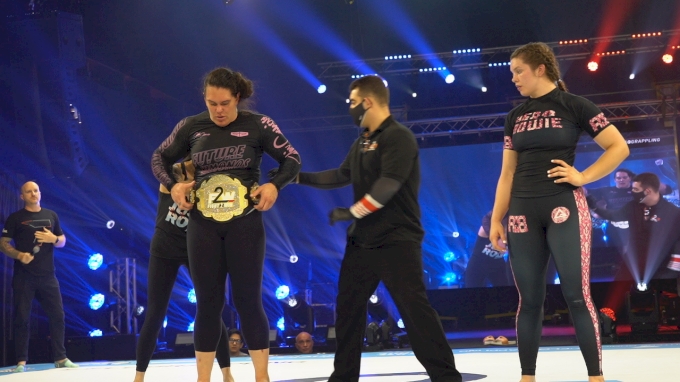 Gabi Garcia Dominates Kendall Reusing
We predicted that Gabi Garcia would be the victor in this match, but we weren't ready for the level of dominance that the four-time ADCC champion – and now Fight To Win No-Gi Heavyweight champ – displayed tonight.
The first several minutes saw Gabi more or less manhandling Reusing across the mat with heavy collar ties and an aggressive forward pace. Though Reusing's clever ring craft was clearly frustrating Garica, the Alliance black belt was finally able to drag the match to the ground with less than two minutes left on the clock.
But she didn't need any more time than that.
The match dramatically shifted in Garcia's favor when she hit a takedown, landing in the top half guard and the perfect position to pass.
From there, Garcia's trademark pressure and control were on full display. She was able to wear down Reusing until the Gracie Barra competitor was forced to give up mount, opening up the opportunity for Garcia to hit her favorite submission – the Americana – and clinch the victory.
---
Leon's Craft Submission Chain Finishes Tama
The anticipation for this match was palpable; we had two no-gi world champs from different weight classes square off wich one another in the undeniably exciting Fight To win format.
The match opened with Tama pulling guard, and though he had some good looks at counters and unorthodox attacks, Dante's pressure was simply too much.
A series of quick transitions saw Dante stack Tama and drop down for a truck back-take entry. Tama looked to counter and attempted to scramble out of the position, but Leon was able to lock on a triangle in the transition. After that, it was only a matter of time before Tama was forced to tap.
---
Lucas Valente Edges Out Matheus Gabriel
We knew this would be a tactical, calculated battle – and that's exactly what we saw unfold over the course of 10 minutes.
Unsurprisingly, Valente pulled guard in the opening seconds of the round.
Though Matheus adopted a smart strategy of choosing to sit for foot locks and or jumpy flying attacks instead of attempting to pass Valente's notoriously impenetrable guard, Valente's relentless footlock attacks that seemed to earn the judges favor and earn him the judge's decision victory.