Unlock this article, live events, and more with a subscription!
Get Started
Already a subscriber? Log In
Third Coast Grappling's Kumite series continues to churn out the elite caliber events. No fluff, just 8 elite grapplers scrapping it out for $10,000 – and they're back their third installation installation on June 27.
The 3CG Format
It should be noted Third Coast Grappling uses a unique format: a seven-minute regulation period in which victory is awarded only by submission or first to score 11-points.
If neither victory condition is met, the match goes to a 5-minute golden score overtime round. The competitor with more points in regulation gets to choose the starting position: closed guard on top or bottom, or a neutral standing position.
3CG Kumite III is a 180lb No-Gi affair and features some of the finest grapplers competing today.
The Kumite III Bracket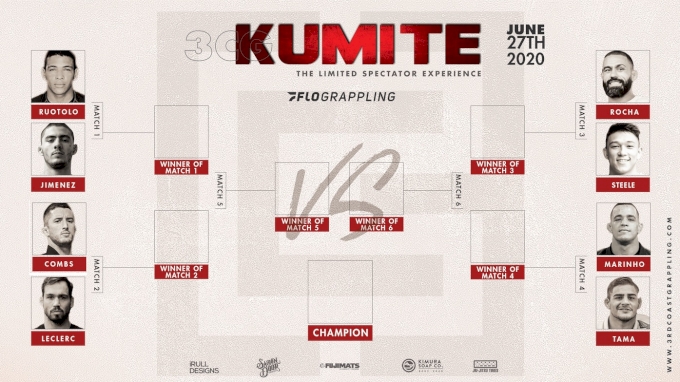 Right out of the gate, we have some stellar first-round matchups.
Roberto Jimenez vs Tye Ruotolo is a freaking barnburner – both these guys have one speed – and it's 100% pedal to the metal. This match pits two of the hottest up and comers in the game against one another, and we're already waiting on the edge of our seats.
ADCC trials champ John Combs is set to take on taking on Canadian grappler and KASAI Veteran Pierre Leclerc in the opening round. Combs should bring the intensity here as LeClerc seeks to redirect and counter the energy of Combs.
Vagner Rocha and Kody Steele kicks off the right-hand side of the bracket and could easily be considered a dream matchup for any no-gi grappling fan. Vagner is the crafty, diabolical veteran who loves to put the hurt on anyone who dares stand in front of him. Meanwhile, Kody Steele is proving himself as one of the most versatile and well-rounded new black belts on the scene. This one is guaranteed violence of the best kind.
Rounding out the bracket are two of our favorite grapplers Pedro Marinho and Johnny Tama – they two of the most passionate athletes in the game, and simply don't know how to have a boring match. Perfect opposites in terms of style, Marinho will play the part of the bull charging ahead as Tama seeks to counter.
Upcoming Events
Fight to Win 145 | Jun 26
Featuring Garry Tonon vs Osvaldo 'Queizinho' Moizinho, and the return of an IBJJF Hall of Famer and ADCC legend Xande Ribeiro.
Third Coast Grappling: KUMITE III | Jun 27
3CG will run an 180lbs and under 8-man grand prix. Confirmed names include Pedro Marinho, Johnny Tama, John Combs, Tye Ruotolo, Kody Steele, Vagner Rocha, Pierre Oliviere LeClurc and Roberto Jimenez.
=