Gordon Ryan will appear in a special exhibition grappling match to raise money for the We Defy Foundation.
We Defy's mission is to get disabled combat veterans training jiu-jitsu, where they can reap the mental and physical benefits and enjoy the camaraderie that jiu-jitsu offers.
Ryan is the no.1 P4P no-gi grappler in the world. He took gold in the -99kg and openweight divisions at the 2019 ADCC World Championships.
"I have worked with We Defy Foundation for some time now and this is something I have always wanted to do," says Ryan. "I will be donating 100% of the proceeds to We Defy to help out our amazing military vets the best way I can."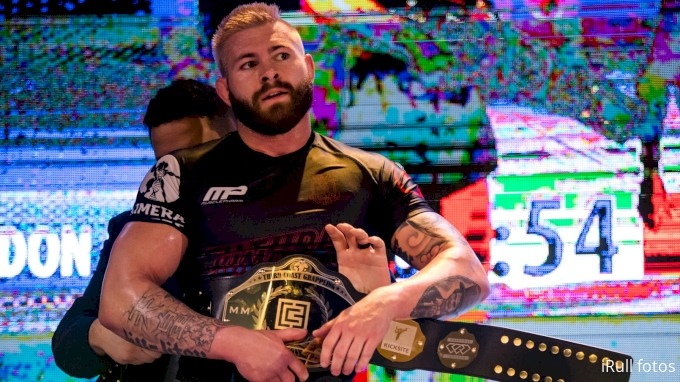 Gordon Ryan at a previous 3CG event
Ryan will take to the mat on July 11 in Houston, TX at Third Coast Grappling Kumite IV. His partner for the exhibition match will be Brian Marvin, a former president of the We Defy Foundation who is a jiu-jitsu black belt and co-owner of Renzo Gracie Houston.
Watch 3CG Kumite IV Live or On Demand on FloGrappling
Brian Marvin is a third-degree black belt and spent 20 years as active duty soldier in the US Army. He was attached to the 160th SOAR (A), with multiple deployments to Iraq and Afghanistan.
Third Coast Grappling (3CG) is a veteran-owned business, and has hosted matches featuring disabled veterans, such as double amputee and jiu-jitsu brown belt Jonathan Dowdell.
3CG Promoter Ryan McGuire – who served two tours in Iraq – said, "With all the negativity out there these days we figured let's pull everyone together and put our energy into positivity and helping those that need it, and to raise money and awareness for a cause near and dear to all of our hearts."
Click here to donate to We Defy
What does We Defy Foundation do?
There are 270 approved We Defy Foundation training locations nationwide. We Defy works with veterans with an 80% or higher disability rating who are new to jiu-jitsu, helping them get into jiu-jitsu gyms.
"Many of our athletes don't look disabled," says We Defy president Travis Larson, who explains how their scholarships work: "We give a six-month scholarship and two gis to every athlete. We place them in approved We Defy schools, nearly 300 of which exist. These have been evaluated as good places for a veteran to start their jiu-jitsu experience."
---
The program is for veterans who have never trained jiu-jitsu before. There are around 120 ambassadors of all belt colors who help outreach to athletes in their area, connect with schools across the country organize open mats and fundraise at the grass roots level.
Normally the scholarship provides 12 months of training and two private lessons in addition to the gis. During COVID We Defy has continued to pay the academies as if their scholars were training to help the gyms stay open during these challenging times.
"Jiu-jitsu isn't necessarily the answer, but it's a starting point to help people find answers," says Larson. "It replaces a lot of what they lost when they left the military service, but it has all the values for a great society– it shows you're not on your own."