Fight to Win 146
Fight to Win 146 Results & Recap: Najmi Scores Sub In Main Event
Fight to Win 146 Results & Recap: Najmi Scores Sub In Main Event
This is Najmi's fourth Fight to Win match of 2020, with three coming during post-corona shutdown.
Jul 11, 2020
by Hywel Teague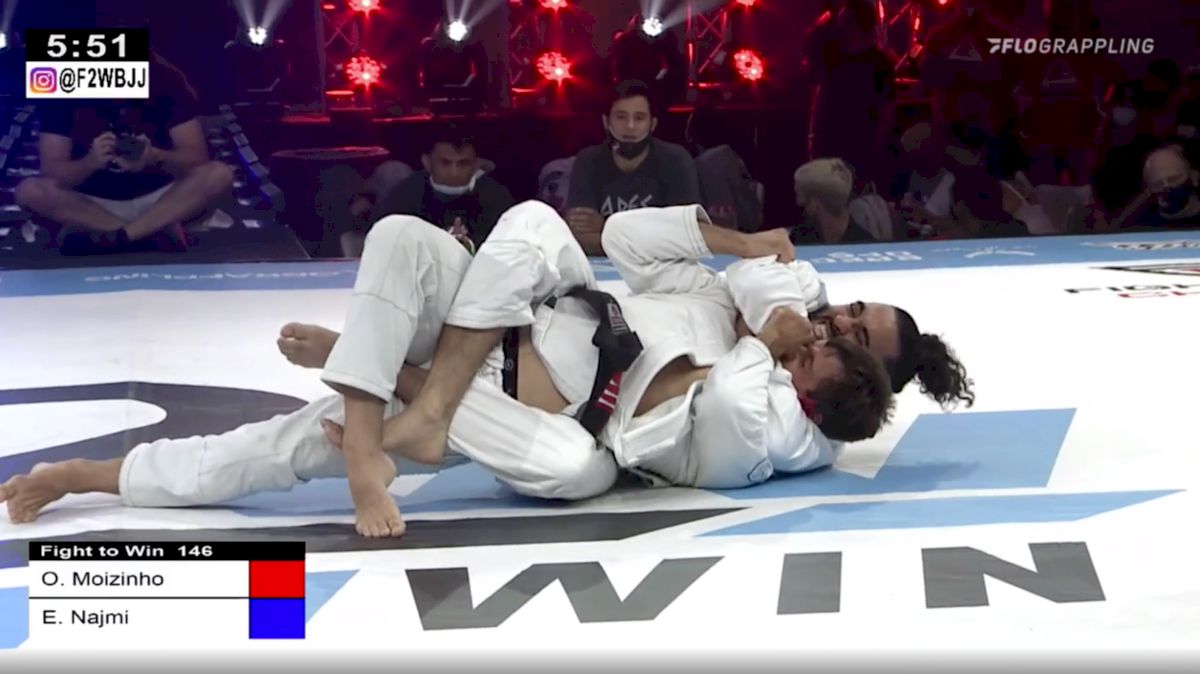 Unlock this article, live events, and more with a subscription!
Get Started
Already a subscriber? Log In
Najmi and Queixinho both appeared on the F2W stage in recent weeks, with Najmi on 144 and Queixinho on 145. As they were both coming off losses, there would be a little extra on the line as they sought to set their records straight.
WATCH: Fight to Win 146 full event replay
They traded toeholds in the opening 45 seconds, a clear sign that neither of them were here to play. Both have open, submission-oriented styes, and the attacks were flying.
Najmi threatened with an estima lock that open up a backtake and he appeared to have a rear naked choke locked in before they rolled to the edge of the stage.
They restarted and Najmi was able to get the finish in seconds with a midfield RNC / face crush. The restart was certainly unfavorable to Queixinho, but not unfair. What was apparent was the fact he struggled to get to his feet and limped around the stage, evidence that Najmi's earlier estima lock was a significant attack.
This is Najmi's fourth Fight to Win match of 2020, with three coming during post-corona shutdown. He's 3-1 in those four matches, and this is his second submission following his flying triangle win over Benson Henderson at F2W 141.
Tired Terra Cruises To Decision Win
While there was an obvious gulf in experience and accolades, the match between Caio Terra and Gabe Tuttle of 10th Planet was an intriguing one.
Terra, smooth as ever, would repeatedly pass direct to mount but couldn't penetrate Tuttle's defenses. The 10th Planet black belt was able to get back to seated guard each time, and while Terra appeared patient it became apparent as the match went on that he was struggling.
No-Gi World champ Terra seemed extremely winded and he faded hard in the last 45 seconds. He kept moving, but was clearly operating on autopilot although still in control of the match. He passed once more in the last 30 seconds but couldn't find the submission, instead picking up the unanimous decision win when he could finally pick himself up off the mat.
The Best Day of Andrew Wiltse's Life?
Andrew Wiltse and John Combs looked like carbon copies of each other. Physically and stylistically similar, they are good wrestlers with strong guillotines and scrappy guard passing.
Wiltse had done his homework and stayed well away from Combs' choke attacks. He worked from bottom hunting for legs and was able to sweep and come up. Once on top he passed and secured the mount at around the halfway mark. Combs was able to escape get back to his feet. He stayed busy on top but simply couldn't find the key to pass Wiltse's guard.
This was a big win for the Daisy Fresh black belt, which coincided with the news that after our nonstop harassment Panda Express had contacted him with an offer– whether it's sponsorship or gift cards who knows, but he was giddy with excitement. Best day of his life? Possibly.