Unlock this article, live events, and more with a subscription!
Get Started
Already a subscriber? Log In
At 39 years of age, Cyborg is only getting better. For the third time in less than a year, he has beaten men much younger than himself in a major event.
Roberto "Cyborg" Abreu showed that age really is a number as he earned victories over Arnaldo Maidana, Roberto Jimenez, and Fellipe Andrew at Third Coast Grappling (3CG) Kumite IV.
This is just one of a string of performances from Cyborg in the last 12 months that show he's still a force to be reckoned with and far from slowing down.
Let's talk about Cyborg's last 12 months, and take a look at some of the ups and downs that punctuate three standout performances, namely the IBJJF Heavyweight Grand Prix, KASAI Pro 7, and 3CG Kumite IV.
---
The IBJJF Heavyweight Grand Prix
Cast your mind back to August of 2019. It was weeks out from ADCC, and people were heavy into the no-gi vibe. Sensing this, the IBJJF scheduled one of their black belt Grand Prix events, offering a $40,000 grand prize to the winner. Cyborg found himself in the same bracket as seven hungry killers all eyeing the cash prize, but also very aware of how this tournament could set them up for success at ADCC the following month.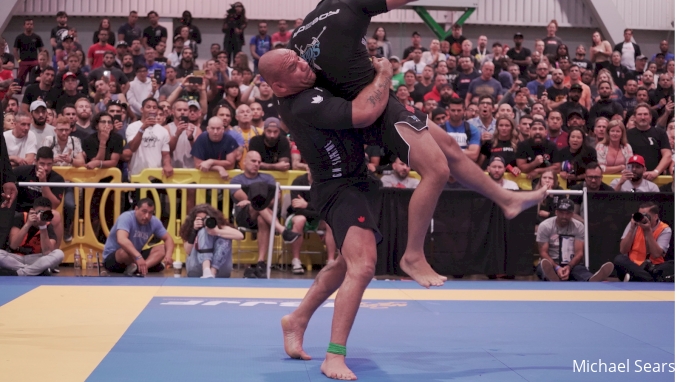 Cyborg at the IBJJF HW GP.
The line-up looked like this.
Vinicius "Trator" Ferreira, age 22
Lucas "Hulk" Barbosa, age 27
Tim Spriggs, age 27
Victor Hugo, age 22
Patrick Gaudio, age 26
Joao Gabriel Rocha, age 28
Luiz Panza, age 29
Roberto Cyborg Abreu, aged 38 at the time
It was an uphill battle, as Cyborg fought his way through increasingly difficult opponents and into the final. First, he defeated Victor Hugo via advantages (this was before the man mountain had hit the big time and everybody knew who he was). Next came Lucas Barbosa, who Cyborg deftly outwrestled and beat in a match decided on penalties. Last of all was the ADCC absolute division silver medalist, no-gi world champion and absolute giant of a man in Joao Gabriel Rocha – Cyborg beat him via decision in a close match.
The average age of the group was 27. And the average age of Cyborg's opponents was even younger than that at 25 and a half.
The elder grappler played this tournament perfectly. He used his wits and experience to dictate the pace of each match, combining suffocating top pressure with technical wrestling to take his opponents out of their comfort zones.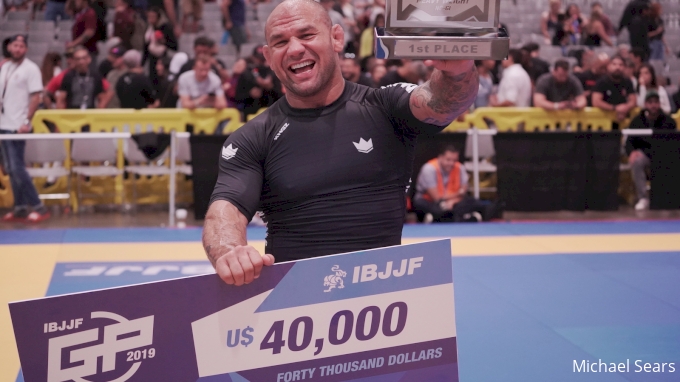 ---
ADCC 2019
Fast forward to ADCC a month later and things did not go his way. On the wrong end of a decision following his barnburner of a match with the young upstart Nick Rodriguez, Cyborg found himself out of the tournament in the second round.
Nicky Rod would go on to take silver in the +99kg division, and while the match was talk of the tournament the defeat left a sour taste in Cyborg's mouth, as he explained to us backstage following the loss.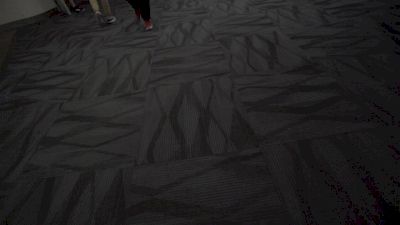 Unlock this video, live events, and more with a subscription!
Get Started
Already a subscriber? Log In
---
Becoming a 6-time Champ at IBJJF No-Gi Worlds
With ADCC in the rearview mirror Cyborg wasn't going to waste months of no-gi preparation. He headed to the IBJJF No-Gi World Championships, easily winning gold in his weight division but falling to Victor Hugo via kneebar in the absolute weight class. Back in December of 2019 people weren't yet hip to Hugo's ascendancy, as this was the first of a series of big wins for the Six Blades athlete.
It would be a bittersweet weekend for the Fight Sports leader – winning his weight class via submission, yet also falling to a leglock in the absolute final.
Cyborg had hit another bump in the road, but he had other things to think about. Just after the New Year, he'd been invited to another professional event and there was the prospect of a rematch with Rodriguez.
---
KASAI Pro 7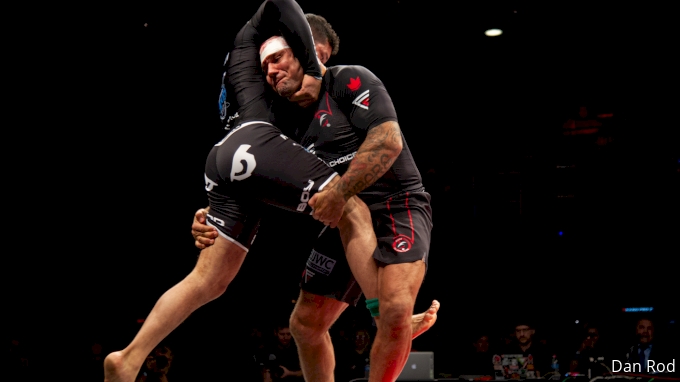 Back on the horse at KASAI Pro 7.
KASAI would hold another of their eight-man tournaments, this time featuring the heavyweights. Cyborg's participation immediately marked him out as a front runner for the championship belt, even when you consider the line-up of potential opponents.
Eight very tough and very different grapplers assembled for the event on February 1 in Dallas, Texas. On one side of the bracket was Lucas Barbosa, Kyle Boehm, Joao Gabriel Rocha, and Paulo Azambuja, standing in for Patrick Gaudio who had fallen ill at the last minute.
Cyborg was placed into the same group as Vinny Magalhaes, Bruno Bastos and one familiar foe in particular– Nick Rodriguez.
All eyes were on Cyborg and Nicky Rod. This was just over four months after their first match, the one that had helped make Rodriguez an overnight star. It was undoubtedly a sore subject for Cyborg, who appeared less jovial than usual at the pre-event weigh-ins. They were guaranteed to face off as part of KASAI's round-robin format, a fact not lost on him.
Rodriguez was able to get a match in ahead of the bout with Cyborg, a dynamic showing against Vinny Magalhaes that took the former ADCC champ out of the tournament with injury. While Rodiguez came out hot, Cyborg had started his night at a much slower pace, out-pointing Bruno Bastos 2-0.
The slow start didn't hamper Cyborg in the match with Rodriguez. The veteran played an intelligent and conservative game and the match ended with no score, resulting in a draw. They even squashed the beef backstage after the match, putting ADCC in the past.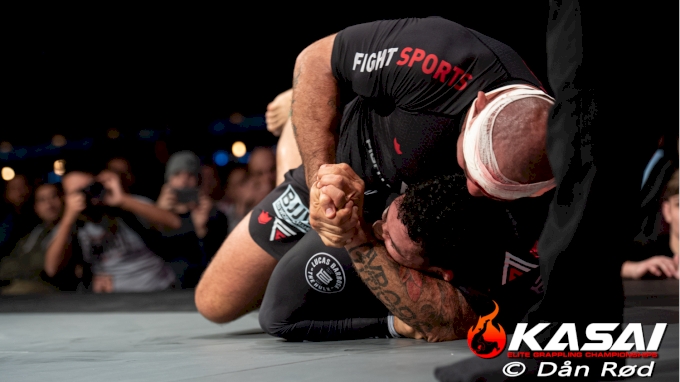 Cyborg dominates Hulk in the final
Much like at 3CG, Cyborg only got stronger as the tournament went on. His handling of Lucas "Hulk" Barbosa was even more impressive than when he beat him at the IBJJF Heavyweight Grand Prix. This time Abreu beat Barbosa 6-0, even hitting his famous "cyplex" takedown.
Being crowned champion at KASAI Pro 7 signaled that after losing at ADCC and getting submitted at No-Gi Worlds, Cyborg was still a danger to any heavyweight grappler in the world.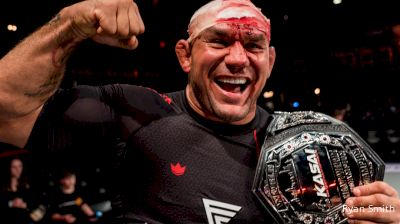 Unlock this video, live events, and more with a subscription!
Get Started
Already a subscriber? Log In
---
Third Coast Grappling: Kumite IV
The third and final entry into Cyborg's list of gigantic accomplishments in the last year is, of course, the recent 3CG Kumite. This would be his second post-COVID appearance, as he had made his return at Fight to Win 139 with a win over ADCC silver medalist Vinicius "Trator" Ferreira in an unremarkable match.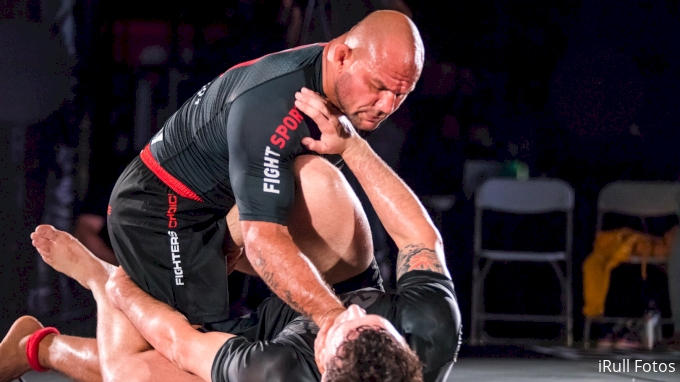 Cyborg puts the pressure on Maidana
Third Coast Grappling was very different. This was vintage Cyborg, aggressively pressuring his opponents, outwrestling them and picking them apart.
His wins over Arnaldo Maidana of Checkmat in the opening round and Roberto Jimenez in the quarterfinal showed that Cyborg's conditioning is still right there and more than enough to hang with the younger generation – both matches went into OT, with Cyborg winning vs Maidana via golden score takedown, and beating Jimenez via decision. A reminder: Jimenez is 20 years of age, nearly half that of Cyborg's 39.
The final was the most memorable match of the event for Cyborg, as he stopped the surging Fellipe Andrew dead in his tracks.
Fellipe Andrew had come off submitting both Lucas Barbosa and Gabriel Almeida in less time than a single regulation round. If you thought that meant Andrew was fresher going into the final, you'd be wrong. Cyborg dominated, passing his guard and scooping up a guillotine choke in only two minutes. A stunning performance from the crafty veteran.
WATCH:
Incredibly, that makes Cyborg undefeated in 2020. Beating three athletes from the new generation on his way to the 3CG Kumite IV title, Cyborg proved that age really is just a number.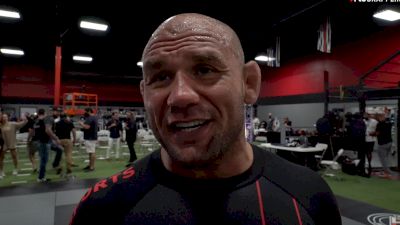 Unlock this video, live events, and more with a subscription!
Get Started
Already a subscriber? Log In